When a friend or family member welcomes a new baby, let's be the first to ask, "How are you? Are you doing all right?"
When you think of a new mom, you might picture sweet things like baby snuggles or adorably tiny newborn clothing. It feels jarring to jump immediately to asking, "How is mom's mental health?" 
But pushing past our feelings of awkwardness to check in on the new moms we know is critically important in the current crisis of maternal mental health. 
One in 5 women in the U.S. suffer from maternal mental health conditions (for many reasons, among which are the dearth of postpartum support and paid parental leave). These include anxiety, postpartum depression, and birth-related PTSD. 
In the first year postpartum, suicide and substance use are the leading causes of maternal deaths. Suicide accounts for 9% of the maternal mortality rate.
Tragically, 75% of affected women don't receive treatment, even though 100% of these conditions respond to early interventions and treatment.
Stigma persists around postpartum mental health. The narrative that women should "bounce back" from this huge physical and emotional change can cause guilt and shame for new moms suffering maternal mental health disorders.
Rachel's courageous story  
One young mother is on a mission to raise awareness of maternal mental health and encourage other women to seek help. Rachel suffered through severe postpartum depression after her twins were born in February 2021, when her oldest child was only one year old.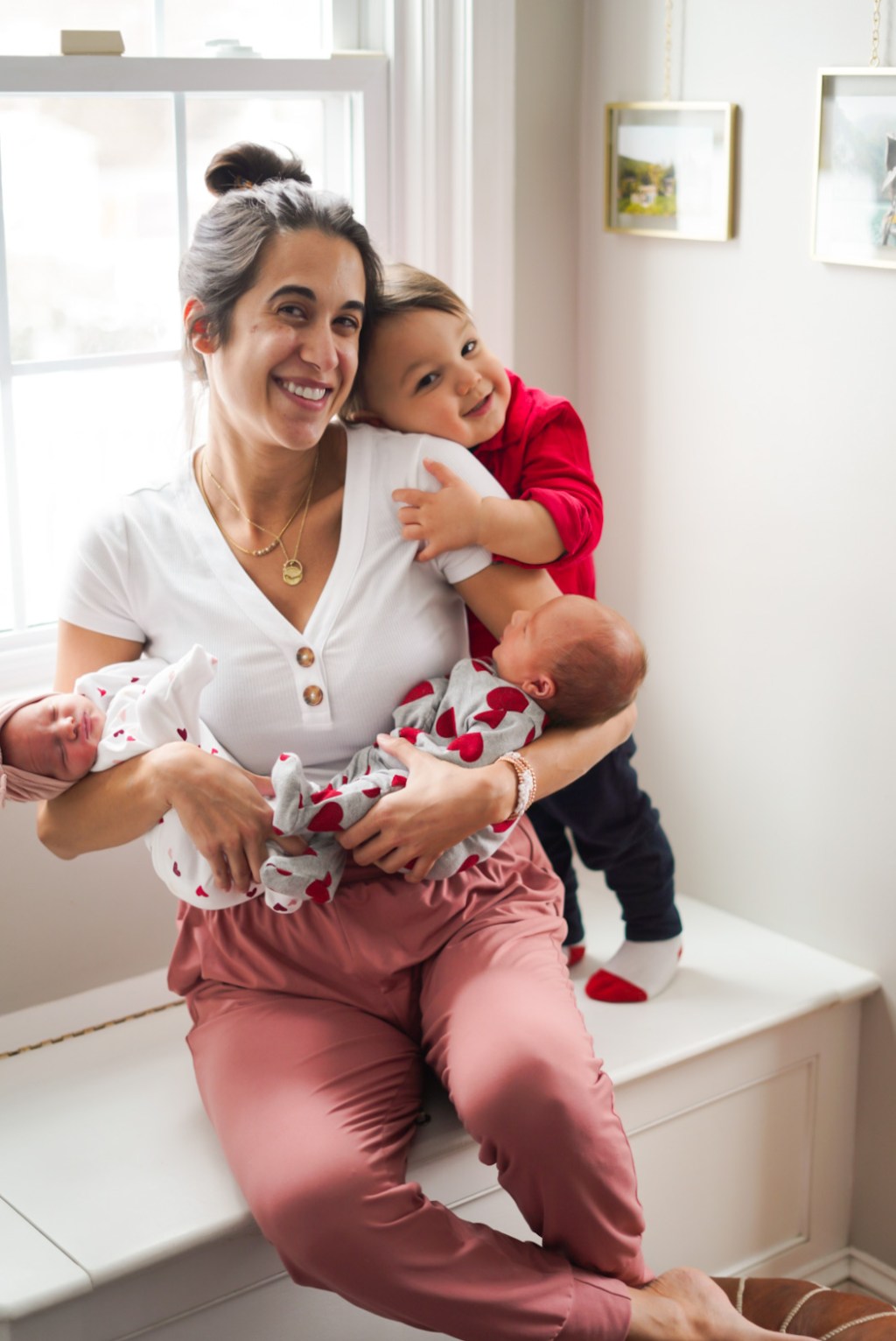 Courtesy of Rachel Creighton
Caring for three children under age two came after enduring a very difficult high-risk pregnancy. She was drowning in survival mode and exhibiting every symptom of postpartum depression, including self-harm and suicidal ideations. "The anguish and hopelessness I felt was immeasurable," she said.
Thankfully Rachel reached out for help and began treatment. "With the help of my doctors and therapist, I was able to begin the long road to recovery and find my way back to myself again," she said. 
Today, two and a half years after her twins were born, she is happy, healthy, and fully healed.
Now Rachel is determined to raise awareness and help other new moms so they don't have to suffer alone.
In August 2023, she ran the Captain Bill Gallagher 10 Mile Island Run and raised over $20,000 for The Alexis Joy D'Achille (AJD) Foundation, named for a new mother who lost her life to postpartum depression six weeks after her daughter was born.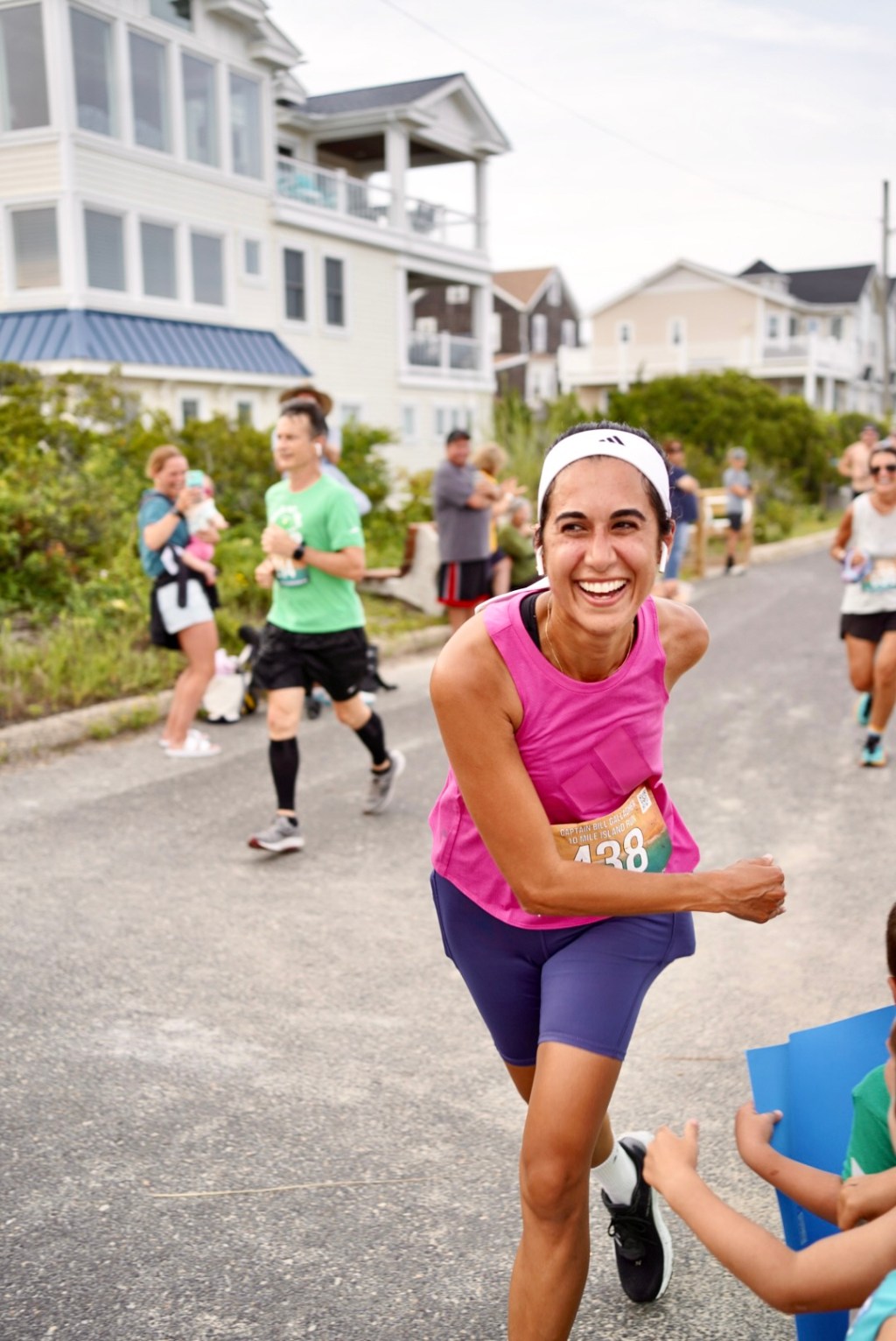 Courtesy of Rachel Creighton
The AJD Foundation helps women and families who are suffering from and affected by perinatal mood and anxiety disorders, in partnership with the Allegheny Health Network.
Rachel's message to new moms
Not only new moms but also their families and loved ones can prepare by learning about postpartum mental health and its warning signs. Rachel urged new moms:
Do not wait to get help. Talk about what you are experiencing with anyone who will listen. There are so many mothers who quietly suffer not knowing that what they are feeling, someone else has felt, too. If it wasn't for some of the women in my life who had taken what I was telling them seriously, I truly do not think I would still be here today.
She also encouraged partners, family members, and friends of new moms to make themselves aware of warning signs for maternal mental health disorders, saying,
It's not just up to new mothers to be aware of postpartum issues. It's up to their partners, too. My husband did his best to help me the best he knew how, but like so many partners, was not properly educated on maternal mental health issues. It can be frightening and alarming so being better prepared for what to expect and what steps to take can be very helpful. 
Courtesy of Rachel Creighton
Pushing past the stigma to get help
While mental health awareness shot up in recent years, much less attention went to maternal mental health and perinatal mood disorders.
"We're supposed to have it all figured out with our kids and still manage to act like ourselves, as if nothing has drastically changed us physically and hormonally, and likely flipped our worlds upside down," Rachel said. 
As she began to publicly share her story, many women reached out to thank her, even women who haven't had children yet but want to someday. "It's helpful knowing that they won't be alone in what can often be a very overwhelming and intimidating experience for women."
Know a new mom? "Check in on your people," Rachel said. "I can't tell you how often people told me how great I was doing and I just put a smile on and nodded because I wanted to show I had it all together."
Friends and loved ones who took the time to really check in made all the difference.
It was the follow up texts and knocks on my front door asking me how I was really doing that revealed the secret struggle going on. If you're worrying you're being a bother to a new mom or a seasoned mother, don't. It may help more than you know.
When a friend or family member welcomes a new baby, let's be the first to ask, "How are you? Are you doing all right?" 
Every one of us can help build a culture of abundant life that supports and cherishes women as they become mothers.