On a recent visit to Waikiki, I stopped by The Twin Fin, which held its grand opening in November. It's located in the former Aston Waikiki Beach Hotel, right on the corner of Kalakaua and Paoakalani avenues.
The hotel underwent a multimillion-dollar renovation. The 597 guestrooms and 48 two- and three-bedroom suites have been updated to reflect Hawaii's surf culture with "hints of midcentury modern design." It's now operated by Highgate, a real estate and management company, which also represents the Alohilani Resort Waikiki Beach and the Royal Lahaina Resort & Bungalows on Maui.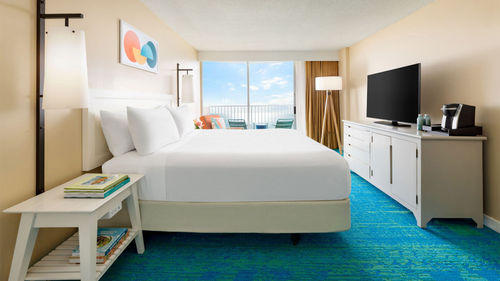 The rooms at The Twin Fin have been updated and redesigned. Photo Credit: Courtesy of The Twin Fin
"From custom artwork created by local artists, comfortably stylish spaces with stunning views and meaningful sustainability efforts aimed at protecting and preserving our oceans, each facet of the hotel pays homage to the essence of Waikiki," Highgate area managing director Randy Diamond said in a press release.
Where is it located?
The first thing I noticed about this hotel is how perfect the location is. It's on the stretch of Kalakaua Avenue that opens up to Waikiki Beach. There are no hotels blocking The Twin Fin from the beach; it's right across the street. This section of the beach is wide enough for sunbathing, and its waters are gentle enough for wading. 
It's also near "Walls," a popular walkway that juts out to the sea. People walk to the end, where there's a gazebo, and watch bodyboarders tackle playful waves alongside it. The Honolulu Zoo and the Waikiki Aquarium are also a short distance away.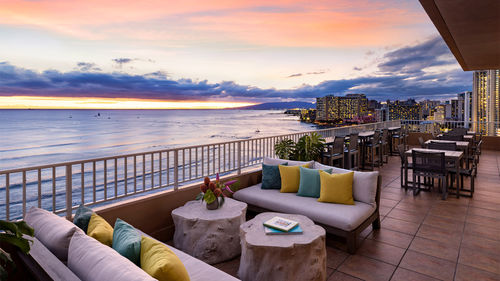 The view from the Twin Fin's Coconut Club lounge at dusk. Photo Credit: Courtesy of The Twin Fin
What's new?
New to The Twin Fin are daily cultural activities, such as tattoo art, ukulele lessons, hula lessons and lei making. It also has a stargazing event with a professional astronomer on Monday nights. On the 21st floor is the exclusive Coconut Club, which once again takes advantage of the 180-degree ocean views. Guests who purchase a package with breakfast receive access to the club.
On the second floor of The Twin Fin is Tiki's Grill and Bar, which has a clear view of Waikiki Beach across the street. Open from noon to midnight, it's a great place for people-watching while ordering happy hour drinks or grabbing a bite to eat. Some favorite restaurant items include the kalua pork sandwich, guava glazed baby back ribs and the fish sandwich. There are happy hour deals daily and a late-night menu.
Besides the great view and location, the hotel is decently priced for most travelers, with rates starting at $239 per night.