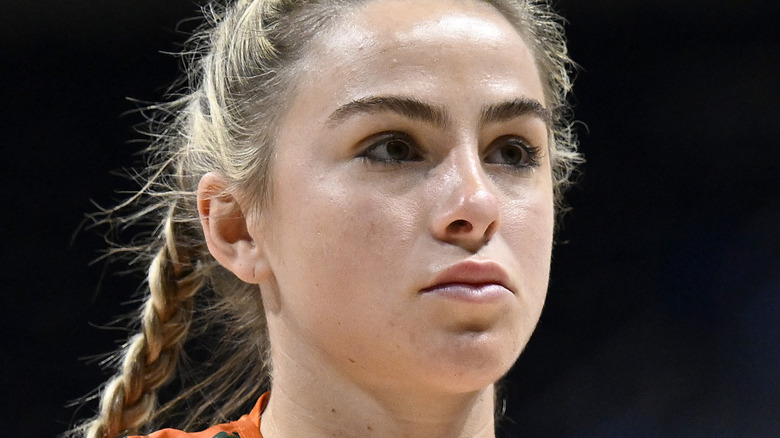 G Fiume/Getty Images
Upon WWE's launch of the NIL (Next in Line) program in 2021, several NCAA athletes were presented with a pathway into the company once their collegiate careers came to an end. Among the inaugural class was a pair of sisters whom WWE had hoped could potentially fill the role left by WWE Hall of Famers The Bella Twins. Originally out of Fresno State University, Haley and Hanna Cavinder joined WWE's first NIL class as twin sisters playing college basketball. Outside of their impressive performances on the court, the Cavinder Twins have massively grown their social media presence, especially on Tik Tok.
With their focus now on finishing out their senior year at the University of Miami and expanding their brand — including the launch of their podcast "Twin Talk with Haley & Hanna Cavinder — many have wondered when the sisters will finally enter a WWE ring. ESPN reports that the Cavinder Twins will visit the WWE Performance Center in Orlando, Florida this April. There, they will tour the facility and learn more about the process of training as if they were signed to a developmental contract. This weekend, the Cavinder Twins will also be on-site in San Antonio for WWE's Royal Rumble. Last year, Haley and Hanna experienced their first-ever WWE event, attending SummerSlam. Now, it appears the pair might attend even more WWE events to gain more of a first-hand perspective on the scripted sport.
WWE has been "pretty laid-back" on their expectations with the NIL recruits, but are keen on them representing the WWE brand well, both on social media and in one's appearance, as previously revealed by fellow NIL athlete Ruben Banks. The Cavinder Twins have positively touted WWE across numerous platforms, including Tik Tok, Instagram, and Twitter.