It's been an interesting few days, and it's been awhile since I've updated these standings. The Twins minor-league affiliates have been playing really well of late. Here are the records of the Twins and their six affiliates through games on Friday. Check out the records of the Twins and their affiliates
Minnesota Twins: 70-65  (5-3 in past eight games)
St. Paul Saints: 75-54  (5-3 in past eight games)
Wichita Wind Surge: 59-64  (6-2 in past eight games) 
Cedar Rapids Kernels: 79-45  (7-1 in past eight games)
Fort Myers Mighty Mussels: 64-59  (7-0 in past seven games)
Let's get to the report. As always, please feel free to discuss and ask questions. 
But before we get to the Twins minor league report, Congratulations to former Twins prospect and big leaguer Devin Smeltzer on his seven-inning no-hitter tonight for the Jacksonville Jumbo Shrimp! 
TRANSACTIONS
Friday marked the first day of September. For baseball fans, and prospect hounds, it is a special day. Or, at least it used to be. Now that rosters only expand by two players, it's just not as much fun, and it isn't a big deal. However, the Twins made it a big deal for two players on the Saints roster. 
LHP Brent Headrick was called up to take a spot in the bullpen.
The other spot is a bit of a surprise and yet, incredibly deserved. The Twins selected the contract of veteran outfielder Andrew Stevenson who has clearly been the Saints most valuable player all season long. While he is left-handed, he can help the Twins in several ways. First, he has a good, professional approach at the plate. He takes walks. He's got some pop in his bat, and he's got great speed. 
If you're been reading these minor league reports throughout the year, you can't be completely surprised by the addition of Andrew Stevenson. His name appears in the daily game recaps nearly every day. In 106 games with the Saints, he hit .317/.395/.522 (.916) with 23 doubles, seven triples, and 16 home runs. He also had 44 stolen bases and was caught just five times. 
It will be interesting to see how the Twins use their 40-man roster and that shuttle between St. Paul and Minneapolis over the final month of the season. 
SAINTS SENTINEL
St. Paul 5, Columbus 8 (11 innings)
Box Score
The Saints jumped to an early lead against an #OldFriend. Unfortunately, the bullpen gave up three runs in the eighth to tie the game. To extra innings, we go. 
We start with the positive in this one. Former Twins prospect Chris Vallimont made the start for the Clippers. In the first inning, the Saints took the first lead. DaShawn Keirsey singled and stole a base before a two-out, Trevor Larnach single drove him in. With one out in the second inning, Yunior Severino singled. It was followed by a double off the bat of Hernan Perez. After Jair Camargo walked, Gilberto Celestino doubled to drive in two runs. 
Trevor Larnach and Kyle Garlick started off the bottom of the third inning by hitting their 12th Saints homers. Vallimont got Severino to ground out before he was removed from the game. Unfortunately, that was when the bats went quiet. 
Hunter McMahon came in for his Triple-A debut. He tossed two scoreless innings. However, he went back out for the 10th inning and got two outs but gave up two runs. Having thrown 44 pitches, his night was done. Because of all of the roster changes, Toby Gardenhire brought in catcher Tony Wolters to pitch. He gave up a double to score the third run charged to McMahon. 
The Saints went down 1-2-3 in the bottom of the 11th inning. They finished the game 2-for-16 with runners in scoring position and left 11 runners on base. 
Hernan Perez went 2-for-3 with two walks and hit sixth and seventh doubles. Trevor Larnach was 2-for-4 with his 12th homer. DaShawn Keirsey went 2-for-5 with a walk and his fifth steal since joining the Saints and 36th overall. 
Alex Kirilloff didn't play on Friday night after starting the two previous games. Byron Buxton batted third and was the DH. He was 0-for-2 with two strikeouts.
WIND SURGE WISDOM
Wichita 2, San Antonio 0 (10 innings)
Box Score
Let's jump straight to extra innings. Frankly, nothing really happened through the first nine innings, except some terrific pitching (which we'll get to in just a minute). 
Aaron Sabato made the final out in the bottom of the ninth. So when the Surge came to the plate in a tie game in the bottom of the 10th frame, Sabato was set to be the Manfred Man at second base. Instead, Ramon Borrego sent speedster Will Holland in as a pinch runner. Unfortunately, the first two batters of the inning popped out in the infield without advancing Holland at all. It looked like the game was heading to the 11th inning. However, Willie Joe Garry, Jr launched the first pitch over the wall to end the game and give the Surge the win.
Following the game, Garry Jr told Twins Daily, "Coming into the box, all I was thinking was 'Be on Time.' They beat me early in the game with some fastballs so I just wanted to catch something out front. He went breaking balls early to the few batters he faced before me, so I sat soft first pitch in hopes that he left something up in the zone." 
He was right. He got the breaking ball up, and he hit it well. "I haven't hit much on-field BP here, so I'm still not sure how the ball plays late in the game in this part, but I felt like I got enough of it to let the guys know it's time to go home." 
His mind was running in one focus as he was running from base to base. "Rounding the bases, I didn't think about much other than the fact that we got back in the Win column. The standings are close, so every game matters right now. I was just happy to help us get the win." 

Marco Raya has certainly struggled since joining the Wind Surge. In this game, he gave up two hits over four scoreless innings. He had two strikeouts and no walks. Taylor Floyd came into the game and got four outs. Then lefty Aaron Rozek pitched 3 2/3 scoreless innings. Miguel Rodriguez pitched a perfect top of the 10th to be credited with the Win. It was a terrific night for the staff as they gave up just four hits and a walk over 10 scoreless innings. It was also a terrific game for their defense as they combined for just five strikeouts. 
The Kernels had seven hits in the game. Aside from Garry's fourth homer, Tanner Schobel hit his sixth double since joining the team. Pat Winkel was the lone player to reach twice, with a single and a walk.
KERNELS NUGGETS
Cedar Rapids 11, Lake County 7
Box Score
The Kernels used a six-run fourth inning to take control of this game. 
Down 2-0 in the bottom of the first inning, the Kernels got back-to-back doubles from Emmanuel Rodriguez and Kala'i Rosario to get on the board. They added a second run in the third inning. Keoni Cavaco led off with a walk before Ben Ross doubled to score him. 
Down 5-2 going into the bottom of the fourth inning, the Kernels mounted their big inning. Jorel Ortega led off with a single and then stole second base. With one out, Carson McCusker drove him in with a single. Then, Jeferson Morales's sixth home run tied the game at 5-5. Cavaco followed with a single and scored on Ben Ross's 19th home run of the season. In a near-replay of the first inning, Emmanuel Rodriguez tripled and then scored on another Rosario double. The Kernels ended the inning with an 8-5 lead. 
Jose Salas single-handedly scored a run for the Kernels in the fifth inning. He stole second base. Then he stole third base and scored on a throwing error by the catcher. 
In the bottom of the eighth inning, Cedar Rapids got some needed insurance. The Kernels used a couple of errors to increase their lead to 11-5. Lake County scored two in the ninth inning, but there was no need for stress. 
Alejandro Hidalgo started and gave up three runs on five hits and three walks in three innings. Jarret Whorff came on and got two runs on one hit (a homer). He had three walks and three strikeouts. Matthew Swain came in and tossed two scoreless innings. A.J. Labas gave up two runs on four hits over the final two innings. He had three strikeouts. 
The Kernels got several strong performances. Emmanuel Rodriguez went 3-for-5 with his 12th and 13th doubles, and his eighth triple. Kala'i Rosario went 3-for-5 with his 26th and 27th doubles and three RBI. Ben Ross was 2-for-5 with his 25th double and his 19th home run. He had three RBI. Keoni Cavaco went 2-for-2 with two walks. He scored three runs. Jorel Ortega went 2-for-5 and stole his 10th base since joining the Kernels. After his back-to-back steals, Jose Salas now has 22 stolen bases this year. 
The Kernels won the division title in the first half and have a big lead in the second half as well. 


MUSSEL MATTERS
Fort Myers and Clearwater missed two straight days of game thanks to a hurricane. One of the games was simply canceled. On Friday, the two teams played a doubleheader, two seven-inning games. 
Fort Myers 11, Clearwater 5
Game 1 Box Score
The Mussels jumped out to an early start and got big games from a couple of 2023 draft picks on their way to a Game 1 win. 
Jay Harry (6th round, Penn State) got things started with a leadoff double. Walker Jenkins (1st round) followed with an RBI single. Ricardo Olivar and Danny De Andrade followed with singles, the latter scoring the Twins second run. In copycat fashion, Rubel Cespedes singled in the third run. After that, the mode of run scoring changed, but they did add on. Alec Sayre walked. Then after the inning's first out, Dillon Tatum challenged a called strike and was successful. Instead of a strikeout, he walked to score the fourth run. Then with two outs, Harry came up a second time and walked with the bases loaded to "drive in" the fifth run. 
The Mussels added runs in four of the remaining six innings to keep the pressure on which is good because the Threshers scored in four of their seven innings. 
Miguelangel Boadas started and worked the first three innings. He gave up two runs on three hits. He walked three and struck out three batters. Danny Moreno had a walk and a strikeout in a scoreless inning. Matt Gabbert worked the final three innings. He gave up three runs on three hits and a walk. He struck out three batters. 
Back to those 2023 draft picks. Jay Harry led off and played shortstop. In the game, he went 4-for-4 with a walk, his sixth double, and his first professional home run. Jenkins followed that homer with his first home run since joining the Mussels last week. Jenkins was 3-for-5. Both scored two runs. Harry had four RBI to Jenkins' two. Kamron Willman added two hits, including a triple, in the game. He added his first stolen base. Alec Sayre walked three times and stole two bases. 
Fort Myers 3, Clearwater 1 
Game 2 Box Score
There was a little less offense in the second game. However, Walker Jenkins had two of the Mussels' eight hits. 
The Mussels got a double from Yohander Martinez to drive in their first run. Danny De Andrade with the second run. Their third run scored on a sacrifice fly to score Nate Baez with the third run. 
However, that proved to be more than enough for 6-5, 21-year-old, Brooklyn Park native John Klein. The right-hander went all seven innings and needed just 90 pitches. He gave up one run in the first inning, but that was it. He gave up three hits, walked two, hit one and struck out four batters. 
While the Mussels have been playing well and have won seven games in a row, their elimination number is just one right now.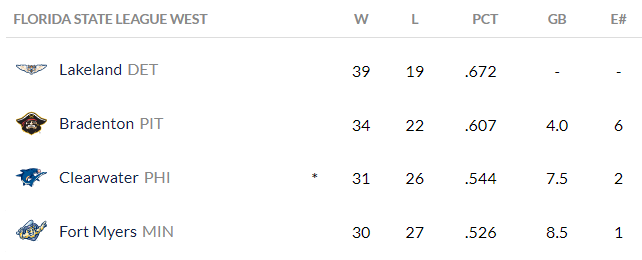 TWINS DAILY MINOR LEAGUE PLAYERS OF THE DAY
Pitcher of the Day – John Klein (Fort Myers) – 7.0 IP, 3 H, 1 ER, 2 BB, 4 K, 90 pitches, 55 strikes (61.1%)
Co-Hitter of the Day – Jay Harry (Fort Myers): 4-for-4, BB, 2B(6), HR(1), 2 R, 4 RBI
Co-Hitter of the Day – Walker Jenkins (Fort Myers): 5-for-9, HR(1), 2 R, 2 RBI   
Co-Hitter of the Day – Emmanuel Rodriguez (Cedar Rapids): 3-for-5, 2-2B(13), 3B(8), 3 R
Co-Hitter of the Day – Kala'i Rosario (Cedar Rapids): 3-for-5, 2-2B(27), 3 RBI. 
Co-Hitter of the Day – Keoni Cavaco (Cedar Rapids): 2-for-2, 2 BB, 3 R
Co-Hitter of the Day – Willie Joe Garry (Wichita): Extra-innings, walk-off homer.
Co-Hitter of the Day – Hernan Perez (St. Paul): 2-for-3, 2 BB, 2-2B(7), R, SB(9)   
PROSPECT SUMMARY
Check out the Prospect Tracker for much more on the new Twins Top 20 prospects after seeing how they did on Wednesday. 
#2 – Walker Jenkins (Ft. Myers) – Game 1: 3-for-5, HR(1), 2 R, 2 RBI; Game 2: 2-for-4
#3 – Emmanuel Rodriguez (Cedar Rapids) – 3-for-5, 2-2B(13), 3B(8), 3 R
#4 – Marco Raya (Wichita) – 4.0 IP, 2 H, 0 R, 0 BB, 2 K, 48 pitches, 35 strikes (72.9%)
#7 – Austin Martin (St. Paul) – 1-for-6, 3 K
#8 – Tanner Schobel (Wichita) – 1-for-4, 2B(6), K
#13 – Kala'i Rosario (Cedar Rapids) – 3-for-5, 2-2B(27), 3 RBI
#14 – Yunior Severino (St. Paul) – 1-for-5, R, K
#15 – Simeon Woods Richardson (St. Paul) – 5.0 IP, 3 H, 2 ER, 3 BB, 6 K, 94 pitches, 62 strikes (66.0%)
#16 – Jordan Balazovic (St. Paul) – 1 1/3 IP, 2 H, 3 ER, 3 BB, 0 K, 2 WP, 44 pitches, 21 strikes (47.7%)
#17 – Danny De Andrade (Fort Myers) – Game 1: 1-for-4, BB, R, RBI, K, SB(18); Game 2: 1-for-4, RBI, K, SB(19) 
#18 – Jose Rodriguez (FCL Twins) – 2-for-4, BB, 2 R.
SATURDAY'S SCHEDULE AND PITCHING PROBABLES
Columbus @ St. Paul (7:07 PM CST) – RHP Randy Dobnak (4-7, 4.95 ERA)
San Antonio @ Wichita (6:05 PM CST) – RHP Pierson Ohl (7-3, 3.06 ERA)  
Lake County @ Cedar Rapids (6:35 PM CST) – RHP Kyle Jones (6-5, 4.23 ERA) vs LHP Steven Hajjar (#OldFriend) 
Fort Myers @ Clearwater (5:30 PM CST) – RHP Jose Olivares (2-4, 6.37 ERA) 
Please feel free to ask questions and discuss Friday's games or any other Twins minor league topics!