Box Score
SP: Joe Ryan: 7.0 IP, 3 H, 0 ER, 0 BB, 10 K (92 pitches, 69 strikes (75.0%)
Home Runs: Michael A. Taylor 2 (3), Edouard Julien (1), Carlos Correa (1) 
Top 3 WPA: Jose Miranda (0.124), Byron Buxton (0.076), Carlos Correa (0.068) 
Win Probability Chart (via FanGraphs)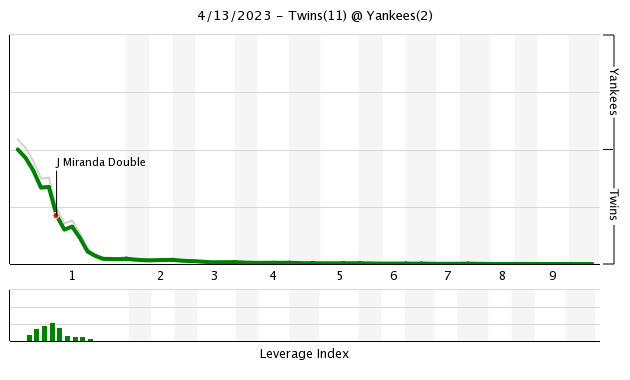 Pregame Notes 
There were a few interesting notes before the game even started. With Kyle Farmer being placed on the 10-day Injured List after undergoing surgery on Wednesday night, the Twins have added outfielder Kyle Garlick to the roster and moved Gilberto Celestino to the 60-Day Injured List. 
data:image/gif;base64,R0lGODlhAQABAPABAP///wAAACH5BAEKAAAALAAAAAABAAEAAAICRAEAOw==
Gleeman's tweet got us all thinking. What could it mean? Why was Louie Varland scratched so late? Was there an injury?  
All indications are that Dan Hayes was correct. It sounds like Varland will start for the Twins one of the next couple of days with the rest of the starters getting an extra day of rest. 
Julien Leads Off and has Memorable First Inning 
In just his second big-league game, Rocco Baldelli placed Edouard Julien at the top of the Twins lineup. In his debut on Wednesday afternoon, he went 0-for-2, but he did coax a walk. 
In his first at-bat of the night, Julien drove a ball that one-hopped the right field wall at 104 mph. Played well by the outfielder, Julien was held to a single. 
data:image/gif;base64,R0lGODlhAQABAPABAP///wAAACH5BAEKAAAALAAAAAABAAEAAAICRAEAOw==
I'll tell you more about what happened in between shortly, but the Quebec native, whose family was in Yankees Stadium for this game, came to the plate again in the first inning, this time against reliever Colten Brewer. In patented Julien style, he hit an opposite-field homer into the left field bleachers for his first career home run.
data:image/gif;base64,R0lGODlhAQABAPABAP///wAAACH5BAEKAAAALAAAAAABAAEAAAICRAEAOw==
That is just the fourth time since 1974 that a player has recorded his first hit and his first home run in the same inning (separate hits, of course). 
Huge, 9-Run First Inning 
It was a huge first inning for Edouard Julien, but it was a huge first inning for the whole Twins team. Julien got things going. Then he hustled to second on a Carlos Correa ground ball to the 5.5 hole. Anthony Volpe fielded it and threw to second, but after replay, Julien was safe at second. I included the article story photo that I did because you have to credit Rocco Baldelli for challenging the call in the first innings. You wonder, if they hadn't challenged it or if Julien hadn't been hustling, the rest of the inning and the game could have played out much differently than it ultimately did. 
Honestly, I'm just going to bullet point the inning for you. Scoring nine runs before your team even plays defense is always a good thing. 
Nine runs. Eight hits. And to follow that, Joe Ryan needed just eight pitches to get through the Yankees top three in the bottom of the inning. 
25-year-old Jhony Brito had made two MLB starts in his career before Thursday night. In his first two starts this season, he was 2-0 with a 0.90 ERA. Over 10 innings, he gave up just one run on five hits and three walks. My amateur scouting eye thinks that he has some really good stuff. His fastball sat between 96 and 98 mph, and he threw a few changeups that looked very good. Who knows where his career will go from here, but he certainly should get many more opportunities. 
Michael A. Taylor Power 
As you saw above, Taylor ended Brito's night with a two-run homer in the first inning. 
After the Twins went scoreless in the second, Taylor followed a second Christian Vazquez double with his second home run of the night and third home run of the season. 
data:image/gif;base64,R0lGODlhAQABAPABAP///wAAACH5BAEKAAAALAAAAAABAAEAAAICRAEAOw==
Known for his defense, the 32-year-old is in his tenth big-league season. In his career, he has hit .241/.295/.381 (.676) with 115 doubles and 75 home runs (before this game). So no, he isn't a great hitter, but when you couple in his Gold Glove-caliber defense with the occasional extra base hit, he does provide value to a team. In his career, he has a 19-homer season, a 14-homer season, and a 12-homer season.  
Joe Ryan Impresses
If you only looked at his face, the focus that Joe Ryan showed in his Thursday night outing was tremendous. Even as he was running out to the mound with a 10-run lead in the 7th inning, he looked as if he was pitching in a one-run game. 
Given the 9-0 lead before he took the mound, he responded with strikes and a very quick inning, exactly what the team needed. He was perfect through the Yankees lineup. Nine up. Nine down. In the fourth inning, he allowed a solo homer to Anthony Rizzo but shook that off to strike out Giancarlo Stanton to end that inning. He then struck out two more batters in a perfect fifth frame. 
He gave up a bloop single to Anthony Volpe with one out in the sixth inning, but he got Gleyber Torres to fly out and then struck out Aaron Judge for a second time. Judge was replaced by Aaron Hicks in the eighth inning which ended his streak of 45 consecutive games of reaching base. 
His night was complete after seven innings. Cole Sands made an appearance for the first time in well over a week. He had an 10-pitch eighth inning. With two outs in the ninth inning, Anthony Rizzo hit his second homer. 
Of his 92 pitches, Joe Ryan threw 58 four-seam fastballs, with a range of 90.3 to 95.8 mph and an average of 93.2 mph. He also threw 23 splitters and 11 sweepers.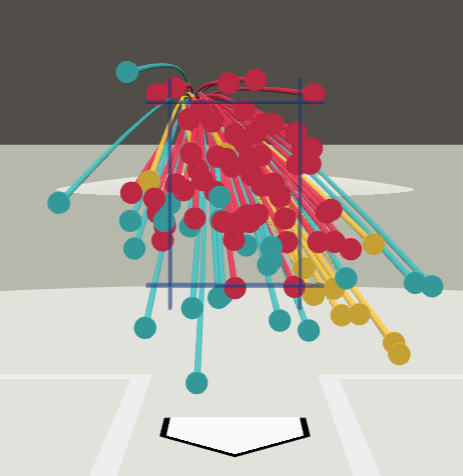 Christian Vazquez deserves a lot of credit for Ryan's performance as well. Along with calling a great game, he went 3-for-4 with two doubles. He's hitting .379 on the young season. 
Postgame Notes
(coming soon) 
What's Next? 
On Friday night in The Bronx, the Twins will send RHP Louie Varland  to the mound for his first start of 2023 to face 2022 All Star LHP Nestor Cortes (2-0, 2.61 ERA) in Game 2 of 4 in this series. Game time will again be 6:05 central time. 
Postgame Interviews
Bullpen Usage 
| | | | | | | |
| --- | --- | --- | --- | --- | --- | --- |
|   | SUN | MON | TUE | WED | THU | TOT |
| Alcalá | 45 | 0 | 0 | 15 | 0 | 60 |
| Durán | 0 | 0 | 24 | 15 | 0 | 39 |
| Morán | 0 | 35 | 0 | 0 | 0 | 35 |
| Pagán | 23 | 0 | 0 | 0 | 0 | 23 |
| Sands | 0 | 0 | 0 | 0 | 23 | 23 |
| Jax | 0 | 0 | 8 | 12 | 0 | 20 |
| Thielbar | 0 | 10 | 4 | 0 | 0 | 14 |
| López | 0 | 0 | 0 | 12 | 0 | 12 |