Box Score
Bailey Ober: 6 IP, 4 H, 0 ER, 0 BB, 3 K
Home Runs: None
Top 3 WPA: Bailey Ober (.346), Jhoan Duran (.320), Jorge Polanco (.163)
Win Probability Chart (via FanGraphs)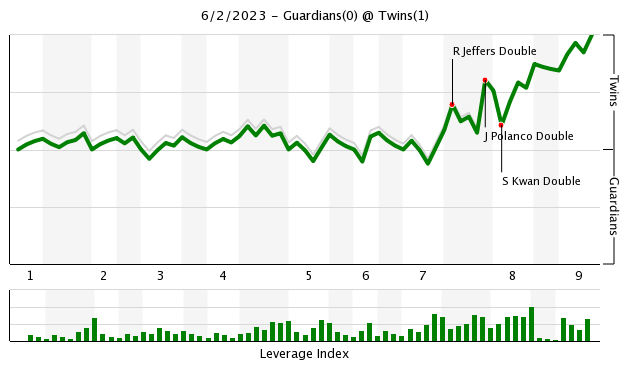 The MLB world celebrated a special occasion on Friday: Lou Gehrig day. The legendary Hall-of-Famer started his famous, once unbreakable record streak of 2,130 straight games played on June 2nd; he also tragically passed away due to ALS on the same day, at just 37 years old. The giver of perhaps the greatest speech this side of Lincoln, Gehrig's influence on American culture and society is unmatched, incomparable. Even 100 years after his first taste of MLB, Gehrig's spirit alters the sport.
It was about as standard of a Bailey Ober outing you could imagine; the elongated righty diced through the Guardians lineup, matching sky-scraping fastballs with diving breakers, eliciting plenty of balls his defense turned into outs. He struck out three while allowing just four hits.
But Aaron Civale—freshly removed from the IL—was just as effective, matching Ober blow-for-blow. Civale prefers a different style of pitching—one based on his cutter stunning batters as they search their mind to better understand his plethora of pitches. Minnesota seriously threatened to score twice, but their great enemy, the bases-loaded, tempered odds in the first, and their fourth frame rally died via natural causes (a Kyle Farmer soft line drive.)
With no score after six, the onus turned to the bullpen to decide the game.
The two teams fired scoreless sixths towards each other before the Twins started yet more action in the seventh. Ryan Jeffers cracked a double and Kyle Farmer walked, setting up two runners on base for the back of the lineup. Michael A. Taylor swapped the runners with a fielder's choice before Jorge Polanco finally broke the stalemate, blasting a thunderous double off the high wall in right field, scoring the first run of the game.
Brock Stewart continued his work from the seventh, extending his effort beyond a one-out "save-me" call by Rocco Baldelli to potentially carry the eighth as well. He faltered a little. A double—aided by some clumsiness by Taylor in center—placed Steven Kwan at second; Stewart's next out proved to be his last.
And in entered the big, bad, fire breathing, lightning-throwing, final boss of Minnesota's bullpen: Jhoan Duran. Five more outs were needed; Baldelli did not care.
José Ramírez exited following a silly swing at a splitter off the plate, and while Josh Naylor reached first on a walk, Andrés Giménez could do little more than mimic a heat sick grandmother waiting for the Fourth of July parade to start, fanning with such authority that the first row felt instantly cooled. 
But no mercy was to be had for those swinging a bat with a "C" on their helmet. Duran melted more faces—allowing a single to Myles Straw along the way—on his way to securing the last few outs Minnesota needed to win. 
And really, what are you supposed to do? Humans shouldn't be able to control 105 MPH fastballs, and Duran's breaking ball command means that any cheating on the heater will result in a center-stage performance on Pitching Ninja and MLB Network. All you can do is laugh.
Notes:
Bailey Ober's career ERA against Cleveland now sits at 1.42.
Tonight was Jhoan Durán's fourth outing of 2023 that lasted more than one inning; he had 14 such appearances last season.
Jovani Moran's last earned run came on May 13th against the Cubs.
Ryan Jeffers is slashing .375/.444/.688 in his last seven games. 
Post-Game Interview:
What's Next?
Minnesota and Cleveland will play the third game of the series on Saturday. Fox has the game and first pitch is at 6:15 PM; Sonny Gray will start opposite the other Logan Allen.
Bullpen Usage Spreadsheet