Thom Browne swears he doesn't plan on going viral when putting together his fashion shows; he doesn't even think about how they might play on the internet.
Instead, he crafts his shows—which, really, are much more like pieces of theater—to tell a story to those attending in real life. "For me, it's more interesting that you get this more intimate experience in regard to what the collection is saying, or what I want to say through the collection," Browne says.
Still, when you cast Golden Globe-winning actress Michaela Jaé Rodriguez as a modern-day Cinderella and send her down the runway in a pink tulle Cadillac to close the show, as Browne did for his spring 2023 collection, you're bound to attract more than a few eyeballs online. And on TikTok, there are a lot of eyeballs to be had: The hashtag #fashionmonth alone had a staggering 228 million views in September 2022.
Fashion has always found its way onto social media, whether through archive-obsessed Tumblr accounts or the in-depth analyses found on high-fashion Twitter—and, of course, Instagram, with its reputation for glossy images, has been the reigning platform of choice for many years. But, armed with a video-forward ethos, TikTok is poised to take over.
"Instagram almost feels like it's very controlled, like a traditional media outlet," says Alyssa Mosley, a stylist and content creator who has found an audience as a TikTok creator (@alyssamosley_). "[TikTok] is like the people's platform."
Intentional or otherwise, the spring 2023 season was packed with eye-catching moments perfect for the kind of bite-size videos that find success on TikTok. Courrèges created a giant sandpit for its runway, while Balenciaga's catwalk took the form of a dystopian mudslide. Gucci's twin parade, with a cast of 68 pairs of identical twins revealed in a surprise finale twist, was a huge hit on the app, too. "I definitely think the larger brands with the budgets have been trying a little bit harder to achieve those viral moments," Mosley says. "A lot of brands are really having fun with their production and set design to draw attention."
But perhaps no show illustrates the power of going viral quite like Coperni's. In August 2022, the #coperni hashtag was doing admirably, clocking some 1.9 million views. Then, at the end of September, the brand closed its spring 2023 fashion show with a bang. Bella Hadid stepped onto a platform and was promptly sprayed down with a white material. With a few minor tweaks—a tug at the shoulders, a cut up the front to reveal some leg—Hadid took her finale walk in a dress literally created on her body less than a minute before.
The moment went viral just about everywhere, but on social media, the proof is in the numbers: On TikTok, #coperni jumped to 7.3 million views in September, and then an astonishing 123 million views in October. (Hadid saw her name gain power, too, with #bellahadid going from 272 million views in August to 524 million views in October.)
Another quick route to viral success? Tapping into celebrity, of course. Famous people have been a mainstay in fashion for decades, but brands looking to make extra headlines know an A-list name goes a long way. Dolce & Gabbana partnered with Kim Kardashian for its spring 2023 collection, while Balmain and Versace featured famous faces on their runways (Cher and Paris Hilton, respectively). For his production, Browne tapped actress Gwendoline Christie to play "Charming" alongside Rodriguez's "Cindy."
And, because TikTok has minted so many celebrities, designers are now inviting popular creators to sit front row at their shows, whether it's Addison Rae at Givenchy or Wisdom Kaye at Ralph Lauren. "A lot of brands are really utilizing that celebrity, especially youth—so TikTok stars who wouldn't traditionally be in the fashion space are being invited to a lot of different shows because they do draw attention," Mosley says.
True fashion fanatics need not fret, though: The focus is still on the clothes. Loewe's punchy, trompe l'oeil pixelated pieces cut through the noise, as did Maximilian Davis's red-tinged debut at Ferragamo. Going viral on TikTok is just another way that designers can spread their message to an entirely new—and, apparently, eager—audience.
"I love putting provocative ideas in front of people. I think it is important to open people's minds, open them up to really thinking differently about clothing or, culturally, what's going on," Browne says of his own viral moment. "I like that there's a reaction. I do. I'm not doing my job if there's just a mediocre reaction."
This article appears in the February 2023 issue of ELLE.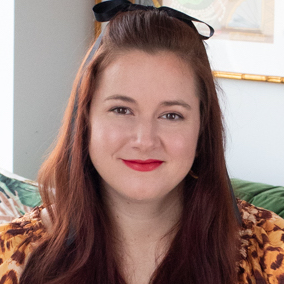 Freelance Writer
Tyler McCall is a writer whose work has appeared in The Cut, GQ, Porter and more. She is the former editor-in-chief of Fashionista.com.