The CES 2023 tech trends session outlined how digital health technologies were transforming homes into a health hub and featured SK Biopharmaceuticals' epilepsy wearables on Tuesday in Las Vegas, Nev., the U.S.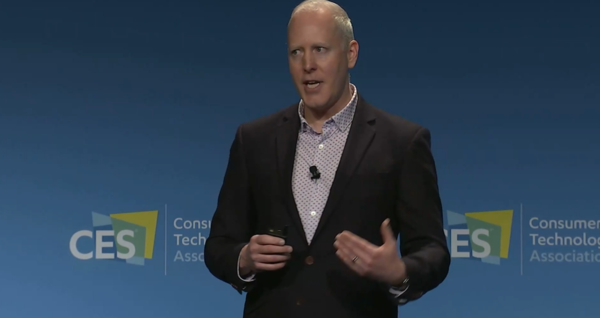 The session was delivered by Steve Koenig, VP of Research at CTA, who highlighted global challenges and technological innovations to address them in the respective industries. Some of the main themes mentioned by Koenig were the metaverse becoming a more immersive experience for retail and digital scent, 5G networks as the foundation to enable more widescale innovations, smart factories becoming more productive, and sustainable technology innovations.
Regarding health technologies, Koenig remarked, "The transformation of new digital health technologies is becoming a tool to extend care to remote areas and transfer care into home environments."
He alluded to the growing number of sensors in smartwatches that are enabling better health management and went on to highlight some specific examples which will be featured at CES 2023. 
One such example is the MedWand which integrates multiple clinical sensors into one handheld device to facilitate better telehealth. 
MedWand VP of Clinical Quality and Integration, Michael Kurliand, said this not only addresses equity for accessing healthcare services but also helps improve trust between the patient and doctor.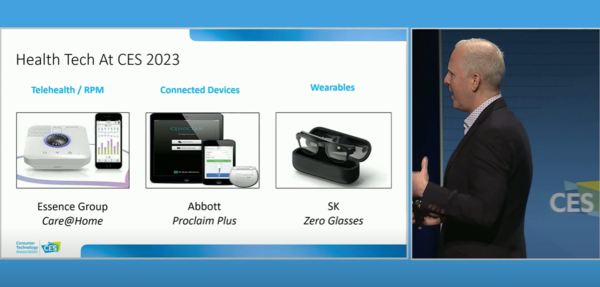 Another digital health technology that Koenig highlighted came from Korea's SK Biopharmaceuticals which recently won the CES 2023 Innovation Awards for the outstanding design and engineering of its epilepsy wearable. The wearable glasses are converged with AI and mobile technologies that can offer real-time monitoring and data-driven seizure detection for patients with epilepsy.
He also mentioned some other innovations from Abbott which will later deliver keynote lectures on "The Future of Sports Health Technology" and "The Future of At-Home Testing and Diagnosis" on Thursday and Friday, respectively.
Besides telehealth enabling technologies, he also underpinned digital therapeutics (DTx) as new ways to manage chronic diseases like diabetes, mental health issues like stress and anxiety, and fitness technologies to revolutionize the home gym experience.
Elaborating a bit on the metaverse, he described the OVR digital scent technology which is capable of providing enhanced relaxation therapy by activating the limbic system and also for making simulation environments more real by engaging the olfactory sense through its proprietary VR headset.
Other health technology innovations that will also be on display at CES 2023 include a dual blood pressure and arterial health monitor by CardieX, a smart pillow to solve sleep disorders by DozzyCozy, a digital twin solution to ensure traceability along the pharmaceutical supply chain jointly developed by Gerresheimer and Merck, and the ViraWarn's portable breath analyzer diagnostic device.
Koenig closed his remarks by predicting that services that currently account for 31 percent of consumer spending will rise in the coming years to keep up with the trend of the on-demand lifestyle.