Literary Hub is pleased to reveal the cover for Tiffany McDaniel's On the Savage Side, which will be published by Knopf on February 14, 2023. McDaniel is the author of The Summer That Melted Everything and Betty; On the Savage Side is her third novel.
Here's how the publisher describes the book:
Arcade and Daffodil are twins born one minute apart. With their fiery red hair and thirst for escape, they form an unbreakable bond nurtured by their grandmother's stories. Together, they disappear into their imaginations and forge a world all their own.
But what the two sisters can't escape are the generational ghosts that haunt their family. Growing up in the shadow of their rural Ohio town, the sisters cling tightly to one another. Years later, Arcade wrestles with the memories of her early life, just as a local woman is discovered drowned in the river. Soon, more bodies are found. As her friends disappear around her, Arcade is forced to reckon with the past while the killer circles closer. Arcade's promise to keep herself and her sister safe becomes increasingly desperate and the powerful riptide of the savage side becomes more difficult to survive.
Drawing from the true story of women killed in Chillicothe, Ohio, acclaimed novelist and poet Tiffany McDaniel has written a moving literary testament and fearless elegy for missing women everywhere.
And here's the cover, which was designed by Kelly Blair: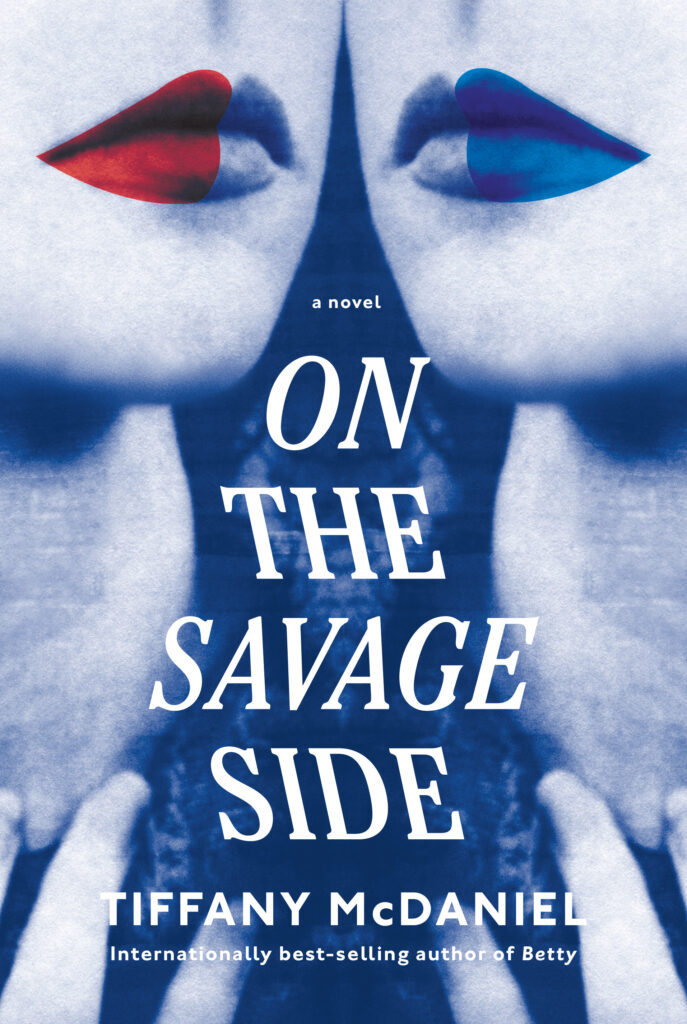 "I was very excited when I learned that Tiffany McDaniel had a new novel on the Knopf list, and On the Savage Side does not disappoint," Blair told Lit Hub. "At the heart of this book is the exquisite bond between the twins Arcade and Daffodil. Their relationship grounds the book and allows the story to unfold around them. It felt right that they would be on the jacket, to pull the reader into this haunting novel."
"I loved the cover from the moment I saw it," said McDaniel. "I had given my editor Maris Dyer a color of blue that I felt represented the story, and the designer Kelly Blair captured it beautifully. She took it a step farther by adding pops of color to the lips that instantly draw your eye in and makes the image fresh and surprising each time you look at it, adding to the haunting, mysterious feel. For me, the cover represents not only the spirit of the women inside the pages, but the spirit of the river herself, which the women are so closely tied to. Kelly found an image that breathes with the pages of the book and creates a seamless connection between story and cover. In that, she has given us something that's timeless."
On the Savage Side hits stands February 14, 2023. You can preorder a copy here.