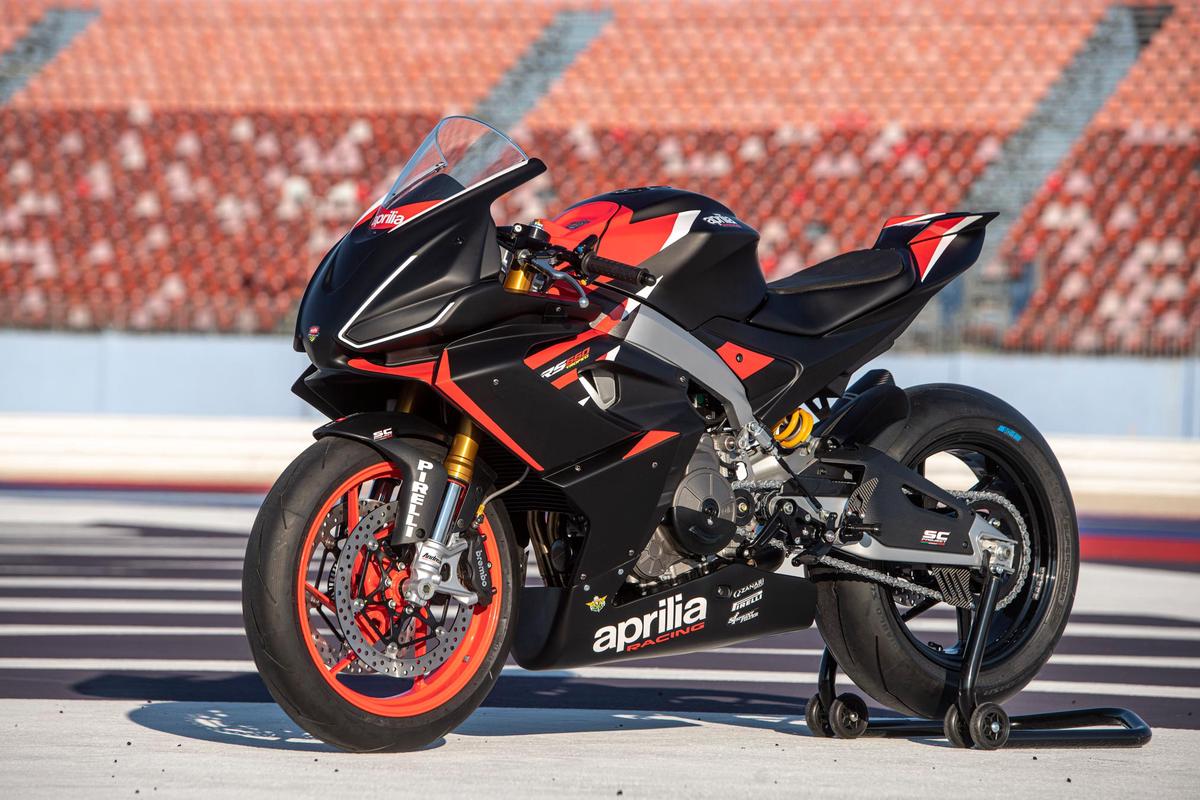 LANDERS WINS, RODIO EXTENDS MOTOAMERICA TWINS CUP POINTS LEAD ABOARD RS 660 AT ROAD ATLANTA
RODIO RACING, POWERED BY ROBEM ENGINEERING, RIDERS FINISH FIRST AND SECOND IN RACE 2 ON SUNDAY
BRASELTON, GA – 24 APRIL 2023 – Three years ago, the Aprilia RS 660 made its debut in the MotoAmerica Twins Cup Championship at Road Atlanta, each year showing new competition, with no shortage of challenges at the Georgia circuit. After a competitive weekend, and Rodio Racing – Powered by Robem Engineering riders Rocco Landers and Gus Rodio claimed half of the MotoAmerica Twins Cup podium finishes at the April 21-23 event to give the Aprilia RS 660 its second victory in four races this season, with Gus Rodio adding to his lead in the Twins Cup points standings.
The three-time MotoAmerica class champion Landers – who was filling in for injured rider Ben Gloddy – claimed a pole position and a win in his first weekend competing aboard an Aprilia and ended the weekend in eighth place in the Twins Cup standings. Gus Rodio's pair of second place finishes allowed him to end the weekend with a 26 point advantage over the second rider in the championship as they head to Barber in May.
Optimum Performance Motorsports' Jody Barry put in a strong performance, qualifying second on the starting grid, before an injury prevented him from competing in either of the round's two Twins Cup contests.
The weekend began with an Aprilia RS 660 at the top of the time sheets. Landers was the fastest rider in Friday morning practice and was more than half a second faster than the next-fastest rider. Rodio finished Friday practice third fastest, while Barry struggled in the session to finish 11th. Later Friday, Landers was again the top rider in the first of two qualifying sessions. He posted a best lap time of 1:31.907 and was nearly a second faster than Barry — who was the second-fastest rider. Rodio finished the session in fourth to give Aprilia three of the top four provisional qualifying positions.
Landers again paced the field in Saturday morning's Qualifying 2, but track conditions did not allow riders to improve their lap times from Qualifying 1 — which handed Landers pole position and ensured Barry and Rodio would start the weekend's races from second place and fourth place, respectively.
In the lead up to Saturday's Race 1, Barry had an unfortunate incident on the warm-up lap and crashed near Turn 5. The damage to his motorcycle did now allow him to participate in the race. When racing did get underway, Rodio got a good jump when the lights went out and was running in second as the field took the holeshot. Landers didn't get off the line well but was running just behind Rodio and another rider. That group of three riders steadily broke away from the rest of the field during the first lap. Landers' race was unfortunately cut short by a mechanical failure that his motorcycle suffered near the end of Lap 3, leaving Rodio and the other rider to vie for the win. Both riders took turns in the lead, and Rodio made a calculated attempt to get the lead back on the last lap. His effort came up short, but he still managed to finish second and add 20 points to his championship bid. Rodio was one of two Aprilia riders to finish in the top 10, as Righteous Racing's Ray Hofman came home in 10th.
Sunday's Race 2 featured a notable absence on the starting grid, as Barry was not cleared to take part in the race.
Landers made his presence known from the start of Race 2 and put in a commanding performance. He got a good launch off the line, grabbed the holeshot, and continued with a lead that was never in doubt. As Rodio labored through a three-way battle for second, Landers gradually built a lead that topped out at more than seven seconds. He took the win by 4.166 seconds. Rodio finished nine of the race's 12 laps in second place and pulled away from the third-place rider during the last two laps to secure his second runner-up finish of the weekend and give the Rodio Racing – Powered by Robem Engineering team its first 1-2 finish of the 2023 season. Landers' best lap time of 1:31.950 in Race 2 lowered the Twins Cup race lap record by more than 0.8 seconds.
Two other Aprilia riders also finished in the top 10 in Race 2. Unreal Racing's Daniel Garver finished in ninth place and Hofman secured his second 10th-place finish of the round.
Rodio's pair of second place finishes added 40 points to his tally, giving him 85 points on the season and a 26-points lead in the Twins Cup points standings. Though he didn't score any points in Race 1, Landers' victory on Sunday elevated him to eighth in the class standings with 25 points to his credit.
Of the 38 riders registered to compete in MotoAmerica Twins Cup at the Road Atlanta round, 18 were slated to race aboard Aprilia RS 660s.
MotoAmerica Twins Cup has a three-weekend break before it's back in action May 19-21 at Barber Motorsports Park in Birmingham, Ala.
Rocco Landers / No. 97
"My first time on the Aprilia RS 660 was amazing. It handled very similar to a 600cc bike, in that it gave me a ton of feel on the front tire. I really like riding it. It's really easy to adapt to, which is a blessing when you get on a new bike. Once I got on it, I knew I was going to gel with it immediately. Saturday's race was a bit of a bummer, but a day like today always makes you feel better about a day like yesterday. I'm very, very happy to be able to ride the Aprilia to a win today, and I'm excited about the rest of the season."
Gus Rodio / No. 96
"Overall, it was a pretty good weekend here at Road Atlanta. I'm super happy to get a double podium and extend my points lead to 26 points. I feel really good and learned a lot this weekend from riding with Rocco and other riders. I'm excited to take what we learned here to Barber and have a good weekend there."
MotoAmerica's Twins Cup heads to Barber Motorsports Park, in Alabama, for the third round of the Championship,May 19-21. The championship schedule, competitor information and class rules can be found at https://motoamerica.com/.