The concept of the metaverse seems to have taken a back seat in recent times, partly due to the emergence of groundbreaking technologies like ChatGPT. However, PTC remains steadfast in championing the metaverse. At Liveworx, they presented tangible use cases within industries, particularly in rapidly resolving critical issues.
Is the metaverse no longer relevant? The topic appears to have lost some of its hype this year, particularly with ChatGPT gaining prominence. 
A Valuable Tool for Industry
In an interview with DirectIndustry, Peter Fintl, Vice President of Technology & Innovation at Capgemini Engineering explained that:
"The concept behind the metaverse was to create a persistent model of the physical world in the virtual space, with the potential to revolutionize business models and generate a wide range of applications. However, the creators may have overestimated the value that the metaverse could bring. From an industrial perspective, the metaverse does not appear to offer anything new, as much of what it provides to industry is already available through digital twins. However, the industry is taking time to fully comprehend the new opportunities and capabilities that the metaverse can provide. When combined with simulation and digital twin technology, the visualization of the metaverse will become a powerful tool, offering significant gains in efficiency for engineering applications. We believe that the metaverse has the potential to be a valuable tool for industry."
PTC also is confident in the value of the metaverse. At Liveworx, their annual digital transformation event that was held in Boston a couple of weeks ago for the first time since 2019, the American software company advocated for the metaverse as a powerful tool for addressing complex challenges and solving real-world problems.
They showcased their pop-up metaverse concept which allows the creation of a spatial digital twin "in just 60 seconds". By providing instant access to a digital representation of physical spaces and creating a comprehensive spatial understanding of the environment, PTC believes businesses can leverage the power of spatial context, enable real-time collaboration, and improve problem-solving in critical industrial settings.
Companies like Mercedes, Vestas, and Burckhardt Compression are already testing the solution.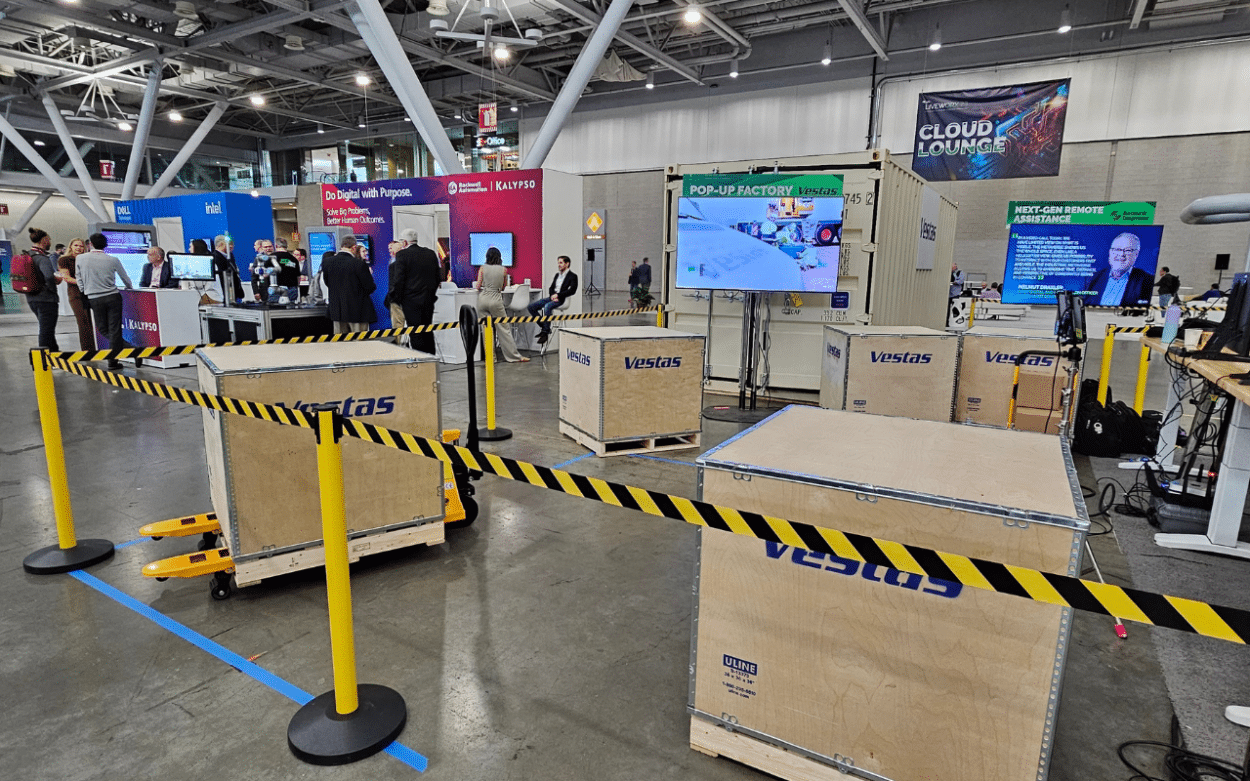 From AR to the Pop-up Metaverse
When the COVID-19 pandemic hit and travel bans were imposed, it caught everyone off guard. Suddenly, companies were unable to send their service engineers out to assist their customers.
Imagine you have a super tank in the middle of the ocean, and there's an incident abroad on one of the equipment and you cannot bring a service engineer. What can you do?
At that time, PTC's customers were able to use their AR solution Vuforia and off-site technicians were able to remotely assist a worker in the field to perform maintenance tasks that needed to be done despite the global epidemiological situation.
As PTC aimed to enhance the support provided by remote experts to local engineers, especially in challenging and remote locations, they sought to offer a holistic perspective encompassing both the machine and its operating environment. This led to the development of the pop-up metaverse.
Burckhardt Compression, one of PTC's customers, is testing the concept. The company manufactures compressors that are for example installed on LNG carriers. A vessel carrying volatile substances like liquid natural gas or hydrogen can be a stressful environment. So far, Fabrice Billard, CEO of Burckhardt Compression, is convinced by the concept. He believes in such situations, having someone virtually present can make a significant difference for their clients. In an interview with DirectIndustry during Liveworx he said: 
"During the COVID-19 pandemic, we faced challenges in sending our personnel for compressor maintenance. We started with Hololens and tablets to assist our customers in performing maintenance tasks with the remote guidance of our experts. With AR [Vuforia], our experts could guide customers through their maintenance operations, providing instructions and assistance. It all started from there. Then, we began exploring more possibilities with the industrial metaverse, which is an extension of this remote approach. We created a permanent space where we scan the customer's compressor using a smartphone in just a few minutes. PTC's technology creates a 3D model, and we enter this model with the customer to collaborate together. We can show the customer what maintenance tasks to perform, and where to go, and we can combine the 3D model with information from the user manual. For example, if there is a valve, we can link it to the relevant user manual, allowing the customer to access it or provide contextual information about the compressor's operation, pressure, and temperature, in real-time."
Burckhardt's compressors are installed in petrochemical plants, methane carriers, hydrogen mobility, and energy applications worldwide. 
"We have 10,000 compressors around the world. In methane carriers where maintenance is minimal, it can be beneficial for these types of clients to have an expert available remotely to guide on-site technicians."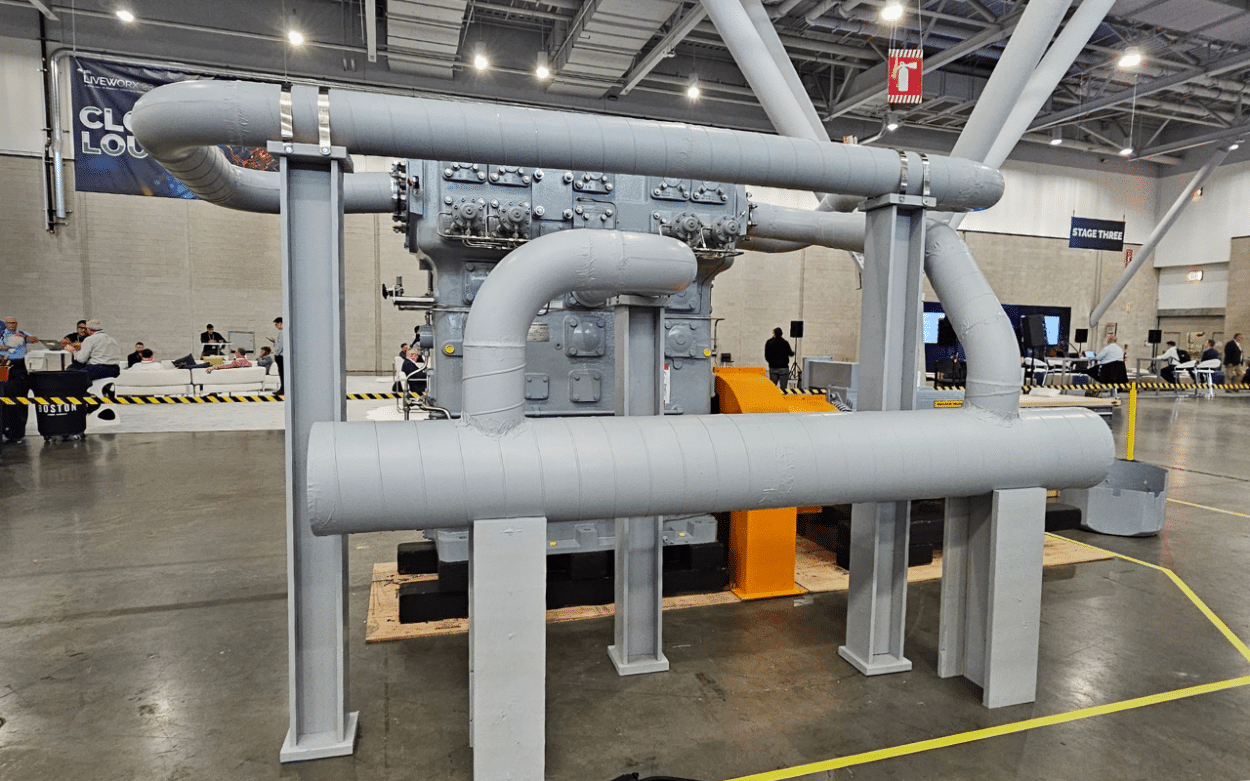 Solving Problems in Critical Environments
The idea behind the pop-up metaverse is to enable the quick deployment of digital twins for missions where every second counts. Everything starts with scanning the environment and the equipment to create a simulation of it using an iPhone equipped with a Lidar. 
The spatial digital twin created using Vuforia Creator provides a sufficient approximation of the environment to support various use cases. It allows remote experts and frontline technicians to have a shared understanding of the space and the machine's operating environment, facilitating real-time immersive support and faster problem resolution. The combination of digital information, such as 3D models and service history, with the physical spatial context, enhances the overall effectiveness of industrial processes.
During a press session at Liveworx, Steve Dertien, CTO at PTC explained that:
"We can actually create a pop-up area in 60 seconds for 1000 square meters. For us, it's like let's focus on the emergency speed, when things are going wrong, what tools can we give to [our customers]?"
The accuracy of Lidar for precise measurements may however have limitations when it comes to extremely detailed measurements, especially for small objects. But for PTC, the primary focus of the industrial metaverse is not necessarily on capturing precise measurements of individual objects, explained Steve Dertien.
"We don't need more than two centimeters of accuracy because we're not trying to coordinate measuring machines and else. The pop-up version is meant for speed."
Speed is indeed a crucial element. Helmut Draxler, Chief Digital and Information Officer at Burckhardt Compression recognizes that deploying digital replicas of physical spaces almost instantly opens up new possibilities in time-critical missions and emergency response scenarios.
"It will take you 40 minutes to have a very precise detailed model but when you have a problem, you don't have a 40-minute time. So in our situation, 40 minutes out means a six or a seven-digit number of damage for a customer, for example."
While PTC handles the applications, Microsoft takes care of the connectivity Burckhardt's CEO Fabrice Billard told us:
"We assisted Microsoft in implementing satellite connections on a moving ship in rough seas. We conducted tests a year ago to help Microsoft finalize their technology."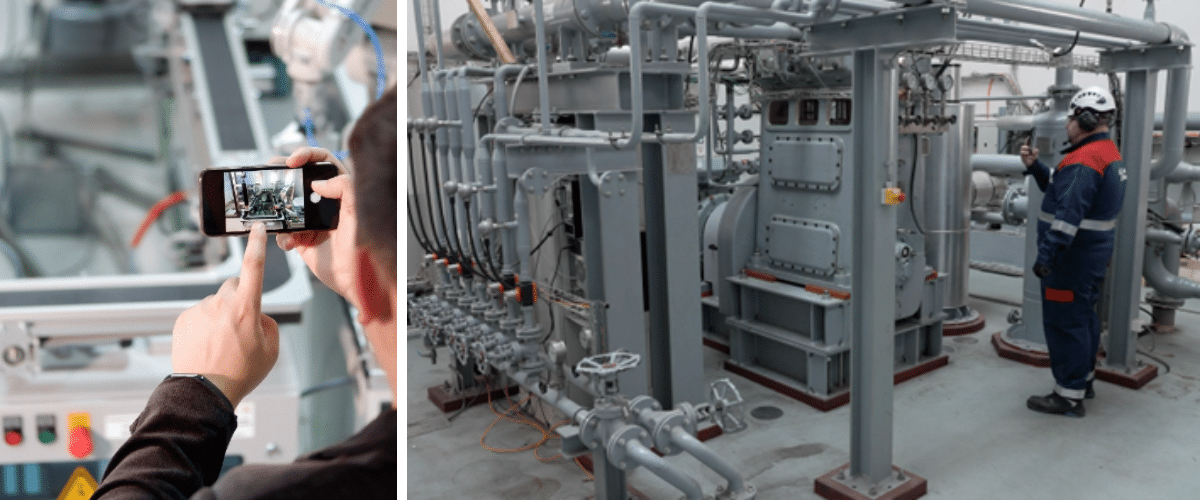 Enhancing Workplace Safety
Mercedes is also testing PTC's industrial metaverse solution. The software is operational within the Mercedes factory's testing area, where it is commonly used to verify service instructions before the launch of a car in the market, Shiva Kashalkar, VP of Product Management Metaverse at PTC explained:
"Again, front-line workers very easily use a phone or an iPad and the software calculates factors such as the posture, how the posture looks, how much time it takes to do a task."
These analytics provide valuable insights. For example, when the software highlights red indicators during a worker's standing posture, it suggests that the ergonomic setup may not be optimal. For instance, if a worker consistently retrieves tools from the bottom shelf throughout the week, it could potentially lead to work-related injuries.
Studying how people and materials move within a space like a factory enables both ergonomic and safety analytics aimed at improving operational efficiency and reducing safety incidents. 
A New Service?
Will PTC offer this as a new service to its entire customer base? According to Steve Dertien, the solution has the potential for integration with ServiceMax.
"The presence of this in ServiceMax remote service is a theoretical possibility for product packaging."
For Burckhardt's CEO, 
"We haven't reached the stage of a product or service yet; we are working with PTC on creating a product that brings value to customers and that they would be willing to pay for. We already have some interested clients."
In addition to selling their compressors, Burckhard could potentially provide maintenance and service contracts that integrate PTC's technologies and Microsoft's connectivity. Their solution, if launched, could primarily target the marine industry.