"Life's so fun, life's so fun," pop trio MUNA sings in their hit song "Silk Chiffon."
Despite being iconically sarcastic, the lyric rang true at the sold-out Chicago stop of their Life's So Fun Tour. The group turned The Salt Shed, located at 1357 N. Elston Ave., into an intimate nightclub during their approximately hour-and-a-half set May 16.
English duo Nova Twins opened the show with uninhibited rock talent. Guitarist and lead singer Amy Love commanded the crowd's attention with guitar riffs and impressive vocal range while bassist Georgia South energized the audience by jumping around stage and showing off complex basslines.
Songs like "Fire & Ice" and "Cleopatra" exuded confidence and excitement through hard rock instrumentals and growling vocals. Delicate and rich singing contrasted their typical sound in songs like "Sleep Paralysis."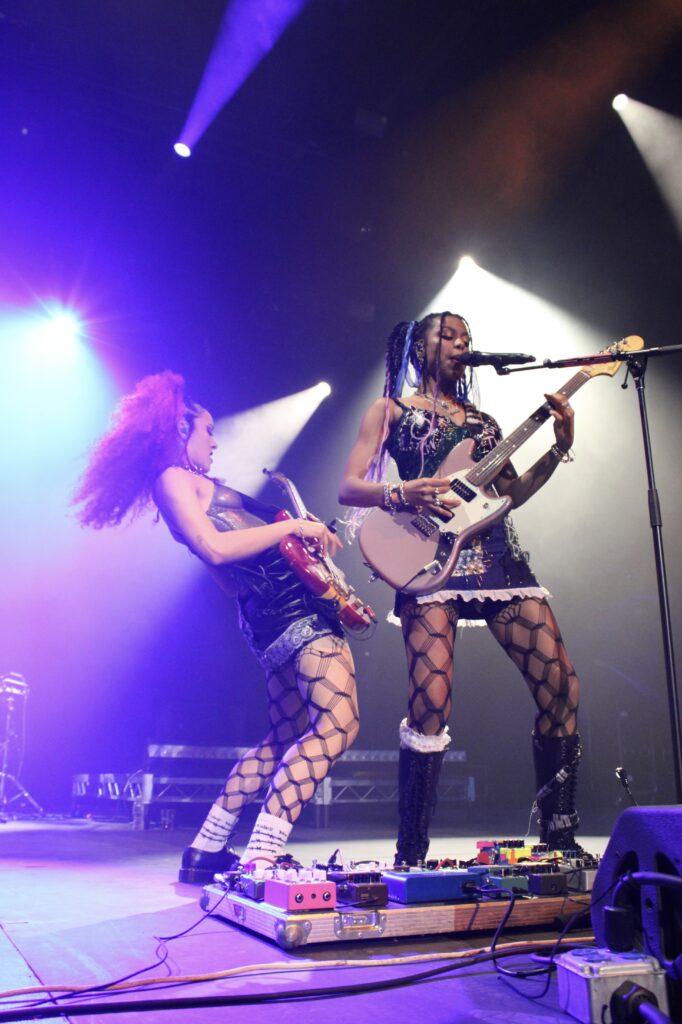 Shortly after 9 p.m., the house lights dimmed as fog and white beams of light flooded the stage. Pop music from overhead speakers was replaced by deep bass notes which boomed from amplifiers.
Guitarist Josette Maskin and multi-instrumentalist Naomi McPherson were welcomed onto the stage by roaring applause. Lead vocalist Katie Gavin's entrance generated louder cheering as flashing red lights and techno-pop music began playing.
"What I Want" aptly kicked off the set. The second track from their 2022 self-titled album, the song encompasses the unabashed self-assurance present in much of their work. Red flashing lights added a spirited intensity to the performance as the artists danced around the stage.
MUNA confronted negative self-perceptions in the undeniably catchy "Number One Fan" from their 2019 album "Saves The World." Continuing themes of confidence, Gavin reflected on self-love through playful vocals and animated dancing.
"I've been looking at myself in the mirror, saying / 'Don't leave me now,' and I turn around like / 'Oh my god, like, I'm your number one fan,'" she sang.
Deviating from songs centered around internal affirmation, MUNA's performance of "Solid" was an upbeat examination of a romantic relationship. McPherson's gentle background vocals benefitted the song's vibrant choruses.
"Stayaway" put self-awareness at the forefront, reminding fans to avoid emotionally draining relationships. The song appropriately led into "Runner's High," which details the joy that accompanies leaving a harmful relationship. 
MUNA appeased long time fans by venturing into songs from their first album "About U," released February 2017. "So Special," the project's lead-off track, served as a simultaneously devastating and empowering reclamation of beauty. Amplified cheers during a pop-rock guitar solo signaled the crowd's satisfaction with the performance.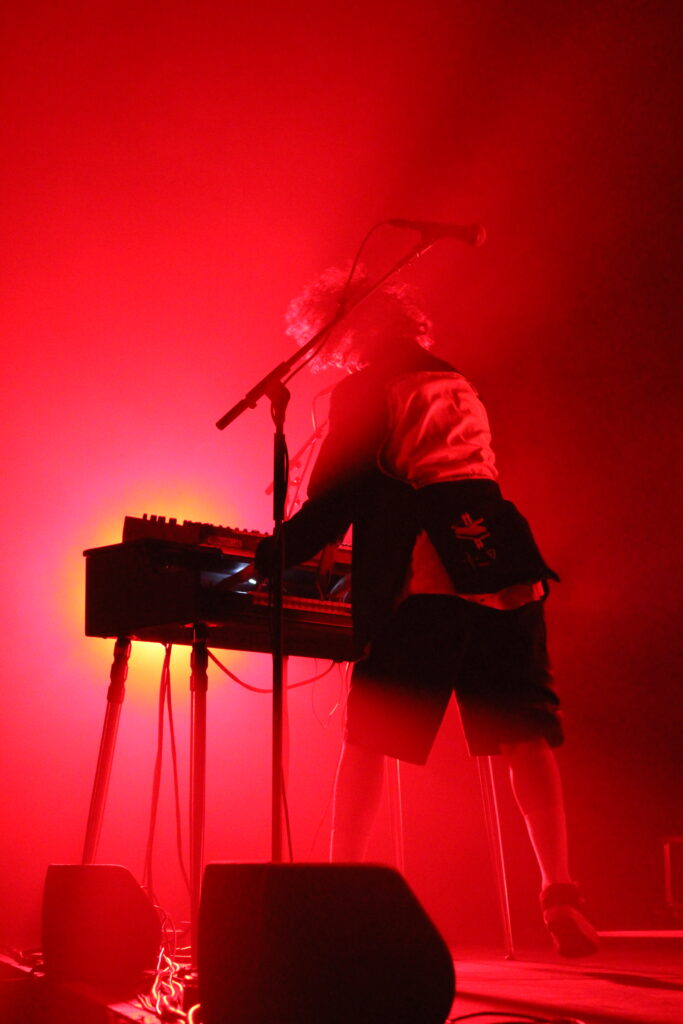 "Now I know I'm not so special / 'Cause I'm all dressed up / And you think that I'm beautiful / But it's not enough," Gavin declared.
While the trio's friendship was evident since they stepped on stage, intimate dancing between Gavin and Maskin during "No Idea" elevated the already obvious closeness within the group. The audience radiated growing communal energy as the show continued, paralleling the band's bond.
"Loose Garment" was the first in a series of songs exploring personal faults and emotional anguish. Each lyric built on unashamed vulnerability and honest self-reflection. Gavin said she wrote the track about expecting pain to subside after reaching personal success and growth.
"It's bullshit that it doesn't happen that way," she said to the crowd before beginning the song.
Warm lighting and fog blanketed the crowd during "Winterbreak." Gavin said she wrote the song in Chicago — her hometown.
The trio traded their distinctive pop sound for a country twang during their performance of "Kind Of Girl," a song about accepting change and navigating growth. As soft pink lights covered the stage, the trio communicated sentiments of both womanhood and gender nonconformity in a powerful declaration of self-discovery. The band dedicated the song to the transgender community.
"Yeah, I like telling stories / But I don't have to write them in ink / I could still change the end / At least I'm the kind of girl / I'm the kind of girl who thinks I can," Gavin belted.
"Taken" — the group's "more toxic country song" — featured simultaneously explosive and gentle instrumentals. "Around U" relied on a resonant bassline and a return to the trio's lively stage presence.
"Pink Light," which Gavin said details "wishing someone was in love with you," and "Crying in The Bathroom" abided by their characteristic synth-pop sound.
The crowd steadily clapped along to "Home By Now" while Gavin, McPherson and Maskin turned the stage into an intimate jam session, proving their unwavering energy.
MUNA brought a "helper" out for their performance of "Anything But Me" — an inflated balloon horse for fans to bounce around the venue. This prop was fitting, given the song's comical opening lines.
"You're gonna say that I'm on a high horse / I think that my horse is regular-sized," Gavin sang in the first verse.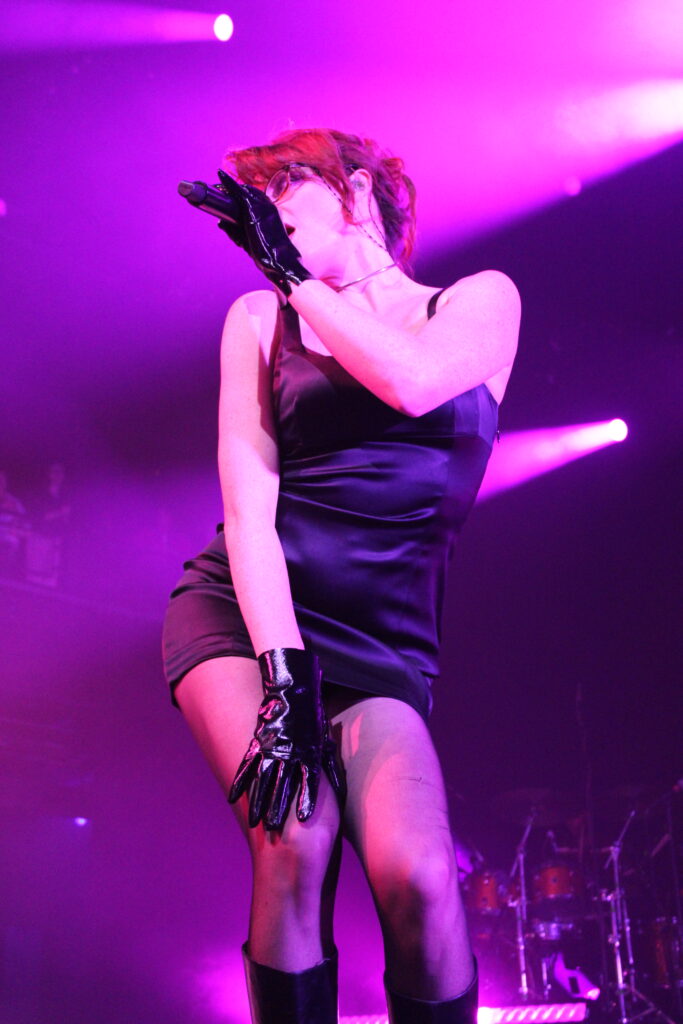 The set concluded with their most recent single "One That Got Away," released April 17, finishing the set with the same confidence the trio began with. Blue and orange lighting shined onto the somehow unexhausted crowd as they continued dancing.
The band's highly anticipated encore consisted of one of the first songs they wrote as a band — "I Know A Place." Deeping the bond within the venue, Gavin said the song is about creating safe communities for self-expression.
"If we can't find a space that's safe to be ourself then we're going to fucking make them," Gavin said.
MUNA's encore concluded with their hit song "Silk Chiffon." They were joined on stage by Nova Twins, who sang the second verse originally sung by Phoebe Bridgers in the studio recording. Fans sang along, drowning out the voices on stage with the crowd's optimistic and excited rendition.
Despite much of their setlist utilizing repetitive techno instrumentals and classic pop lyricism, a wide range of relatable themes and the trio's personability created a uniquely familial environment. 
A masterclass in pop music and dynamic stage presence, the band's Chicago show proved to be a display of unfaltering energy and genuine care. While MUNA explored several themes for the audience to contemplate, they left fans with one paramount proposition — life's so fun.
Photos by Ella Govrik / The Phoenix