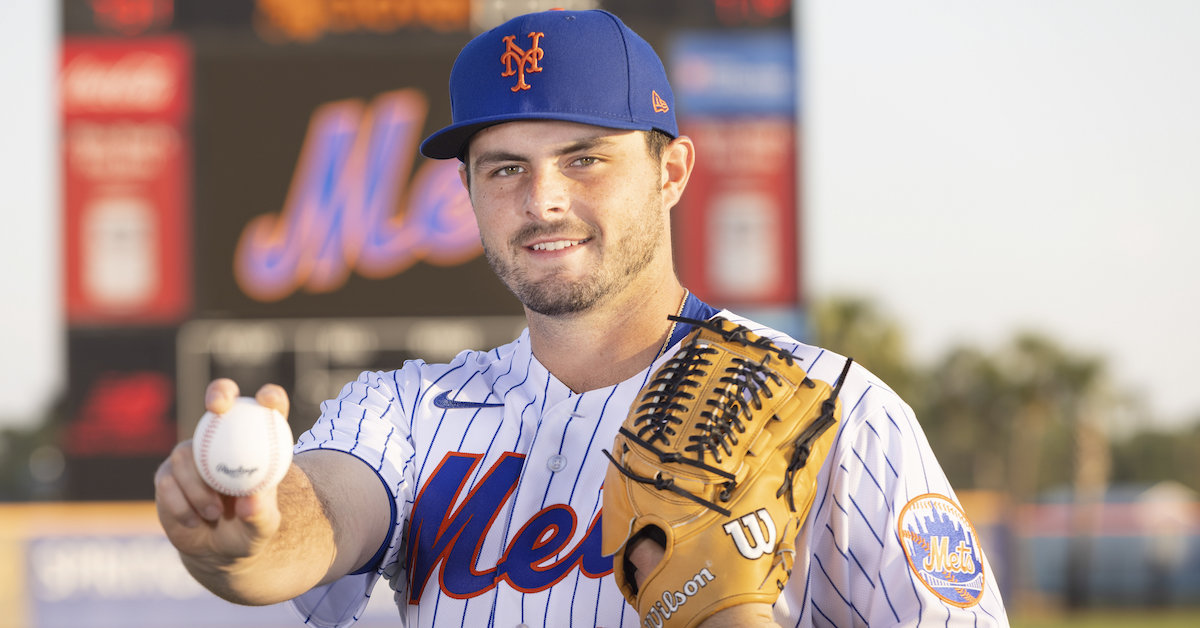 Grant Hartwig is one of the most promising under-the-radar prospects in the New York Mets system. Moreover, he has one of the more unusual profiles in professional baseball. Signed as an undrafted free agent in 2021, the 25-year-old right-hander has a degree in microbiology and premedical studies from Oxford, Ohio's Miami University, and he has worked as a medical assistant in a Detroit-area cardiovascular clinic. He also excels on the mound. Pitching at four levels last year in his first full professional season, Hartwig logged a 1.75 ERA with 13 saves and 83 strikeouts in 56-and-two-thirds innings.
Hartwig discussed his Craig Breslow-like background, as well as the movement profiles of his primary pitches, late last season.
———
David Laurila: Your path to pro ball was atypical. Tell me about it.
Grant Hartwig: "Out of high school, I was just planning to go to college, which I did, and after graduation I was planning on going to medical school. I went to my teammate's draft party — Sam Bachman went ninth overall to the Angels — and I remember going home ready to move on. But later that week, I was in the middle of an MCAT practice exam — I was about five hours in — and got a call from a random number. I muted it. Then I got a call from my pitching coach, which surprised me because I was done with school and had talked to him two weeks earlier. He told me that I was going to be offered a contract to play baseball. I told him, 'Hey, I think I just got that call, and I hung up on them.'
"So, I talked to the Mets and they asked if I wanted to play. I figured that school was always going to be there, so I might as well give this a chance while I'm still young. The rest is history."
Laurila: Was it a difficult decision?
Hartwig: "The hardest thing for me was that you put so much time and effort into being a student/athlete, and pursuing pre-med while you're doing it. There was all the stress I'd had over the last four or five years, wanting something I've wanted since I was a little kid. Having to say no to that, and take up the opportunity of a lifetime… but I knew that I'd never get a second chance at this, so I decided 'Let's go for it.' I was going to be all-in on baseball."
Laurila: The something you've always wanted to do wasn't professional baseball, but rather medicine?
Hartwig: "Yes. My mom is a physician, so I grew up around medicine. I wouldn't say that was the expectation for me, but I took a great interest in it. Just being around the office, being around the hospital… I mean, I still follow it now. But the big thing for me was that I just wasn't expecting this. I kind of put my head down and worked in college, and was trying to be the best guy that I could for my teammates, and obviously be the best baseball player I could.
"I was hopeful about baseball. I actually didn't have a full season until 2021. I was injured in 2018, had Tommy John and had to sit out 2019, and then in 2020 our season got canceled because of COVID. So as far as expectations, I was sitting there thinking, 'Alright, I'm a fifth-year senior. Yeah, I had a pretty good year, but nobody had gotten to see me the previous three years.' I wasn't approached by anybody for a pre-draft workout. I hadn't talked to anybody. I didn't have an agent.
"Obviously, as a kid you grow up dreaming of playing in the major leagues. That dream was still there, but at the same time, it was seeming less and less possible, so again, I moved towards medical school. To be honest, it probably took me about an hour to call back the scout to say, 'I'm in.'"
Laurila: You literally didn't talk to a scout while you were at Miami?
Hartwig: "No. Not one."
Laurila: What did the Mets see in you?
Hartwig: "That's a good question. I didn't really know much about metrics until I got to Port St. Lucie after I signed — I just knew a little bit — but once I got into it, [not attracting attention prior to the draft] kind of made sense. In college, if you don't have a TrackMan at your field, it's a lot more difficult for professional scouts to evaluate you. Being at a [Mid-American Conference] school, they're having to rely mostly on the eye test.
"The only time we did get TrackMan stats was in the latter part of our year when we were playing at West Virginia. Our pitching coach sent all that information to me, and I was like, 'Oh, this is cool to look at.' That was also the first time that teams would have been able to get numbers on me."
Laurila: What would they have seen? In other words, how does your stuff profile?
Hartwig: "I'm a very east-west guy, I throw from a low slot and am a little deceptive. I'm primarily sinker/slider. I throw a changeup and a cutter as well, but I don't use the cutter as often as I would like, so I would say it's mainly a three-pitch mix. [Hartwig has since confirmed that he worked on his cutter over the offseason and is happy with how it looks this spring; he plans to utilize it primarily against left-handed hitters.] The sinker is going to be… how specific do you want me to get?"
Laurila: As specific as you want.
Hartwig: "So, let's talk horizontal. I think the biggest thing that defines me is the horizontal difference between the fastball — my sinker — and the slider. In Portland [in mid-September], the fastball was up to 23 [inches of arm-side run] and the max on the slider was 24 in the other direction. I have a massive split of separation between those two pitches and can throw them out of the same tunnel. I kind of split them off of each other and try to ride that tunnel as far as I can get to the plate.
"A big thing for me this year was to make it a sweeper slider while trying to maintain the velocity around 83-85 [mph] to play off of my sinker, which this year has been 94-96. It kind of creates that X on the plate that creates difficult decisions for the hitter, whether it's a righty or a lefty."
Laurila: You've gotten 24 inches of vertical on your slider?
Hartwig: "Typically it's going to be more in the 15-16 range, but yes, I got 24 horizontal in Portland."
Laurila: What about vertical on the sinker?
Hartwig: "I'm a weird case in that I don't have a ton of depth, as you would assume for a normal sinker guy where the vertical comes closer to zero. My vertical, on average, is right around nine to eight, which is not like a true sinker… but I have a slot to where it plays as a sinker based off of release height and angle. It plays a lot differently than the raw numbers."
Laurila: You don't throw anything that rides up in the zone?
Hartwig: "No, but that's an interesting thing that we've talked about. We had our analyst up in Portland, and while you'd think my sinker would play much better down in the zone, it actually plays up in the zone very well. That's something I've really developed in Double-A — throwing my sinker elevated — which is kind of counterintuitive, but the way we grade our pitches with our software, it can play up in the zone. It's especially effective against guys who have a bat path that may be better for down in the zone, where mine doesn't play as well. That's something I never would have known just from raw numbers."
Laurila: Circling back to the path you aren't pursuing — at least not yet — which medical specialty would you be targeting?
Hartwig: "I wanted to be an orthopedic surgeon and stay around baseball. I wanted to do Tommy John surgery specifically, and labrum surgeries. I wanted to help save people's careers and allow people to come back from injuries. That was going to be my path. For now, the path is baseball."