Good morning and happy Monday, Kentucky Sports Radio readers. Today, Kentucky Football gets back to work after a day off to rest and recover from a Saturday in Nashville. Good for them. It takes me at least two or three to recover from Nashville anymore.
Up next, the Wildcats host Florida at noon in Kroger Field this coming Saturday. They'll start getting ready for that one today, beginning with Mark Stoops' favorite part of his job, the time he gets to spend with the media.
Monday with Mark
NOON PRESS CONFERENCE
Florida Week began at the coaches' offices yesterday, but it formally starts at noon today when Mark Stoops sits down with the media for his weekly Monday chat. Stoops will discuss what he saw on the film from Nashville and what's ahead for the Cats with Florida coming to town this coming weekend. As always, KSR will recap Stoops' Monday comments and share the full video of the conversation here on the website.
CALL-IN SHOW
Later today, Stoops will join Tom Leach for their hour-long Monday radio program. The Mark Stoops Show can be heard from 6-7 p.m. ET on WLAP 630 or the state's UK Sports Network affiliates.
After listening to Stoops, Leach, and their callers, Madison and Bob In Jamestown, turn your attention to KSR's YouTube at 8 p.m. for a live broadcast of a new KSR Football Podcast. Nick Roush, Drew Franklin, Adam Luckett, and Freddie Maggard will recap Kentucky-Vandy and preview Kentucky-Florida in the most ridiculous manner possible. Leave a comment, and the show will try to read it on the broadcast.
Subscribe to the KSR YouTube Channel for press conferences, interviews, original shows, fan features, and exclusive content.
Kentucky is two spots outside the AP Top 25
Yesterday, Kentucky found itself two spots outside the Top 25 when the Associated Press released an updated version of its new college football poll. The Wildcats received 41 votes, behind Kansas State's 57 in the Others Receiving Votes category.
Georgia, Michigan, and Texas held down the top three in the rankings, while Ohio State climbed to No. 4 with the Buckeyes' win at Notre Dame.
WEEK 5 AP POLL
Georgia
Michigan
Texas
Ohio State (+2)
Florida State (-1)
Penn State (+1)
Washington (+1)
Southern California (-3)
Oregon (+1)
Utah (+1)
More
Kentucky is No. 27 in the Coaches Poll.
SEC Nation coming to Lexington
Also from Sunday's newswire, SEC Network announced its Saturday morning pregame show, "SEC Nation," will broadcast live from Lexington on Saturday. The traveling talk show will find a spot to be named later on Kentucky's campus ahead of Kentucky-Florida at noon at Kroger Field, bringing Paul Finebaum, Laura Rutledge, Tim Tebow, Jordan Rodgers, and Roman Harper to the Bluegrass for a morning.
"SEC Nation" runs from 10 a.m. to noon after "Marty & McGee," which will also broadcast from Lexington. We'll let you know where they plan to set up when they tell us.
Kentucky opened as the betting favorite vs. Florida
And now for a phrase we are not used to saying around here: Kentucky is the betting favorite against Florida. The line opened with Kentucky laying 2.5 points to the Gators, with a total of 46.5 points. A moneyline bet pays -140.
Remember, MOBILE BETTING COMES TO KENTUCKY THIS THURSDAY!
KSR+'s Big Game Special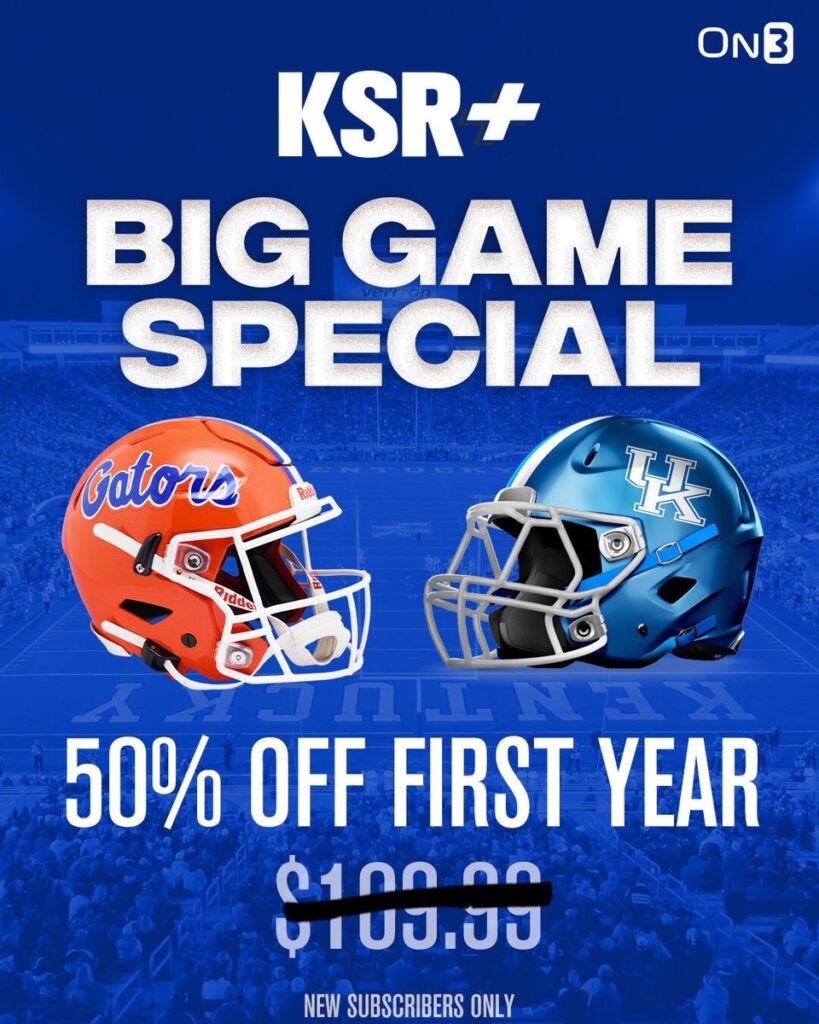 With the excitement around Kentucky-Florida, we are running a special over at KSR+ and KSBoard to attract new fans over to those conversations. Beginning today, you can take advantage of the BIG GAME SPECIAL to get bonus coverage of Kentucky vs. Florida, including a live game thread, practice reports, an in-depth scouting report, and the latest recruiting intel. 50% off the annual price or $1 for 1 month.
Coming up later this morning, KSR will release its new Kentucky High School Football Rankings. I won't spoil the order of the state's best teams, but you can assume No. 1 Boyle County retained its top spot after the Rebels beat Lexington Catholic, 56-21, in KSR's Kroger Game of the Week.
Speaking of KSR's Kroger Game of the Week, a new matchup will be announced for this week's game shortly after the latest Top 25 drops.
Kentucky-Georgia kickoff time to be announced
At some point during this busy day–likely around noon–the Southeastern Conference will announce the schedule of times and TV information for the league's slate of games on Saturday, October 7. For Big Blue Nation's purposes, we'll soon know when Kentucky plays Georgia down in Athens. We'll have that info here on KSR as soon as it exists.
Who Dey – Monday Night doubleheader
The NFL blessed us with another Monday Night Football doubleheader. This week, undefeated Philadelphia plays at Tampa in the 7:15 p.m. game, followed by the Rams-Bengals kickoff an hour later at 8:15 p.m. Desperate for a victory, winless Cincinnati hosts the second game as a two-point favorite. In the first game, Tampa is getting five points at home against the Eagles.
Boozer Twins visited Lexington
Still here? Good. We have very important Kentucky Basketball matters (not a big Z update, sorry) to discuss because, over the weekend, John Calipari snuck the Boozer twins into town. Cameron and Cayden Boozer, two of the top players in the high school junior class, took their first official visits to Kentucky (not their old man's alma mater, Duke) with a two-night stay in the Bluegrass. Calipari picked the twins up at the airport on Friday and sent them home on Sunday after they checked out Kentucky's campus and discussed their potential as Wildcats.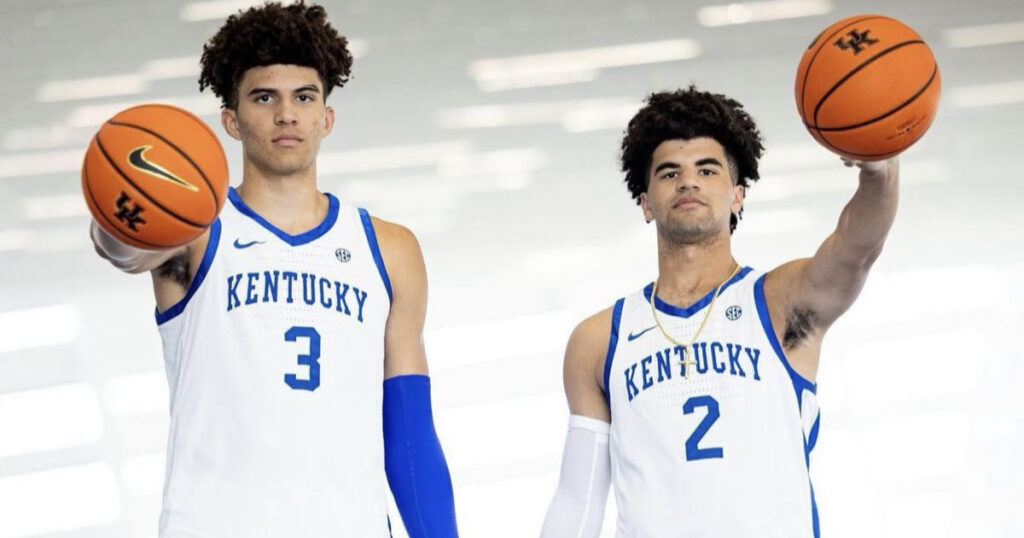 There is still a long way to go, but getting the first visit over Duke was an early win in the process. Jack Pilgrim has more on the Boozer twins' stay and their recruitment here.
Kentucky Volleyball lost to the Vols in Rupp
Kentucky Volleyball suffered a bad loss on Sunday when the 22nd-ranked Cats dropped three straight sets to No. 14 Tennessee (23-25, 18-25, 18-25). Even worse, Tennessee's win came in Rupp Arena, where nearly 3,500 fans turned out to see orange prevail. Gross.
The loss dropped Kentucky to 3-7 on the season and 1-1 in conference play. Hunter Mitchell has more.
Tune into KSR at 10 a.m.
Matt Jones, Ryan Lemond, and Shannon The Dude will share their thoughts on Kentucky-Vanderbilt and what's next, plus Matt's latest on the Reds and other topics from the weekend.
Up next here on KSR's website: Luckett's Monday Huddle. Come back soon.
Go Cats and Beat Florida.