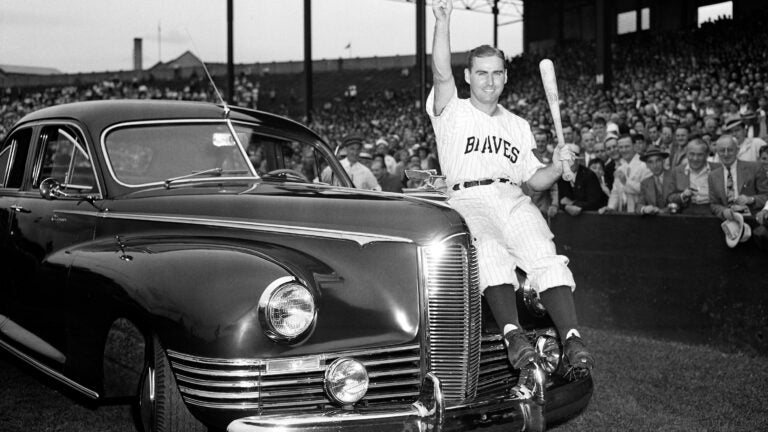 COMMENTARY
Time to renew the rivalry. Whatever it is.
Since Major League Baseball began interleague play in 1997, the Red Sox have played no National League team more than Atlanta — 86 times, heading into their two-game series at Truist Park. This will be the eighth year of the past 10, and the 14th in the 27 interleague seasons, the teams will play home-and-home series. (The Braves play two at Fenway in late July.)
No. 2, by the by, is where they just were. The Red Sox and Phillies have played 84 times in the interleague era, with home-and-home sets eight times from 2010-21.
This is owing to MLB keeping interleague travel friendly for much of its history. It was AL East vs. NL East exclusively its first five years, after which the other divisions were mostly covered in a three-year cycle. It's also owing to baseball, building interleague around the sound idea of "natural rivals," connecting the Sox and Braves given their five decades as neighbors from 1901-1952.
"None whatsoever," Atlanta icon Chipper Jones said in 2007 when asked if a rivalry existed between the clubs. "Absolutely none whatsoever."
Be that as it may, baseball probably did the best they could. Genuine rivalries only cover about half the league. Let's say Mets-Yankees, Angels-Dodgers, Cubs-White Sox, Orioles-Nationals, Athletics-Giants, Royals-Cardinals, Reds-Guardians, and Marlins-Rays.
Red Sox-Atlanta and Brewers-Twins are the best of the rest. Consider the other five in place this season: Phillies-Blue Jays (played in the 1992 World Series); Pirates-Tigers (each were managed to some success by Jim Leyland); Padres-Mariners (Wikipedia reminds me they share a spring facility in Arizona); and Diamondbacks-Rangers and Astros-Rockies, the best pairings of which would be the intraleague ones.
This is a watershed year in interleague history, the new balanced schedule making this the first season every team will play a series against every other. ("Natural rivals" get home-and-home exclusivity.) It is the latest step in a decades-long march to sunset the American and National Leagues you grew up with, with the inevitability of 32 teams and a radical realignment closer by the day.
We'll hate it, but we've made it 30 years without the NHL of Wales and Campbell, Adams, Patrick, Norris, and Smythe. Boos forever, Gary Bettman.
Before that, however, let's kick around a question: Which National League team do you most connect to the Red Sox?
I suspect, like most things, this is a generational answer. Days from turning 43, my brain goes to certain places first, though I unquestionably spend more time thinking about the 1990-2005 period than any therapist would recommend.
I am certain this is a subjective one. A subjective one where, of course, we all know there's about five possible answers, but I'm a completionist so humor me for a moment.
Arizona — Currently led by former Red Sox in the front office (Mike Hazen) and manager's office (Torey Lovullo), and from whence J.D. Martinez and Curt Schilling came. But their one chance to face the Red Sox in the postseason passed when they were swept in the 2007 NLCS by . . .
Colorado — May Trevor Story end up doing more in his Red Sox stint than Dante Bichette did.
Cincinnati — Fun fact: Despite playing home-and-homes with the Red Sox in 2014 and 2022, the Reds have only played Boston 17 times since the 1975 World Series, fewest of any team in the sport.
Milwaukee — Still a division rival for one last season when interleague began in 1997. However strong your feelings are about Hunter Renfroe for Jackie Bradley Jr. in December 2021, that did not get the front-page-of-the-Globe treatment George 'Boomer' Scott to the Brewers (in a 10-player megadeal including Jim Lonborg) got in 1971.
Pittsburgh — Tim Wakefield was a Pirate before he became the only man to throw 3,000 innings in Red Sox colors. Also, remember Jason Bay? A low-key favorite of mine. (Ben Cherington, too, I suppose.)
San Francisco — To avoid mentioning a certain panda aficionado, I will remind you both Hall of Famers Orlando Cepeda and Juan Marichal ended up in Boston. And combined, they have four fewer World Series rings than lefty specialist Javier López. Sports are silly.
Washington — They are in the NL East, so we've seen plenty of them, but when the strongest Red Sox connections to the franchise are Montreal ones — the Bill Lee trade, the Pedro acquisition, Orlando Cabrera — that speaks for itself.
Atlanta — Yeah, Chipper was right. (Though I did once get heckled by two booze-softened locals at Turner Field in 1999 because I wore a Nomar Garciaparra jersey.) Given they're two of the best teams in the sport the last 30 years, it's somewhat amazing they've never come close to a postseason meeting.
Miami — They play more than you may think, as in 44 interleague meetings and a pair of home-and-homes in the 2010s, and the Hanley Ramirez-Josh Beckett-Mike Lowell trade was critical to the 2007 championship. (To say nothing of Kevin Millar's jump after the 2002 season.)
Philadelphia — Lower down the list than I would've thought given Schilling (though his Arizona tenure was in the middle), Jonathan Papelbon, and Shane Victorino. Competition's tough, though.
Top five time.
5. New York Mets
Yankees hatred is one of the world's great unifying forces. And while the 1986 World Series is a long time ago both literally and spiritually — seriously, you can probably read Peter Gammons's Game 6 piece from SI now without retching — it's still the franchise where Pedro Martinez landed as a free agent. (Plus, had Tom Seaver not gotten hurt late in the '86 Red Sox season, maybe there is no Game 6 story that may or may not still make you retch.)
4. St. Louis
3. Chicago Cubs
The order here feels more generational than anything else on the list. The Red Sox have won eight pennants in the last 100 years, and played the Cardinals in half the subsequent World Series. However, the player connections aren't super strong — Reggie Smith, John Tudor, J.D. Drew, Chris Carpenter (who never played for the Red Sox but is a rather prominent New Hampshire-ite). If only Lou Gorman could've figured out where to play Willie McGee.
And while the Sox and Cubs literally didn't play a game for nine decades (from the end of the flu-ridden 1918 World Series to June 2005), they shared multiple generations of chasing a title that remained out of reach. Plus, Dennis Eckersley and Bill Buckner. And Chicago's 2016 champions prominently featured Anthony Rizzo and Jon Lester, and were built by a Theo Epstein front office, and they're managed by 2013 treasure David Ross . . .
2. San Diego
New on the scene, but they've come hard. Epstein, of course, became the youngest GM in baseball straight out of Jack Murphy Stadium, where he'd worked with Larry Lucchino and Tom Werner, among others. It's where Bruce Hurst landed as a free agent after the 1988 AL East title. It's where Jake Peavy and Adrián González and Craig Kimbrel made their legends. It's where we spent years worried about Drew Pomeranz for Anderson Espinoza, where we'll spend years more watching Xander Bogaerts through bitter memories, and where Don Orsillo formed another must-listen broadcast pairing with Mark 'Mud' Grant.
1. Los Angeles Dodgers
But just like in the division, the Padres are chasing their neighbors to the north.
For baseball generations, Chavez Ravine has been Red Sox West. Today, it's Kiké Hernández, Justin Turner, Alex Verdugo, and Kenley Jansen here, and Mookie Betts and Dave Roberts there. But further consider: Pedro and Ramon Martínez, Grady Little, Alex Cora, Nomar Garciaparra, Derek Lowe, Adrian Beltre, Hideo Nomo, Éric Gagné, Manny Ramirez, Rich Hill . . .
If not for the 2018 World Series, the Red Sox and Dodgers would've played fewer games in the interleague era than all but Boston and the Reds.
It doesn't feel like it matters a whit.
Loading…