Twin brothers Alex and Franky Venegas rose to internet stardom in 2021 after their song I'm an Island Boy went viral on X and TikTok. Their distinctive hairstyle, diamond teeth and tattooed bodies captivated viewers and made them a sensation. They have since been making waves, and now fans want to know how Island Boys before tattoos looked like.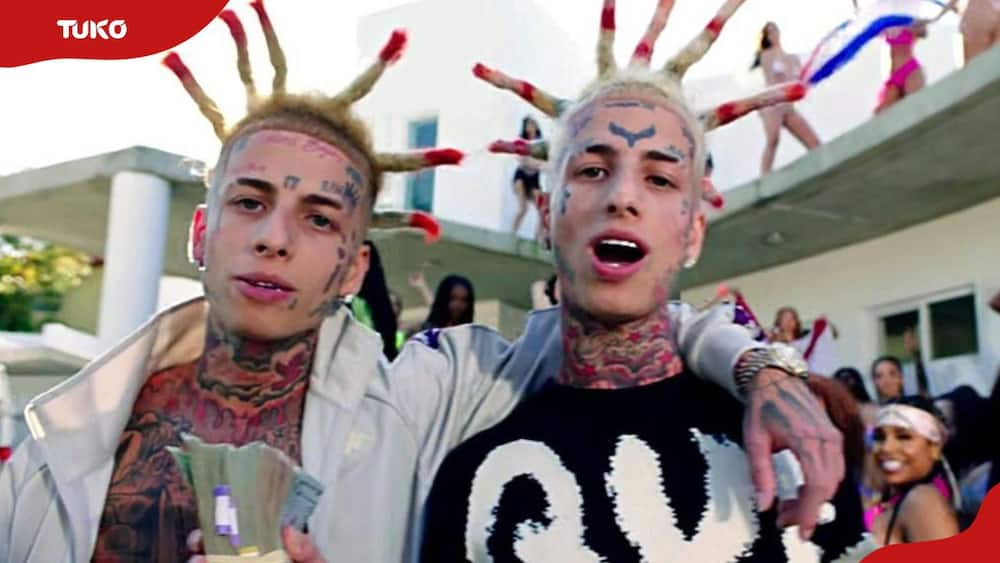 In October 2021, a short video of the Venegas brothers (Island Boys) singing in a pool went rival. It was initially posted on Franky's TikTok account on 12 October, where it was viewed almost 20 million times. Two days later, it was uploaded to X with the caption "Florida ain't a real place", where it got over 10 million views.
Who are the Island Boys?
The Island Boys are twin brothers based in Coral Springs, Florida. They are American social media personalities and a hip-hop duo active on TikTok. The two became famous after their viral song I'm an Island Boy.
Franky Venegas (Kodiyakredd) and Alex Venegas (Flyysoulja) were born on 16 July 2001 and are of Cuban ancestry. Their father died when they were young, and a single mother raised them.
Island Boys, before fame, were often on the wrong side of the law and committed crimes including grand theft auto, burglary, possessing narcotics and robbery. Their mother kicked them out at 18 due to their bad behaviour.
Island Boys career
While in jail, the twin brothers decided to pursue a rap career. Luckily, in October 2021, a video of them performing the song I'm an Island Boy went viral on X and TikTok.
The pair's unique appearance, including vertical dreadlocks, diamond teeth, and tattoos, helped turn their video into a meme that became so popular. This led to them being dubbed "The Island Boys" by viewers. Their original video got over 9 million views before it was deleted.
In addition, it's reported that the talented hip-hop duo turned down a record label with Kodak Black. That November, they released a full version of their viral song I'm an Island Boy, backed by a music video. However, they promoted the release with a poorly received performance at Club LIV in Miami.
Island Boy's net worth
The Island Boys are estimated to be worth about $2 million thanks to their YouTube and TikTok fame. They aren't just your average content creators; their YouTube channel has nearly 240,000 subscribers and 175 million views. Besides YouTube and TikTok, Island Boys also earn from selling merchandise and cameo appearances.
Island Boys celebrity feuds
The Island Boys have been involved in online feuds with other famous social media personalities and mainstream celebrities, including Snoop Dogg, Kevin Hart, Bryce Hall, brothers Jake Paul and Logan Paul, Blueface and Adam22.
Snoop Dogg and Kevin Hart mocked the Island Boys' viral song on their comedy special 2021 and Done. The pair also clashed with Logan Paul in December 2021 after discussing financial advice with Logan Paul's co-host, George Janko.
Janko suggested that the duo should invest the money from their initial success. However, the brother said they didn't need financial advice, and Alex told Janko he probably makes more money than him.
Do the Island Boys have real tattoos?
Apart from their iconic hairstyles, the famous twins have numerous tattoos. And yes, the Island Boys tattoos are real. In an interview, Franky revealed that he started tattooing when he was 12 and always wanted many tattoos.
Alex also has several tattoos on his chest, neck, face and hands, but fans are more interested in photos of Flyysoulja before tattoos.
FAQs about Island Boys
Which Island Boy hit his girlfriend? Island Boy rapper Franky Venegas was arrested after allegedly slapping his girlfriend and pushing her into a swimming pool.
What are the allegations against the Island Boys? On 5 July, it was reported that the Island Boys had joined OnlyFans with their joint account, risking a ban due to electral love claims. The twin brothers kissed on the camera in front of their fans, sparking a backlash on social media.
Which Island Boy has a kid? Alex Venegas, known on social as Flyysoulja, has a daughter called Kaliya Venegas, born in 2021.
What are Island Boys famous for? The identical twins became well-known in October 2021 after posting a video of themselves singing their anthem, I'm an Island Boy.
Final word on Island Boys
Island Boys have been in the headlines for too long, and now fans are interested in knowing how Island Boys before tattoos looked. There aren't many pictures of Island Boys before fame and tattoos online, but from the few available, they looked great. The identical twins became famous after posting their hit song I'm an Island Boy on X.
Tuko.co.ke has shared an article about photos of Nicki Minaj before fame. Before Nicki Minaj became a global star, she was still genuinely fascinating. Pictures from this time tell a powerful story of her determination and growth.
They show her performing on the streets and in small venues, capturing the real Nicki Minaj before fame. These images reveal a Nicki on the verge of becoming a huge success, full of ambition and untapped talent.
Source: TUKO.co.ke