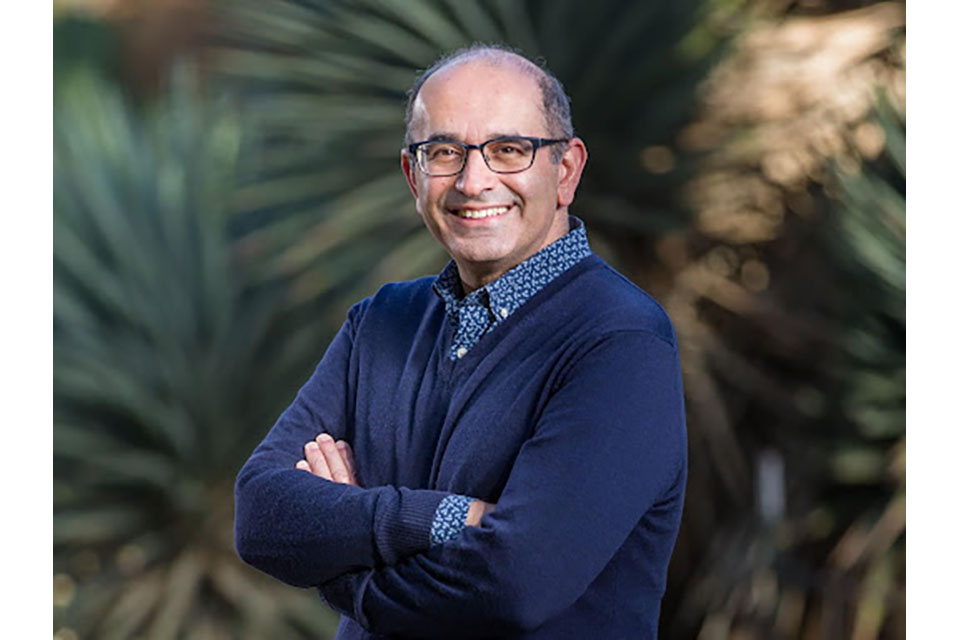 Dear Chancellor of the Exchequer and Secretary of State for Science, Innovation and Technology,
I was delighted to be asked to lead this review on the future of compute for the UK. Having spent three decades in academia as an AI researcher, and more recently in the technology industry, I have witnessed the transformative potential of compute first hand. Modern compute has given us the ability to simulate and model complex phenomena, and the power to use data-driven machine learning technologies to provide powerful AI tools for society. Compute underpins much of what we do today and our dependence on it will only grow. Much like electricity, rail travel, and the internet, large scale compute is part of the infrastructure of modern life, and its effect on society is hard to measure. Many existing economic sectors depend on compute, and new discoveries that will significantly advance the health and prosperity of society rely on compute.
I have experienced many transformative technological changes in computing throughout my career, but at no time have I felt the immensity of the technological opportunity that we have now. The next decade is sure to bring even more advances that will continue to astonish us. The UK needs to be well prepared to take advantage of these opportunities to sustain growth and cement its position as a Science and Technology Superpower. This review on the future of compute makes specific recommendations to the government that are essential to achieve the UK's ambition.
Compute can be thought of in three, somewhat overlapping, broad areas. First is compute for AI. AI is absolutely transformative, and depends heavily on compute, with the largest AI models using many exaflops of compute. The UK has great talent in AI with a vibrant start-up ecosystem, but public investment in AI compute is seriously lagging. The economic value of AI is undeniable – the world's trillion dollar tech companies are all betting heavily on AI.  A second area is compute for modelling and simulation, which is used widely across the sciences (e.g. physics, biology, climate) and engineering (design, simulation). Public facilities are essential resources operating at local, national and international scales to enable computations that cannot be achieved at smaller scales. Third, we have cloud computing, often provided by the private sector, which has proven to be a tremendous catalyst for SMEs and has made on demand computing a core part of building efficient and flexible businesses. All three of these types of compute are converging – AI compute can be done on the cloud, HPC access models are becoming more cloud-like, and HPC is supporting more and more AI workloads.
We need several interventions if we want compute to unlock the world-leading high-growth potential of the UK. I would like to highlight a few recommendations here. First, we need a strategic vision, roadmap and national coordination. The UK's public compute infrastructure is fragmented and we do not currently have a long-term plan. We need a national coordination body to deliver the vision for compute, that can provide long-term stability and adapt to the rapid pace of change in compute technology. Second, we need to make immediate investments in the path to exascale compute, using a phased approach outlined in this review, so that we are not falling behind our peers. Third, we need to increase capacity for AI research immediately to power the UK's impressive AI research community and plan for further AI capacity as part of our exascale system.
In approaching this review, we have focused on identifying how the UK can invest in the right technologies, with the right architectures, to meet the needs of all users, broaden access and reap the true benefits of compute. That is why the recommendations of this review should be viewed as a long-term, holistic package that supports the creation of a vibrant ecosystem. This includes, investing in domestic skills and attracting and retaining talent as a priority, supporting users at all levels of expertise and increasing awareness. We should collaborate with international partners, such as the US, Japan, and the EU, where we have had longstanding and valuable joint programs which would be beneficial to retain. Any facilities that we build should be built and operated sustainably, and incorporate best practice in secure computing.
These recommendations are critical for many of the government's priorities. I recognise the potential difficulty of implementing these recommendations during a time of economic and fiscal challenges. However, the potential growth that compute could unlock across the economy, and within our domestic tech sector, is significant. Indeed, I personally envisage a future compute ecosystem in which the private sector can build upon these investments to be at the forefront of affordable compute provision for all users. This is not the time to limit our future by delaying needed investments.
I have thoroughly enjoyed my time on this review and wish to thank the panel members Sue Daley, Shaheen Sayed, Graham Spittle and Anne Trefethen. Their diverse expertise spanning academia and industry, and their knowledge of compute, has been indispensable. I also wish to thank the review's Secretariat for their tremendous contribution that went into producing this review.
Sincerely,
Zoubin Ghahramani FRS
Professor, University of Cambridge
Vice President of Research, Google
Introduction from the expert panel
Compute is a material part of modern life. It is among the critical technologies lying behind innovation, economic growth and scientific discoveries. Compute improves our everyday lives. It underpins all the tools, services and information we hold on our handheld devices – from search engines and social media, to streaming services and accurate weather forecasts. This technology may be invisible to the public, but life today would be very different without it.
Sectors across the UK economy, both new and old, are increasingly reliant upon compute. By leveraging the capability that compute provides, businesses of all sizes can extract value from the enormous quantity of data created every day; reduce the cost and time required for research and development (R&D); improve product design; accelerate decision making processes; and increase overall efficiency. Compute also enables advancements in transformative technologies, such as AI, which themselves lead to the creation of value and innovation across the economy. This all translates into higher productivity and profitability for businesses and robust economic growth for the UK as a whole.
Compute powers modelling, simulations, data analysis and scenario planning, and thereby enables researchers to develop new drugs; find new energy sources; discover new materials; mitigate the effects of climate change; and model the spread of pandemics. Compute is required to tackle many of today's global challenges and brings invaluable benefits to our society.
Compute's effects on society and the economy have already been and, crucially, will continue to be transformative. The scale of compute capabilities keeps accelerating at pace. The performance of the world's fastest compute has grown by a factor of 626 since 2010. The compute requirements of the largest machine learning models has grown 10 billion times over the last 10 years. We expect compute demand to significantly grow as compute capability continues to increase. Technology today operates very differently to 10 years ago and, in a decade's time, it will have changed once again.
Yet, despite compute's value to the economy and society, the UK lacks a long-term vision for compute. The ecosystem is fragmented and complex for users to navigate. Existing compute capabilities are not fit to serve all users, particularly AI users, and are falling behind those of other advanced economies. As of November 2022, the UK had only 1.3% share of the global compute capacity and did not have a system in the top 25 of the Top 500 global systems. Meanwhile, other countries continue to bolster their compute capabilities, with many already testing, building or planning for exascale systems – the next generation of computing technology. Infrastructure investment in the UK is the result of piecemeal procurement and there are no coordinated efforts to mitigate the environmental impact of compute and ensure secure access to infrastructure. A scarcity of compute skills and limited access to future EU systems lead to an uncertain outlook for UK compute.
We were asked, as a panel with expertise in compute, to understand the UK's compute needs over the next decade; identify cost-effective, future-facing interventions that may be required to ensure research and industry have access to internationally competitive compute; and, establish a view of the role of compute in delivering the Integrated Review and securing our status as a Science Superpower this decade.
In line with the report of the Government Office for Science (GO-Science), we define compute or advanced compute as computer systems where processing power, memory, data storage and network are assembled at scale to tackle computational tasks beyond the capabilities of everyday computers. We have taken a long-term approach, considering what actions the government needs to take, now and in the decades to come. Underpinning our work is the belief that compute will unlock growth and innovation across the whole economy and will lead to transformative discoveries, improving the wellbeing of all citizens.
We have considered the broad range of compute users — established adopters and emerging users across academia, industry and the public sector. We have assessed the state of UK infrastructure, explored barriers to access and considered international best practices. We have identified the actions necessary to meet user needs, ensure the UK has cutting-edge compute capabilities and create a strong compute ecosystem.
Targeted intervention is required to fully deliver the value of compute and meet the government's wider objectives. The extent of the cost and risk associated with computing technology means that private investment on its own will not be able to unleash the full potential of compute. Government action is urgently needed to ensure the UK keeps pace with computing advancements, addresses users' needs and remains globally competitive. The breadth of users and compute capabilities means there is not a one-size-fits-all approach, and government and industry must work together to ensure success.
This review presents a set of 10 recommendations to the government on how the UK can harness the power of compute to achieve economic growth and address society's greatest challenges. The government should unlock the world-leading, high-growth potential of compute through the creation of a strategic vision, increased coordination and broader use of compute. It should build world-class, sustainable compute capabilities. This includes investment in an exascale facility through a phased approach, to ensure ecosystem readiness and value for money. The government should also provide the resources necessary to train the largest AI models, support greater access to compute through the cloud and invest in sustainable compute infrastructure at all levels. Lastly, the government must empower the compute community by creating a sustainable skills pipeline, ensuring the security of compute systems and fostering international collaborations.
Crucially, creating a strong compute ecosystem and improving UK compute capability requires long-term action, extending to the next decade and beyond. All 10 recommendations should be implemented as part of a holistic approach to compute, and should be established within the government's strategic vision. Only by harnessing the benefits of compute can the government realise its ambitions for the UK to sustain economic growth; achieve net zero; secure its status as a science and technology superpower; be a global AI superpower; and build a competitive and innovative digital economy. Compute is required to achieve each and every one of these objectives. Further, compute is closely linked to other core policies, including (but not limited to) digital competition, data, digital skills, semiconductors, quantum technology and sectoral policy.
We recognise that the cost of building world-leading systems is considerable. Even in difficult economic climates, it remains essential to plan for and invest in the future. By acting now, the government not only will ensure the UK remains a prosperous country, but will also deliver invaluable societal benefits. The UK is currently an international technology hub, a leader in research and innovation and hosts world-leading universities. It ranks third globally for investment and innovation in AI and in the development and uptake of advanced digital technologies. To capitalise on and further grow these strengths, the government must ensure the country has the necessary compute resources now, over the next decade and beyond. Inaction will be to the detriment of the UK's scientific capability, innovative economy and overall international reputation.
We must urgently plan for the future of compute. While the challenges here are great, so are the opportunities. The recommendations outlined in this review aim to ensure the UK is on the path to success.
Professor Zoubin Ghahramani FRS
Vice President of Research at Google and Professor of Information Engineering at the University of Cambridge
Sue Daley
Director of Technology and Innovation, TechUK
Shaheen Sayed
Senior Managing Director, Accenture UK and Ireland
Dr Graham Spittle CBE
Dean of Innovation at Edinburgh University
Professor Anne Trefethen FREng
Pro-Vice Chancellor and Professor of Scientific Computing, University of Oxford
Report outline
The Government Office for Science's 2021 report on large-scale computing) and the Alan Turing Institute and Technopolis' analysis of the digital research infrastructure requirements for AI have provided an overview of the UK's compute ecosystem. Both reports have called for strategic planning, greater coordination, continued public investment and collaboration across academia, government and industry. The review builds upon and expands these findings and provides actionable recommendations to create a world-class, cutting-edge compute ecosystem in the UK.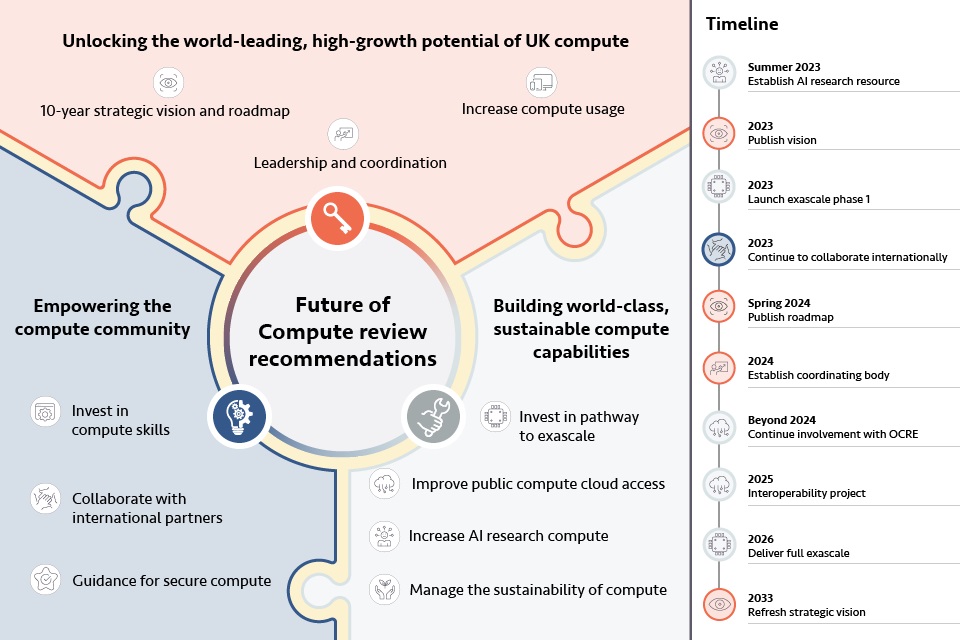 Glossary of terms
| | |
| --- | --- |
| Accelerator | Specialised hardware for certain computational workloads. |
| Artificial Intelligence (AI) | Machines that perform tasks normally performed by human intelligence, especially when the machines learn from data how to do those tasks. |
| Cloud computing | An access model where computing infrastructure is accessed on-demand via the internet. |
| Commercial cloud | A company that provides computing resources as a service through the cloud. |
| Compute | Computer systems where processing power, memory, data storage and network are assembled at scale to tackle computational tasks beyond the capabilities of everyday computers. The review recognises 'compute' as an umbrella term including, but not limited to, advanced compute, high performance computing (HPC), high throughput computing (HTC), large scale computing (LSC) and supercomputing. Cloud computing does not fall entirely under this umbrella, but it is considered as an access model for compute if used for high computational loads. |
| Central Processing Unit (CPU) | The unit within a computer which contains the circuitry necessary to execute software instructions. CPUs are suited to completing a wide variety of workloads, distinguishing them from other types of processing unit (for example, GPUs) which are more specialised. |
| Exascale | A high-performance computing system that is capable of at least one Exaflop per second (a system that can perform more than 1018 floating point operations per second). |
| Flops | Floating point operations per second (the number of calculations involving rational numbers that a computer can perform per second). |
| Graphics Processing Unit (GPU) | Accelerator hardware optimised for certain calculations often associated with image processing and related applications. Foundational to modern AI advances. |
| Petascale | A high-performance computing system that is capable of at least one Petaflop per second (a system that can perform more than 1015 floating point operations per second). |
1.

The significance of compute for the UK
1.1

Introduction

Compute plays an integral role in modern life. Compute powers the technologies used today, underpins world class research and drives the economy by enabling businesses to be more productive and develop new products and services. It shapes how individuals live, with compute underpinning services essential to modern life such as communication, travelling, shopping or weather forecasting. It powers smart assistants on handheld devices, search engines and social media. It enables cutting-edge technologies, such as roadworthy autonomous vehicles, that would have been impossible only 15 years ago.

A strong compute ecosystem is integral to delivering the UK's ambitions around economic growth and its status as a Science and Technology Superpower, today and in the future. The UK is an international leader in AI and will require continued investment into compute to remain at the forefront. Many industries, sectors, products and services already rely on compute, and this reliance is only likely to increase given the pace of scientific and technological innovation. The potential benefits of compute in areas like clean energy and healthcare — to name just two sectors — could have transformative impacts on the economy.

As compute technologies are changing rapidly and investments can be risky and expensive, the market alone will be unable to meet demand. For the UK to remain competitive in research and innovation, academia and industry need to be able to access low cost compute at the times they need it. Investment into the UK's current facilities has not kept pace with the evolving needs of users, restricting their ability to access compute.

It is vital to support the UK's compute ecosystem immediately through public investment. This chapter sets out the importance of compute to the UK and the role this technology can play in meeting government ambitions.
1.2

Understanding compute

There is no standardised definition for compute across academia, government and industry. For the purposes of this review, compute is defined as follows:

The review recognises 'compute' as an umbrella term including, but not limited to, advanced compute, high performance computing (HPC), high throughput computing (HTC), large scale computing (LSC) and supercomputing. Cloud computing does not fall entirely under this umbrella, but it is considered as an access model for compute if used for high computational loads. There are numerous technologies associated with compute, from different types of accelerators (e.g. Graphics and Tensor Processing Units) and distributed computing, to emerging and novel paradigms (e.g. neuromorphic and quantum computing). The review does not explore these technologies in detail, but recognises that future strategic decisions for compute should consider how they interact.

Whilst compute or the process of computation occurs as data calculations on a processor, it relies on so much more: the software that controls the system and instructs the processor; the other hardware described in the definition above; the skilled operators, and; access to quality data.

Software, hardware and skills have been considered in detail as part of this review. Data is a broad topic, and beyond the remit of this review, but it should be recognised that compute is only possible with access to quality and secure datasets. This will become increasingly vital to unlock the benefits of AI and machine learning techniques.
The scale of compute
One way to measure computational power is in 'flops' — floating point operations per second. A floating point operation is roughly equivalent to a single arithmetic calculation (addition, subtraction, multiplication or division) involving two numbers, and can be done at varying levels of precision.
While a leading smartphone today is capable of 1012 flops (a trillion flops or a 'teraflop' per second), compute reaches beyond 1015 flops (a thousand trillion flops or a 'petaflop' per second). The most powerful system, as defined by the Top500 list, is the USA's exascale system Frontier. It is more than an order of magnitude more powerful, operating at 1018 flops — a million trillion flops (an 'exaflop' per second).
The performance of the world's fastest compute has grown by a factor of 626 since 2010, while the compute requirements of the largest machine learning models have grown by a factor of 10 billion in the same timeframe. According to OpenAI, computational demand to train AI is currently doubling every 3-4 months. Their 2018 analysis focuses on the 'modern era', which starts in 2012 with AlexNet, a neural network, and describes the AI models that have led to breakthroughs in vision and language learning unimaginable only a decade ago.
1.3

Achieving the UK's ambitions through compute

The Prime Minister has committed to building a more prosperous future and growing the economy and the UK has bold ambitions across research, technology and innovation. Compute underpins or supports several government priorities: it powers innovation and productivity across the economy; it is essential for cutting-edge scientific research; it drives the development of transformative technologies such as AI, new materials and quantum computing; and helps ensure national security.

These ambitions simply cannot be achieved without access to world-leading compute capabilities. The UK is currently a global science and technology superpower, but, without a thriving compute ecosystem, the UK's technological, scientific and economic capability is at risk. As the recommendations of this review are taken forward, it is vital to ensure greater coordination among government strategies and policies that relate to compute.
Compute for a more prosperous future
Compute has the potential to unlock productivity as sectors across the economy make better and more extensive use of data analysis, simulation and AI technologies. Compute is an enabler of large parts of the UK's digital sector, which itself is one of the highest growing industries, contributing nearly £140 billion to the economy in 2021.[footnote 4] Research has demonstrated the return on compute investment in the US across different sectors, with insurance, oil and gas and financial sectors realising the greatest returns in terms of profit and cost savings.[footnote 5]
The size of the UK HPC market has grown steadily over recent years and is expected to grow significantly over the next five years with forecasts indicating a compound annual growth rate (CAGR) of up to 11%.[footnote 6] Internal analysis by the Department of Science, Innovation and Technology indicates that demand projections for cloud computing and HPC could be up to 1.8 and 2.7 times larger by 2032 than in 2022 respectively. Whilst HPC and cloud computing are an incomplete representation of the compute market, it is the best available information and a strong indicator of future trends.
Figure 1A illustrates the significant potential benefits of compute based on economic analysis carried out to support recent public and private investments. These include improvements to the scale, efficiency and quality of research, increased productivity in the private sector and greater international collaborations. For example, the potential benefit range for Engineering and Physical Sciences Research Council (EPSRC) investment is already very high, but their analysis suggests the additional spillover benefits may be significant too, estimated to be £5.8 billion.[footnote 7]
There is also evidence that increased business uptake of compute can lead to regional growth and development. Regional programmes such as LCR 4.0 and Cheshire & Warrington 4.0 provide support to UK SMEs and supply chains in the adoption of compute and AI technologies.[footnote 11] LCR 4.0 provided over 300 manufacturing SMEs in the Liverpool City Region (LCR) with technical and business support. Approximately 50% of businesses were supported with access to compute.[footnote 12] The project is on target to create 955 jobs within the Liverpool City Region and generate £31 million GVA, though this cannot all be attributed to the use of compute.
Evidence collected by the review revealed examples of the positive impact of compute on business productivity, with spillover effects throughout the value chain. As use cases for compute increase, it can be expected that efficiency gains and productivity benefits across the economy will also grow – but only if users can exploit compute capabilities fully.
Compute for scientific advantage and societal goals
The importance of computation for scientific research is huge and, to a large degree, immeasurable. The creation and analysis of large amounts of data is crucial for the development of science, the outcomes of which are difficult to foresee.
Figure 1B: The scale of the challenge — applications for compute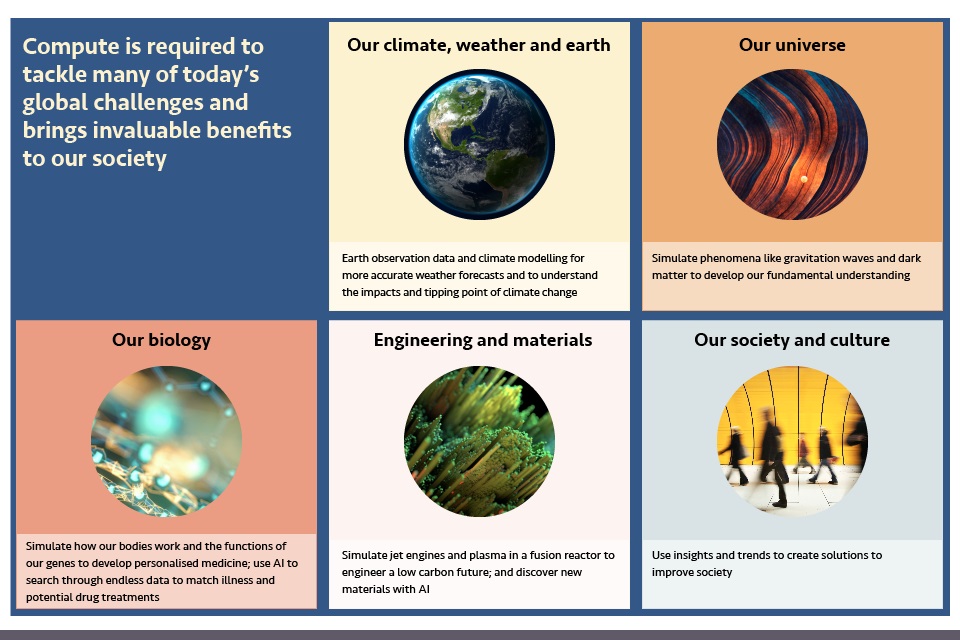 As outlined in Figure 1B, compute is required to tackle many of today's global challenges and to unlock breakthroughs across several disciplines and sectors. For example:
Our climate, weather and earth: Earth observation data and climate modelling for more accurate weather forecasts and to understand the impacts and tipping point of climate change.
Our universe: Simulate phenomena like gravitation waves and dark matter to develop our fundamental understanding.
Our biology: Simulate how our bodies work and the functions of our genes to develop personalised medicine; use AI to search through endless data to match illness and potential drug treatments.
Engineering and materials: Simulate jet engines and plasma in a fusion reactor to engineer a low carbon future, and discover new materials with AI.
Our society and culture: Use insights and trends to create solutions to improve society.
There is huge potential for compute to solve research and social challenges quicker than ever before — it took 13 years to first sequence a human genome; compute can now do this in less than a day.
1.4

UK compute today

To understand the UK's requirements for compute capability over the next decade, consideration must be given to the current landscape. The GO-Science report offers a comprehensive overview of the compute ecosystem and the interdependence of hardware, software and skills. This review builds on that analysis, showing that the UK's compute capability lags internationally and that users face challenges in accessing the resources they require.

Public compute systems are often categorised into tiers based on capability. UK public compute and commercial cloud facilities have been outlined in Figure 1C. UK Research and Innovation (UKRI) operates tier 1 and 2 systems, providing national and regional compute capability in the UK with universities providing local tier 3 systems. The UK also has limited access to some international pre-exascale and exascale systems. Commercial cloud offers additional resource to UK researchers. The following chapters explore how the UK's current fragmented landscape does not meet user needs and fails to provide clarity on future provision.
Figure 1C: UK public compute and commercial cloud facilities
1.5

Policy implications

There is a clear strategic case for investing in compute to achieve the UK's economic, scientific and societal ambitions. This is founded upon four principal factors: compute will produce significant economic and social benefits; compute is essential to achieve UK ambitions; the market alone will not provide all the necessary compute supply; and UK compute capability is falling behind internationally.

Commissioning this review signalled the government's interest in giving strategic consideration to compute policy and investment. However, investment into compute infrastructure needs to be combined with long-term strategic planning across the whole ecosystem to maximise the benefits of compute uptake for all users. Government must work with industry, academia and the public sector to succeed.
2.

The international landscape of compute
2.1

Introduction

As noted in Chapter 1, compute is critical to understanding and tackling many domestic and global challenges. Internationally, the role of compute as an essential enabler of global innovation and cutting-edge science, and as a critical component of any strong digital economy, is widely recognised. This is reflected in the long-term, strategic approach that other countries have adopted, as well as their commitment to public investment into compute.

However, despite compute's strategic importance, the UK is falling behind. In 2022, the US broke the exaflop barrier with their Frontier system. In comparison, the UK's most powerful public system, ARCHER2, is 56 times less powerful. The UK has a long and proud tradition of computer science and cutting-edge research, with world-class strengths in areas including innovation, software development and machine learning. However, to maximise its expertise and ensure it remains at the forefront of global competitiveness, technological innovation, and scientific discoveries, the UK needs an internationally competitive compute ecosystem. Therefore, investment into and use of compute systems should be looked at through a global lens.

This chapter explores the international compute landscape, the UK's position within it and best practices adopted internationally to build a vibrant compute ecosystem.
2.2

International compute capability

While other countries have continued to invest in compute, Figure 2A shows the UK has lost ground since 2005, a time when the UK and Japan were peers and only the US had greater compute capability. As of November 2022, the UK was trailing in compute capability (Rmax), ranking 10th globally. The EU's EuroHPC programme is further driving other countries' compute capability ahead of the UK's, starting with pre-exascale systems in Finland and Italy.
Figure 2A: Growth in total compute performance between 2005 and 2022[footnote 17]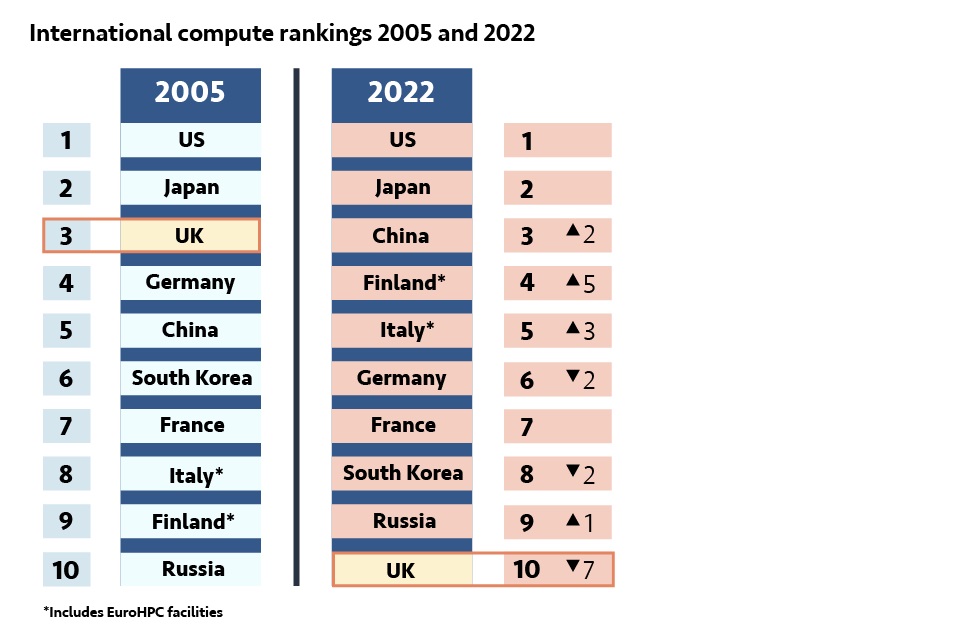 Countries are also investing in AI compute. In addition to its national research cloud, Canada funds dedicated computing resources of hundreds of top-spec GPUs for each of its three national AI institutes; the US are looking to establish a National AI Research Resource; France has extended its Jean Zay system to include accelerators; and Italy hosts the latest EuroHPC system Leonardo with 10 exaflops of AI performance. In comparison, the UK does not have a dedicated AI compute resource and has a limited number of accelerators in national systems.
Advanced economies are investing in next generation infrastructure and exascale capability — threatening to widen the gap between the UK further. Figure 2B demonstrates the most powerful compute systems in the world. The US and China have already deployed exascale infrastructure, with multiple systems expected to be operational by 2025. The US are now looking further ahead to systems 5-10 times as powerful as Frontier, with at least one of these planned for 2025-2030.[footnote 19] The EU's EuroHPC programme is deploying three pre-exascale systems (in Finland, Italy and Spain), and will deploy its first exascale system in Germany in 2024. Japan's Fugaku marked the transition to exascale in 2020 with the first multi-hundred petaflop system and it is paving the way for exaflop-capable infrastructure. Australia and Singapore have teamed up to jointly explore collaboration in the area of exascale, including capability development and readiness of underlying infrastructure.
Figure 2B: Most powerful compute systems by location (November 2022)[footnote 20]

| Location | System | A system's maximal achieved performance (Rmax, petaflops) | Installation year | TOP500 Rank |
| --- | --- | --- | --- | --- |
| USA | Frontier | 1,102 | 2021 | 1 |
| Japan Supercomputer | Fugaku | 442 | 2020 | 2 |
| Finland* | LUMI | 309 | 2022 | 3 |
| Italy* | Leonardo | 175 | 2022 | 4 |
| US | Summit | 149 | 2018 | 5 |
| UK | Archer | 20 | 2021 | 28 |
*EuroHPC facilities
UK researchers currently have access to EuroHPC systems such as LUMI and are able to pursue partnerships with European colleagues to increase the likelihood of successful allocation. However, UK researchers will not have direct access to future EU systems such as Jupiter, the EU's first exascale system scheduled for 2023/24. Indirect access might be possible through negotiated access.
2.3

The impact of a robust compute capability

A robust compute capability, paired with a healthy ecosystem that maximises the investment in infrastructure, leads to world-leading results in science, technology and innovation. For instance, Frontier will further integrate AI applications with modelling and simulation, enabling the US to achieve advances in medicine, astrophysics, bioinformatics, cosmology, climate, physics and nuclear energy. As the US continues to develop its compute capability over the decade, it will be able to tackle computationally intensive problems, such as complex physical systems or those with high fidelity requirements.[footnote 21]

World-changing scientific discoveries powered by world-class compute infrastructure enhance a country's international standing in science and technology. The UK's strengths in computing — especially in software development, machine learning and increasingly green computing — and in science and research more broadly, are internationally recognised. The fact that UK researchers are able to access the world's most powerful systems on the basis of their projects' scientific merit shows this. Evidence gathered by this review notes that since 2010, UK researchers were included in 5% of the projects supported by the US' INCITE programme (which supports large-scale scientific and engineering projects by providing access to compute resources), with the majority having a UK-based Principal Investigator. That evidence also showed that UK researchers were also included in 20% of the projects supported by the EU's PRACE programme since 2010.

However, a lack of a strong domestic compute ecosystem constrains the UK's potential and threatens its standing as an international leader in science and technology. Low investment in domestic compute capability may have already negatively impacted UK research: a consortium including UK researchers has not won the Gordon Bell Prize — an annual award for outstanding achievement in compute — since 2011, unlike researchers from the US, China, Japan, Switzerland, France and Germany.

Without further investment in domestic compute capability, the UK's position will continue to decline as other countries press ahead with plans to bolster their compute infrastructure. This will affect the UK's ability to remain at the forefront of global innovation and secure its status as a Science and Technology Superpower.
2.4

International compute policies

Internationally, the development of domestic sovereign capabilities and of a strong compute ecosystem have been a result of targeted government interventions and long-term planning. Leading countries in compute have adopted clear, strategic measures to ensure an adequate supply, facilitate access to compute, increase uptake among their domestic users and stimulate their domestic supply chains and R&D. The strategic approaches and long-term planning of global compute leaders are driven by the recognition that private investment in new computing technologies is limited by the extent of the cost, risk and technological change involved. Without public intervention, the provision of compute would likely be insufficient in terms of high-end capability, inefficient in terms of capacity allocation, unequal in terms of access and ineffective in stimulating innovation across the whole economy.

The panel is of the view that the UK should aim to create a strong and vibrant compute ecosystem by implementing all the above measures. This would help the UK reduce its lag behind other countries, and be a credible international partner at the forefront of digital innovation. If the UK were to adopt only some of these best practices — for example, only improving its long-term vision and coordination — it would become more competitive internationally, but would fall short of becoming a global leader in compute.
2.5

UK policy implications

The UK lags behind other advanced economies in compute. To secure the UK's status as a Science and Technology Superpower, action is needed to match international investment in compute and further capitalise on the UK's world-class research and innovation capability. Only by having a strong domestic compute ecosystem can the UK be seen as an influential player internationally and project its global power as a science and technology leader.

Lessons from those at the forefront of compute suggest that this requires government intervention to provide strategic leadership, ensure sovereign compute capability, and create a vibrant ecosystem. The UK can learn from the approach of others and carry out interventions that match the characteristics of its compute landscape. These points form the basis of this review's recommendations. The following chapters will explore how the UK can design an ecosystem that meets its domestic requirements, satisfies the needs of its users and improves compute uptake.
3.

The demand for compute in the UK
3.1

Introduction

Building on the findings of the GO-Science report, this chapter assesses the needs of compute users and the challenges they face in accessing and using compute.

There are different types of compute users and many ways to categorise them. This review has considered three main groups — academia, industry and the public sector — as well as users' different maturity levels within each of these groups. The difference between traditional compute users and the growing community of AI users, who have specific requirements, needs to be recognised.

The compute required for AI is distinct from that of more traditional uses. Traditional compute has historically used general purpose CPUs, whilst AI training and inference can be done at a much lower precision and uses specialised hardware accelerators such as graphics processing units (GPUs). Accelerators are orders of magnitude faster and more energy efficient than CPUs for AI-related tasks.

Understanding the diversity of requirements is essential to assess the suitability of compute provision and identify where support is needed, both in the short and longer term. This information will be outlined throughout this chapter and is summarised in Figure 3A. It will be key to ensure any future investment in compute infrastructure meets users' needs.
Figure 3A: Summary of the type of compute, applications and delivery of compute resources by user category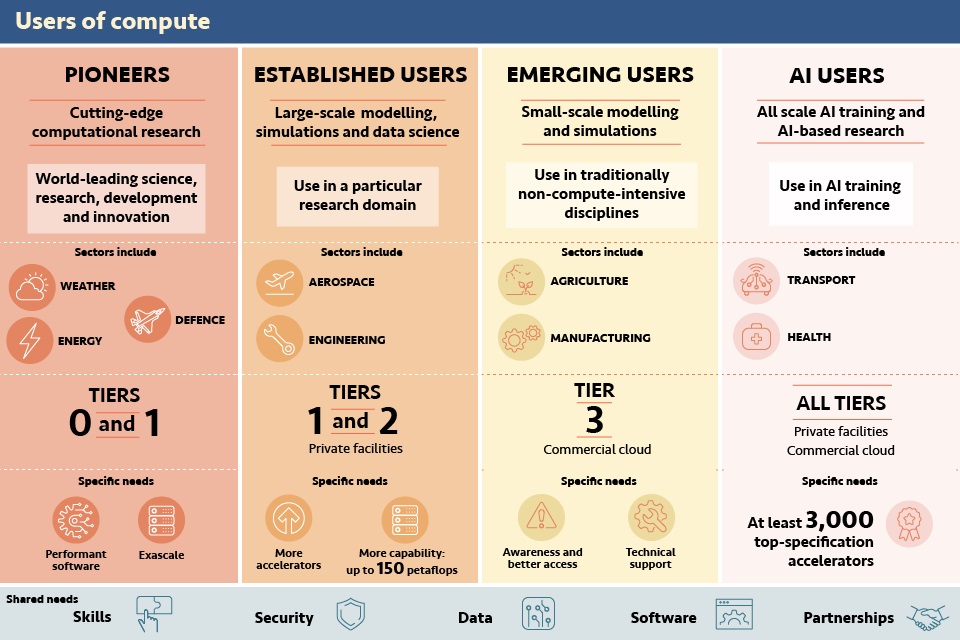 Users
Pioneers
Established Users
Emerging Users
AI Users
Type of compute
Cutting-edge computational research
Large scale modelling, simulations and data science
Small scale modelling and simulations
AI training and AI-based research
Use
World-leading science, research development and innovation.

Examples:

• weather
• energy
• medicine
• defence

Use in a particular research domain.

Examples:

• aerospace
• manufacturing and engineering

Use in traditionally non-compute-intensive disciplines.

Examples:

• agriculture
• engineering

Use in AI training and inference.

Examples

• autonomous vehicles
• health and medicine

Tiers
All tiers
Tiers 1&2 private facilities
Tier 3 commercial cloud
All tiers commercial cloud
Specific needs
Powerful systems

1 Exaflop

More accelerators

More capability Up to 150 petaflops

Awareness

Lower costs and technical support

At least 3000 top-spec accelerators
Shared needs (common to all users)
Skills
Security 
Data
Software
Partnerships
 
 
 
3.2

Compute for academic users, research and scientific discovery

Academic and research communities use compute across many disciplines. Academic users present varied levels of maturity and include pioneers, established users and emerging users. As compute infrastructure underpins the research and innovation ecosystem, a wide range of operational and access models exist for public facilities. The majority of researchers rely on on-premise compute which is free at the point of use.

UKRI's science case for supercomputing finds that a factor of 10 to 100 increase in UK computing power is needed if they are to deliver their immediate science goals. Compute infrastructure is essential to the competitiveness of the UK's academic landscape and, without appropriate levels of access, the UK's ability to attract international talent will be hindered.

Many universities partner with UKRI to provide access to Tier 2 systems. Academic users often use more than one facility. To access national level compute resources, academics typically submit an application that will be reviewed to assess the technical feasibility and the merit of the proposed research or project.[footnote 22] Currently this model prioritises excellent science rather than mission-led activity. Research centres and universities also gain access to compute through shared procurement frameworks and individual arrangements with commercial cloud providers.
Pioneers and established academic users
As set out in Chapter 1, compute is critical for world-leading science, research, development and innovation. Academic users of all maturities face substantial challenges from the lack of capacity in national compute facilities, resulting in significant unmet demand across all research areas. This is particularly true for those operating at the limits of compute capability. Academic users often use more than one facility and so interoperability is also a factor. As explored in Chapter 4, the UK's compute ecosystem is fragmented and that limits researchers' access to compute resources and ability to collaborate.
Emerging academic users
Those with less experience using compute face challenges around how to find compute resources suitable for their needs and how to access them. This is due to limited signposting of the resources offered by different public compute facilities. Emerging users also face challenges in terms of having the correct skills needed to use compute effectively and the access to technical support.
AI researchers and accelerator-based compute
Accelerator-based compute is essential to AI breakthroughs and enables the creation of general-purpose technologies. Access to compute allows researchers to conduct small-scale exploratory AI research and larger teams to mature their models. Compute is critical to the most important advances at the frontier of the field where massive models are trained on huge datasets using thousands of accelerators concurrently for weeks or even months. To train frontier AI, research indicates that the amount of compute is currently doubling every 5-6 months.
UK AI researchers face significant challenges in obtaining the compute they need. At present, grant money often supports procurement of small systems for local use. The growing 'compute divide' between academia and industry is a global phenomenon. Researchers indicate that the relative lack of accelerator compute in the UK makes it particularly challenging to hire and retain talent within academia, in comparison with other countries and companies. Some researchers rely on international or industrial partnerships to pursue their work, leading to a loss of research independence. This also has implications for oversight and safety, and areas of research that have less direct routes to commercialisation. Without better access to more compute, breakthroughs may be prevented from diffusing throughout the economy via spinouts and start-ups.
In addition to their need for accelerators, AI researchers have particular requirements for data access. Large, open access datasets have been catalysts for significant scientific progress in AI. It is common for independent researchers, funded by private donations and start-up sponsorship, to collectively create these datasets. This type of data and AI research should be complementary to non-commercial, fully transparent research. AI researchers need to interrogate the underlying data to understand how training sets influence trained model behaviours.
3.3

Compute for business users

Use of compute is growing in many sectors of the economy. This section outlines the needs of pioneers and established business users (both large and small businesses) and those of emerging business users, AI businesses and AI adopters.
Pioneers and established business users
There are numerous business applications for compute. Access to compute enables businesses to innovate better for new products and services and improve productivity. Each of these benefits can help businesses gain a competitive edge by increasing efficiency and operational effectiveness.
Business users access compute in a variety of ways — via their own on-premise systems, commercial cloud or public-sector facilities. Having easy and sufficient access to compute is key. Some businesses, mostly larger enterprises, use in-house systems for their regular workload and use 'cloud bursting' to cover spikes in demand. Businesses can also partner with universities or national facilities, either through research collaborations or paying for system time. They generally do this when they are not able to access or fund internal resources, or want to collaborate or de-risk innovation. The majority of businesses that use compute do not currently require the most capable systems (i.e. exascale). Some pioneers may make use of exascale systems over the next decade, especially in partnerships with academia.
Some public facilities support business access to compute through the provision of expertise, compute resources and software. Unilever, for example, explained that access to compute at the Hartree Centre enables them to maintain competitive advantage by unlocking breakthrough innovations faster than competitors.[footnote 24]
Other examples of private-public partnerships include GlaxoSmithKline with Oxford University and Rolls Royce with EPCC. However, with the exception of the Hartree Centre, there is generally limited capacity available for businesses in public compute facilities.
Established business users report challenges in system performance, access to technical skills and an increasing demand for flexible and scalable compute architectures. Some stakeholders engaged by the review have reported that commercial cloud can, in some instances, result in lock-in effects and high data extraction costs, making it difficult for users to move between services. Furthermore, the use of public compute often includes a requirement to publish results. This can act as a barrier to some businesses adopting compute, particularly where intellectual property protection is a major concern.[footnote 26] Some businesses also noted that the costs of data management and governance can be an inhibitor for those who might want to use more substantial computing resources.
Lastly, the review considers those researching and developing quantum computing and its applications among the pioneer users of compute. Although the most impactful applications of quantum computing are still being identified, early examples include drug development and logistics optimisation.[footnote 27] The integration of classical compute and quantum systems will be critical as quantum computing develops, with applications relying on the complementary strengths of both systems to produce optimal results. Further assessment is needed into the specific compute requirements of the quantum sector so this nascent technology can thrive. The publication of the government's National Quantum Strategy will set the government's long-term vision for accelerating both quantum computing and other quantum technologies supporting businesses to equip themselves for the future.
Emerging business users
Smaller businesses often have lower levels of technology adoption and could significantly benefit from compute uptake. With SMEs accounting for the majority of the UK business population, encouraging greater adoption of compute could result in significant economic benefits. Whilst businesses that already use compute often have similar requirements irrespective of their size, emerging business users have different needs.
Public facilities can play a key role in supporting emerging business users. They can support new users to access compute and software, in the past only available to academia and large-scale business; provide domain experts to develop business models; build the workflows required; and train staff. Some facilities provide these services for free, removing cost barriers.
As the EU's former Fortissimo project demonstrates that adoption of compute can dramatically accelerate SMEs growth. In the UK, the Hartree Centre's sectoral approach is proving to be successful, but an in-depth sectoral analysis is needed to determine the scale of the demand for compute in different sectors and help prioritise government actions.
Many smaller businesses remain unaware of the commercial benefits that compute could bring to their businesses. SMEs have limited time, capacity and skills and so require greater support. Even where businesses appreciate the benefits of compute, they still need support and resources to realise them. Policies and support programmes are already in place, but they need to be made accessible and attractive to the companies targeted.
AI companies and AI adopters
AI business users include those who develop innovative technologies (AI-based companies or AI developers) and businesses who adopt AI products (AI users). Compute is core to these companies' ability to unlock the benefits of AI. The National AI Strategy has outlined the need to transition to an AI-enabled economy by supporting AI businesses and enabling organisations to harness the power of AI. It is estimated around 15% of UK businesses have adopted at least one AI technology, with large companies more likely to be at the forefront of AI adoption.
Almost all AI users use commercial cloud. This includes developers using large-scale systems to train their models and users deploying cloud-based pre-trained models or AI services. Industrial AI research has been enabled by massive access to accelerator-driven compute through the cloud, from the exploratory phase of research when trialling different model settings, through to final training runs once optimal settings have been found. These training runs can have compute costs into the millions of exaflops for the largest models, equivalent to using compute for weeks or months continuously.[footnote 30]
Meanwhile, programmes such as Digital Catapult's Machine Intelligence Garage helps businesses of all sizes to gain access to compute and expertise. It also assists AI and machine learning companies with the application of their technology, to enable them to bring compute-enabled solutions to other sectors such as creative industries. The programme was oversubscribed and could support ten times as many teams.
3.4

Compute for public-sector users

Government departments and agencies use compute in a wide variety of domains, with compute being provided via a mix of both classical on-premise systems and cloud-based services. There is large variation in the maturity of users in the public sector. The Met Office has one of the most advanced compute systems in the world. Other established public sector use cases include environmental, defence and health applications. However, the National Data Strategy sets out that there is massive untapped potential in the way the government uses data. Compute will be critical in achieving the objective to transform government's use of data to drive efficiency and improve public services. This section explores the public sector pioneers of compute and emerging users.
Public-sector pioneers
The Met Office is the largest government user of compute. In 2020, up to £1.2 billion was invested into compute for a weather and climate supercomputer, keeping the UK at the forefront of science and enhancing the country's resilience to the changing climate.[footnote 31] The Ministry of Defence uses compute in weapons production and weapons platforms management, cryptography, combat simulation and missile defence, and is increasingly investing in AI, space and cyberspace compute. The Atomic Weapons Establishment simulates the use and storage of nuclear weapons. The Department for Environment, Food and Rural Affairs (DEFRA) uses big data analytics in policy models ranging from flood defence, agricultural compliance and food chain analysis. NHS Digital uses compute to support clinicians and patients and improve treatments.
Compute is increasingly being used at the local level for data analysis. The Hartree Centre is currently exploring several projects in healthcare, social care and social housing to support public bodies across the country. For instance, one potential project looks to explore how compute and AI might be used to look at images of mould in properties to determine its seriousness. The DiRAC HPC facility has also supported a series of Innovation Placements with the Guys' and St Thomas Trust and the NHS Get It Right First Time (GIRFT) programme. These placements have developed AI-based tools for predicting which patients will fail to turn up for appointments and assessing clinical needs of frail patients.[footnote 34]
Emerging public-sector users
The potential of compute to revolutionise the public sector, the functions it delivers and the policies it sets, is significant. For example, compute can be used for real time decision making and more sophisticated computational models to help government understand the consequences of policy choices. However, as with smaller businesses, awareness and access outside of established users appears to be limited. The review has found evidence gathering for public-sector use of compute challenging. Aligning the work of the cross-government Integrated Data Service, which provides access to leading cloud technologies and a broad range of data sources to enable faster and collaborative analysis for robust policy-making, could play an important role.
3.5

Common challenges facing users

UK users of compute have widely varying requirements. This creates specific challenges depending on the user group and maturity level. However, there are also a number of common challenges faced by users that need to be addressed to unlock and maximise the benefits of compute, now and in the future.
Awareness and support to access compute
Better information about the benefits of compute as well as the availability of and access to public resources is needed for both existing and future users. Stakeholders have also indicated that uncertainty around the future of national provision means that users may defer investment decisions for their own compute resources until plans for national provision are clearer. Effective signposting is needed to provide different communities with the information they need.
This lack of awareness disproportionately affects SMEs. Evidence demonstrated a clear consensus that smaller businesses need help to understand the opportunities brought by compute adoption and how to access compute resources. Awareness events run by facilities are reported to be successful at addressing this issue. While the government's investment in the Hartree Centre demonstrates commitment to supporting new users, there remain many more potential users to identify, educate and support. Increased awareness would support new users and could give further impetus to the development of compute-dependent industries, stimulating compute demand and the associated economic benefits.
Furthermore, gaining access to compute and learning how to use it creates additional costs for users. While the UK government has taken positive steps to address some of the cost barriers that inhibit cloud adoption — announcing in Autumn Budget 2021 that R&D tax reliefs would be reformed to include data licences and cloud computing services costs — few stakeholders engaged by this review were aware of the initiative.
Capacity at public facilities
UK facilities are currently running at capacity, with users struggling to access the compute resources they need. With demand for compute expected to increase, problems arising from limited compute capacity will continue to worsen. The loss of access to EU systems will further limit the compute capacity available to UK users. As the cost of leading-edge compute would be prohibitive for any single business or institution, the government must invest in UK compute capacity. Further assessment of compute capacity will be presented in Chapter 4.
Capability for different users
Facilities need to support diverse workloads, from the most computationally intensive to those requiring specialised architectures, as in the case of AI research. Investing in exascale infrastructure and accelerator-based systems is key to increase UK compute capability.
More powerful systems are increasingly required to perform cutting-edge, transformative research in academia and industry. Research and development at the frontier of AI is currently only achievable using significant compute capabilities. That said, investing in exascale capability will require supporting the whole compute ecosystem, including increasing compute capacity across other tiers.
In addition to exascale, greater provision of accelerator-based computing systems has been identified as essential to meet the current and future needs of the AI community. At present, there is limited accelerated compute at Tier 1 in the UK, and Tier 2 facilities with accelerators are at maximum capacity or under-resourced.[footnote 35] There is anecdotal evidence that this lack of accelerator-based compute for AI researchers is preventing breakthroughs, pushing AI researchers out of academia and out of the UK.
Access to data and skills
Access to data is integral to users' ability to exploit compute. However, the UK data sharing landscape is complex and significantly fragmented, with users unsure how or where to access data. Varied access and licensing models as well as data interoperability issues can make it challenging to combine data from multiple sources. Meanwhile, commercial datasets can be prohibitively expensive for researchers to licence. Whilst data is out of scope, this review supports the implementation of the National Data Strategy to enable safe and secure access to and sharing of data by recognising the role of compute.
Furthermore, access to the skills necessary to understand and use compute effectively has repeatedly been the biggest issue raised by stakeholders. It is essential that the UK grows a sustainable and diverse skills pipeline to support greater uptake. This issue will be further explored in Chapter 5.
3.6

Policy implications

There is the potential to boost economic growth by broadening the use of compute across the economy — particularly among smaller businesses. However, current compute provision does not meet demand.

The government should ensure the sufficient supply of compute resources and reduce the barriers to entry, supporting all users to access and use compute. This will require addressing the challenges currently faced by users and creating a diverse ecosystem. Longer-term, strategic planning is essential to develop an ecosystem that provides capacity and capability at local, regional and national levels, and delivers services in an integrated way. Chapter 4 and Chapter 5 will explore how the government can meet compute demand and create a vibrant compute ecosystem.
4.

Meeting the UK's compute needs
4.1

Introduction

Access to compute is essential for science and innovation. At present, there remains a gap between what users need and what they are able to access in the UK. The UK's current publicly funded infrastructure has traditionally focused on a core set of users that require specialist compute. However, these systems are operating at capacity and are frequently oversubscribed. Additionally, the demand for compute has broadened, with AI-specific technologies requiring significant levels of computational power.

At present, there are limited plans for investment in next generation systems to respond to the dual pressure of increased demand and a broadening user base. Without the provision of sufficient compute infrastructure, UK-based science and innovation is restricted. If the status quo persists, more users are expected to seek access to compute outside the UK, with negative consequences for the UK's talented research base. The UK needs to take action quickly and commit to and build world-class compute infrastructure. This should be done through a mixture of public, commercial and private systems, and in the most sustainable way feasible. Necessary actions include: the development of a UK exascale ecosystem; investment in all tiers of the UK computational infrastructure to support the varying compute needs; a national AI capability; and improved access to public systems via cloud interfaces.

Compute infrastructure has four functions: to process, store, transfer and generate data. This requires heterogenous systems fit for the growing uses outlined in Chapter 3, underpinned by sufficient operational infrastructure and paired with the necessary software and engineering expertise. This chapter explores the UK's current and future compute infrastructure landscape and outlines what is needed for it to be fully operational.
4.2

UK's current system infrastructure landscape

The GO-Science report provides a comprehensive summary of the UK's compute infrastructure. This comprises a loose collection of publicly supported compute facilities, including a small number of AI compute systems, supplemented by commercial cloud services.
Publicly supported compute
Numerous government departments are involved in public funding of compute decisions. UKRI funds national and regional facilities in the UK. This includes: ARCHER2, the UK's most powerful system; DiRAC, providing targeted compute for theoretical research and GPUs to develop AI and hybrid capabilities; the Hartree Centre, providing support for UK industry and the public sector at Tier 1; as well as a number of regional Tier 2 clusters. In Wales, the Supercomputing Wales cluster was part-funded by the European Regional Development Fund (ERDF) through the Welsh Government, with support from partnering universities.
Many Public Sector Research Establishments (PSREs), Research Council Institutes/Units, Independent Research Organisations and Higher Education Institutions (HEIs) use and fund compute. Operational decisions are often devolved to each facility who act autonomously, with each focusing on a particular community of users. The Met Office and AWE, amongst other PSREs, invest in and operate their own systems, which offer limited or no access to other users. There are also about 42 Higher Education Institutions that self fund local (Tier 3) compute facilities which are managed locally to support students and research groups.
This range of actors involved in the delivery, funding and operation of compute has led to a fragmented landscape. Whilst there is some coordination of compute through UKRI's oversight of digital research infrastructure and through the HPC special interest group, there is no overarching strategic planning for public compute infrastructure.
As previously noted, some public facilities work with commercial partners to provide compute. The Hartree National Centre for Digital Innovation is a collaborative five-year programme between the STFC and IBM. It provides compute resources and services to UK businesses and the public sector, including training for mid and early career researchers. The Cambridge Dell Intel Centre and NVIDIA's Cambridge-1 provide extensive compute resources for healthcare and life sciences research.
Despite the diverse network of public infrastructure, facility directors have reported that their systems are operating at capacity and in many cases are significantly oversubscribed. Furthermore, the allocation process for determining who can access systems is administered by different public bodies. Whilst this can allow for high quality and efficient use of individual systems, a variable and somewhat uncoordinated approach to allocation may have unintended consequences. For example, it could lead to inefficient allocation of resources and restrict utilisation, make it more difficult to plan for future infrastructure and limit the allocation to emerging users. It may also mean that research outcomes are not aligned with national priorities.
Commercial cloud compute
Demand for commercial cloud is increasing quickly. The breadth and variety of configurations on offer is growing — for example, parallelisation, fast networks, and AI accelerators — making cloud suitable for many users. It is widely used as an accessible, flexible and scalable resource, particularly by businesses and the AI community. Facilities directors reported the need to purchase cloud credits on behalf of researchers. For example, the Alan Turing Institute on behalf of AI researchers and the Digital Catapult for AI startups. Researchers report using commercial cloud where public resources are unavailable or when they need more accelerators.
Commercial cloud should be seen as a key component of the UK's compute infrastructure. It provides rapid access to compute, supplementing the capacity of public systems ('cloud bursting') and giving access to other capabilities unavailable elsewhere. Some commercial cloud also provides hybrid use models, as in the case of Microsoft's partnership with the Met Office, which deploys Azure cloud alongside an HPE system.
However, commercial cloud does have limitations and cannot be seen as a universal substitute for public infrastructure. It may be unsuitable for researchers who need specific networking or compute performance, and for those who need to port large datasets between systems. Some researchers have reported that the cost of commercial cloud is prohibitive, although there are a growing number of more affordable commercial cloud options (such as spot pricing and long-term contracts).
AI compute
As explored in Chapter 3, AI users are heavily dependent on hardware accelerators. However, there are significant shortages in public accelerator capacity in the UK, with fewer than 1,000 NVIDIA A100 GPUs available to researchers.[footnote 37] Facilities directors reported systems that provide accelerator-based compute are running at capacity or oversubscribed. Some public-sector AI researchers have pro-bono access to private computing systems, such as university and NHS access to NVIDIA's Cambridge-1, or have collaborations with leading private labs. However, such access is ad hoc, preferential and cannot be relied upon to support important public research in the long term.
The UK's public provision of top-spec accelerators should be seen in the context of other leading AI nations and the private sector. The EU and US are well-positioned, with Leonado offering 14,000 and Perlmutter 6,000 A100 GPUs respectively. These public systems are not dedicated to AI and resources are shared with other areas of research. In contrast, large private companies have built or leased systems to exclusively train their AI models. For example, in 2020 OpenAI used 10,000 GPUs on Azure, and in 2022 Meta used 21,400 A100 GPUs, including on Azure. Anthropic recently suggested that the US public sector would need accelerator-based resources in the order of 100,000 top-spec GPUs to be truly competitive when compared to private sector laboratories.
Access via international compute
Collaboration is essential for delivering world-class innovation and research. International facilities foster global research consortia and support joint endeavours that can provide access to additional compute capacity. The UK is a respected partner in many of these programmes, owing in part to its excellence in software development and skilled engineers.
UK users have access to some EU systems including LUMI (which provides 309 petaflops) and Leonardo (with NVIDIA Ampere GPUs that deliver 10 exaflops of AI performance). Successful bids on these systems often provide researchers with significantly more resources compared to the ones available in the UK. For example, one researcher reported that, by accessing EU resources, they received six times more GPU hours than they could access in the UK. By 2027, many existing EU systems will be decommissioned and the UK will not have access to the systems that will succeed them. UK researchers can also access the US' DOE systems, including Frontier, the first exascale system, via the INCITE programme. For example, UCL leads a project using deep learning to speed up drug discovery.
4.3

UK's future infrastructure requirements

Chapter 3 explained that demand from academic, business and public-sector users will exceed current compute capacity and capabilities. Compute systems require significant planning and investment, with many having a lifespan of around five years, after which they require substantial upgrade or replacement. Maintaining current capability requires planned investment via public or private routes. However, there are currently no public funding commitments for future systems of international or national class (Tier 0 and 1), which provide the most capability and support for pioneer users, and research and innovation.

Existing supply must not only be upgraded or replaced, but also substantially increased to meet growing demand from established and emerging users. In the US, Summit has been available to users since 2018,  providing access to nearly 150 petaflops of compute and in 2022 they broke the 1 exaflop barrier with Frontier for pioneering public research. The UK must ensure that there is heterogeneous compute across all tiers. The following sections make the case for investment in next generation exascale systems, and the pressing need to support the growing AI community.
The need for exascale
Exascale is the next generation of compute. The GO-Science report set out how such developments are expected to open up a range of new use cases and previously intractable areas of research. The US broke the exascale barrier with Frontier in June 2022, enabling huge workflows of parallel computing to develop new technologies for energy, medicine, and materials. The government has indicated that UKRI's strategy is to deploy an exascale system by 2025. However, there is currently no funding in place to deliver this ambition.
As exascale becomes more widely available, demand is expected to emerge from research-intensive businesses. There are many sectors that derive significant value from cutting-edge innovation, such as pharmaceutical, material, automotive and engineering, logistics and finance sectors. Provision of exascale compute is crucial for the UK to remain an attractive destination for private R&D investment and world-class research.
Any future exascale system will need to be heterogenous to suit the variety of users it supports. It will need accelerators to support the AI community and hybrid workflows of traditional users, fast storage for users needing high throughput and sufficient scale to keep developing high performance codes ready for the next generation of compute. An exascale ecosystem must support greater use by businesses, public sector and a broader research community. This will need careful planning, design and compromise that incorporates funding for the development of exascale-ready hardware, software and skills and considers future technological convergence.
The UK must continue to engage closely with international exascale operators to understand the lessons learned in other countries and the delivery challenges involved. For example, collaboration between the Hartree Centre and the US's Exascale Computing Project (ECP-USA) supports the development of scalable algorithms, scalable AI and exascale software environments. Whilst exascale may no longer be cutting edge at the moment of delivery in the UK, some technological risks remain and the funding commitment is substantial (Frontier cost about $600 million and Jupiter has a budget of €500 million). According to compute suppliers, it would take around 18 months from contract award to build and deliver operational exascale capability. In preparation for the decommissioning of existing Tier 1 systems, including ARCHER2 in 2025 based on facility directors' estimates, the government must commit to exascale as a matter of urgency.
The need for AI compute
AI technologies are increasingly reliant on computationally-intensive models. The UK is currently ill-equipped to support public AI research due to its limited number of top-spec accelerators. The situation is exacerbated by researchers reporting that they incur high costs to use commercial cloud at scale, limiting the ambitions of the problems they can address. Furthermore, there is concern that a lack of specialist compute, awareness of resources and ease of access, could make the UK academia less attractive to the best of global AI talent, which is scarce and the focus of fierce international competition.
In an increasingly competitive geopolitical landscape, inadequate compute resources mean the UK lacks the agency to steer the development of frontier AI in a manner aligned with UK's values and objectives. To meet its ambitions on AI, the government must make immediate, significant and sustained investments in accelerated compute capabilities that directly support AI tools and research.
Accelerator-based compute is required at all tiers, from local university systems to future national exascale systems, where AI research must be a first-class use case. Facilities need to support ambitious large-scale AI projects carried out by research consortia as well as creative, small-scale experimentation done by students and small academic groups. Systems should also have capacity to support the use of large models shared amongst multiple users and should provide a platform for private industry models to be securely shared through structured access to select users.
At the national level, significantly more resource is required to allow AI researchers to conduct on-demand exploratory research and concurrently train large language models. The panel considers that at least 3,000 top-spec accelerators would meet this need in the immediate term. This is based on the current supply of accelerators to UK academics; investment by international competitors; and the scale of resources required to support the growing UK AI community as well as large-scale training runs. This would be greater in ambition than the BLOOM model trained by French researchers on the Jean Zay supercomputer (384 A100s for 4 months) or the GLM-130B model trained by Chinese academics in partnership with a start-up (768 A100s for 2+ months). Accelerator capacity should be scaled over time as user demand increases.
Recognising that large systems take time to procure and build, and may not meet the urgent need for AI compute capacity, commercial cloud could be used to rapidly meet existing demand and act as a pilot to inform the business case for long-term AI compute provision. This should be done in parallel to investments in existing and new accelerator-based systems. Government could explore a partnership with industry or public organisation to quickly deliver the necessary compute for AI. In addition to potentially reducing the amount of public investment required, this would have the advantage of pooling expertise and resources, supporting the use of the latest AI software, improving research quality and increasing the flow of ideas across fields.
Similar to the model used by the Digital Research Alliance in Canada, individual accelerator access should be available to any UK AI researcher to support exploratory research and small-scale experimentation. More ambitious large-scale projects should be offered access to the necessary compute through frequent resource allocations calls. Such calls should be open to any UK entity and promote a mixture of (un)conventional research and commercial projects to spark innovation.
Given the increasingly dual-use nature of AI research, the government may wish to consider how this research undergoes ethics and safety oversight. As well as new opportunities, compute-intensive applications of AI pose novel risks. Recognising the UK's ambition to steer the global development of highly advanced AI systems in a manner aligned with UK values, the government could use compute investments to support the Centre for Data Ethics and Innovation's roadmap to an effective AI assurance ecosystem, as well as the Office for AI's pro-innovation approach to regulating AI. This could include support for research into technical mechanisms for monitoring and verification of compute usage for the training and deployment of advanced and possibly dual-use AI systems.
4.4

Operational infrastructure

Investing in compute infrastructure to meet future demand is crucial, but insufficient by itself. This must be complemented by investment in what makes infrastructure operational: efficient software, skilled developers and operators. Furthermore, it is imperative to ensure that compute infrastructure is as sustainable as possible to limit the environmental impact of compute.
The importance of software
Well-engineered software is a crucial component of computational capability and efficiency, improving the performance of compute and making it easier to use. The UK needs to align investment in software development with hardware investments to get maximum benefit from new infrastructure. The use of AI accelerator systems requires significant investment into research software engineering. Existing software will need to be reengineered or rebuilt to benefit from the increased parallelism and accelerator capabilities of an exascale system. There are also significant performance improvements to be had from algorithmic efficiency or different approaches, such as DeepMind's optimisation of AlphaGo to AlphaGo Zero. Research software engineers (RSEs) who port and maintain these codes and optimise system performance are a crucial part of operational infrastructure.
Many parts of the software stack are built on open source software. International software development efforts, such as those conducted on Summit (porting codes to accelerators) and on Frontier (to develop and test the first exascale codes), are important to the international research community and contribute to the UK's exascale readiness. The UK should continue to support these initiatives whilst investing in software development programmes that prioritise UK research interests, develop skilled engineers and maintain an excellent international reputation.
The importance of cloud access
Cloud access and orchestration of resources has the potential to make compute more accessible to a broad range of users, with workflows able to seamlessly run on commercial cloud, private cloud and on-premise systems. The current technological trajectory points towards more demand for hybrid systems, combining cloud with on-premise compute resources.
At present, public compute infrastructure makes limited use of cloud technologies. This limits access to facilities and resources, as well as the ability to share and access data. Government should encourage wider adoption of cloud technologies in public systems in order to make more resources available to more researchers.
Improving the interoperability between public systems and commercial cloud would remove key barriers to higher adoption by researchers and businesses. Developing and testing interoperability solutions, such as containerisation and platforms like OpenStack will improve software availability and the movement of workloads between systems and support public facilities in adopting best practice. Work is already underway in some Tier 1 and 2 systems to adopt such technologies, but without further support this could lead to variable experience and inconsistent adoption.
Action can also be taken to signpost cloud as an affordable route to compute. Procurement frameworks can be used to increase the collective purchasing power of institutions. The Open Clouds for Research Environments (OCRE), for example, is an European framework used primarily by academic institutions. Improving the adoption of OCRE across the research community and influencing future iterations of the framework could provide more cloud resources and access models at discounted prices. The UK should ensure that it retains influence in the next OCRE framework.
Meeting the UK's future compute sustainably
Compute is critical to combating climate change, underpinning work on climate modelling, AI tools for mitigation and advances in alternative sources including fusion. However, compute is also a power-hungry technology. Despite energy efficiency innovation that ranks Frontier sixth on the Green500 list, the US exascale system requires up to 21.1 megawatts per hour, enough to supply 42,000 homes in the UK.
An exascale system in the UK would likely have a similar energy demand to Frontier's and make up about 0.05% of the UK's current electricity supply, according to the GO-Science report. The specialisation of hardware, for example accelerators, has allowed for significant gains in energy efficiency, but energy demand will continue to grow for the foreseeable future. These systems also need to be cooled, with a significant amount of energy consumed in maintaining a controlled environment. The cooling infrastructure requirements for individual facilities depend on numerous factors including technology and local geography, climate and energy sources. Some cooling systems can be more efficient than others. Liquid cooling uses significantly less power than air cooling, which can constitute up to 40% of total data centre energy consumption. All EuroHPC systems now use water cooling and industry is adopting it in new and existing facilities.
At a national level, the impact of compute's energy on the grid must be considered as the UK transitions to net zero. A number of UK facilities, such as EPCC and the Met Office, run on renewables. This is also an increasing trend in the private sector, with facilities building on-site renewable generation facilities and grid-connected power storage to mitigate the impact on national supply. For example, 75% of the energy used by the UK's data centre industry is currently renewable. While using renewable energy does not solve the issues of the energy demand from computing as a whole, it is a good step towards bringing facilities in line with net zero objectives. The sustainability of manufacturing and building compute infrastructure and its components, such as semiconductors, must also be considered.
The government has a role to play in developing standards and guidance for sustainable compute, promoting good practice from across the private and public sector. Guidance should be informed by engagement with power suppliers and network providers and should consider energy efficiency requirements; encourage efficient system design; promote the use of appropriate sustainability contractual clauses; and inform the location of infrastructure. It should also emphasise the need to achieve sustainable computing through innovation in infrastructure and software design. To this end, the government should actively support the growing body of UK expertise in green computing.
There are significant opportunities for the UK to shape the market and create a world-leading sustainable compute ecosystem. Ambitious approaches to procurement are a key part of this. The government could act as a 'buyer of first resort', removing market risk in nascent technologies. A similar approach was adopted by the US with transformative results, catalysing explosive growth in computing through the bulk purchase of integrated circuits in 1962 and creating a market for private space launch systems in the 2000s.
The government could consider using challenges, similar to the one set by DARPA, to drive targets in sustainable computing. Given the global scale of the issue, international partnerships can also support the UK's goal of mitigating the environmental impact of compute by enabling cross-border collaborations on sustainable compute technology.
4.4

Policy implications

The actions identified in this chapter seek to ensure that the UK has access to world-class, sustainable compute capabilities. Without significant investment, the UK will become less competitive as other advanced economies operate or plan next generation compute systems. The UK therefore risks becoming a less attractive destination for top talent and world-class companies, undermining its ability to capitalise on its existing strengths in areas such as AI research and software development. There is also a risk that the disparity in compute resources available to academic researchers compared to private companies will widen further in the AI sector.

The private sector has a role to play alongside the government, but it cannot replace public investment. The UK is well served by commercial cloud and its growing capability means that it has the potential to be used more widely in academic research. However, commercial cloud will not be able to meet all the increased demand, particularly from academic researchers. Public systems at all tiers are also crucial to ensure the provision of compute to a wide range of users and to support public-private collaboration.

International partnerships can play a key role in ensuring the UK can access and test new compute technologies and should complement domestic public investment. Existing arrangements must continue and new ones must be developed, whilst recognising that domestic capability is essential to remain competitive, foster business and academic partnerships and attract talent to the UK. As the UK moves towards a new relationship with the EU without guaranteed access to their newest systems, the government must consider how to provide continued access to the most powerful compute systems that exceed domestic funding potential. It is clear that, without public investment into new infrastructure both now and long-term, the UK will be left behind.
5.

Creating a vibrant compute ecosystem
5.1

Introduction

Previous chapters have made the case for investment in the UK's domestic compute infrastructure. However, it is essential to adopt a holistic approach to compute and create a vibrant ecosystem. The review endorses the view set out in the GO-Science report that greater coordination and long-term, strategic planning for compute are urgently needed. The fragmented and uncoordinated nature of the UK compute landscape limits the potential that could be derived from existing and new compute resources.

Long-term planning and greater coordination would drive efficiencies in the allocation of compute resources, enable a broader use of compute through increased awareness and trust, and support commercial and international collaboration. It will also help build and attract the skills necessary to be at the forefront of innovation and cutting-edge science. This chapter explores what actions are needed to maximise the return on infrastructure investments.
5.2

The need for a strategic vision and coordination

The GO-Science report highlighted that the UK's approach to computing is uncoordinated, resulting in inefficient procurement and limited sharing of resources. The evidence collected by the review has reinforced this view. The lack of strategic approach, coordination and vision translates into piecemeal funding, inefficient procurement, lack of user awareness and cumbersome user experience. This also impacts confidence in the UK's future compute capabilities and competitiveness.

A long-term strategic vision and improved coordination would enable the UK to create a vibrant ecosystem and help address the barriers currently affecting compute uptake — including issues around skills and user needs around secure infrastructure. It would also allow the UK to build strong partnerships, both with the private sector and internationally, further improving its compute ecosystem and international standing. These areas are discussed later in this chapter.
A strategic vision for compute
As outlined in Chapter 2, leading countries in compute have long-term strategies linked to specific long-term goals or key societal challenges, as in the case of Australia's approach to compute. These plans have led to the creation of strong domestic compute ecosystems and internationally competitive facilities.
To create a world-class compute ecosystem, the government should urgently outline a long-term strategic vision over the next decade and beyond. The vision will need to reflect the UK's priorities and ambitions and should take forward the full set of recommendations outlined in this report. The vision should be paired with a clear implementation roadmap.
It is also important to consider the long-term investment requirements of compute and the role of the UK in developing new compute technologies. Delivering the proposals outlined in Chapter 4 will go part of the way in confirming the UK's commitment to be an international leader in compute, but it is essential that national planning also considers the UK's long-term system requirements. Technological advances have been rapid in the last decade and it will not be long before novel hardware architectures and workloads emerge, taking computing into the post-exascale era. The UK must ensure it keeps pace and start planning for next generation systems to regain its competitive advantage in computing.
Improving coordination across compute facilities
Better coordination across compute facilities would help drive wider access to compute and more efficient procurement of new systems. The GO-Science report called for a dedicated oversight group tasked with providing effective coordination for large scale computing. The review agrees that a coordinating body could provide strategic leadership and oversight across the full compute ecosystem, holding a holistic view of compute infrastructure and requirements. Such a body should have responsibility for overseeing the development and delivery of the implementation roadmap and advise the government on investments across the UK's public computing landscape. Consideration should also be given to the interactions between compute, its enablers and the technologies it enables, including data, AI, quantum and semiconductors.
This would bring the UK in line with other countries, with many international competitors having already established national coordination bodies to facilitate access, promote shared investment and provide user support. Such an entity should aim to increase awareness of compute, understand the needs of the ecosystem and advise on making procurement more efficient.
As discussed in Chapter 3, users can find it challenging to navigate the compute landscape and identify resources that meet their needs. Allocation of resources is determined by individual facilities, and there is no central oversight of public resource allocation to ensure that outcomes align with government priorities. Better signposting and a common objective to increase uptake across the full user base would improve awareness and usage of available resources.
Understanding the demand for and availability of compute in the UK will help drive better decision making and ensure that signposting is effectively targeted towards matching users with suppliers. Limited available data currently makes it difficult to accurately monitor supply and demand of compute resources, and therefore determine where further allocation or investment needs to take place. Commercial providers do not publish usage statistics, data on unsuccessful bids is not routinely collected by existing public facilities, and it is difficult to determine unmet private sector demand. This issue could be addressed by identifying clear metrics, surveying users, publishing usage statistics and measuring trends over time.
Improved understanding of compute supply and demand will also help identify how to allocate government funding to the areas of greatest need. Currently, national laboratories, universities, public facilities and UKRI's research councils conduct individual procurement processes for new compute facilities. As outlined in Chapter 4, the current fragmentation of the compute landscape limits the availability of compute resources to certain users. The UK needs a diverse, broad compute ecosystem that fosters different system architectures at different scales and delivers for everyone. More focused and targeted procurement could, for example, encourage innovation within the supply chain and support R&D in specific areas (e.g. green compute).
5.3

A sustainable skills pipeline

A strong ecosystem relies on the people who can build, design and operate compute infrastructure; develop the software that runs on it; and enable users to utilise the infrastructure they need. Ensuring the UK has a sustainable skills pipeline for compute is essential to maximise the efficiency of systems, deliver cutting-edge research and innovation and attract further talent and investment. This pipeline relies on compute specific skills, which are founded on more general digital, software and data skills.

The Digital Strategy outlines the government's commitment to building the skills needed to create a world-leading digital economy. The review welcomes this commitment and emphasises the need to move at pace to ensure that the UK has the digital skills required to build a strong compute ecosystem. Targeted action is required to grow a sustainable and diverse pipeline of digital and STEM skills and build the technical skills needed to support compute users.
Skills for compute users
The benefits of compute to the UK economy, science and innovation ultimately depend upon users' ability to maximise the power this technology provides. And yet, skills are the most commonly raised barrier for users who want to access and adopt compute. The first challenge for users is often understanding what compute resources are, how to access them and how to succeed in allocation and bidding procedures. Skills requirements also include how to use specific system architectures or how to utilise or design software. The skills barrier is particularly acute for new and emerging users.
Users accessing commercial cloud benefit from a wide range of training and certifications, often provided by the suppliers. These support a broad range of IT abilities and benefit the suppliers by increasing their user base. Many public facilities also offer training programmes to support users' access. These are essential to enable new users to access systems and write efficient code. ARCHER2 provides a training pathway for different user types. The Hartree Centre provides a range of standard and bespoke training courses for industry users, often in collaboration with partners, such as NVIDIA or IBM. There are also initiatives run at international level, such as the European PRACE's extensive free training events.
Skills programmes should upskill users, as well as technical support staff, for the lifetime of the infrastructure, with these operational costs secured at the time of the infrastructure investment. However, financially-stretched public facilities are unable to offer the full suite of training required to support users' needs. A lack of effective signposting of training courses further curbs their potential for upskilling users.
Skills for compute professionals and technical staff
The GO-Science report outlined a shortage of large-scale computing professionals in the UK, ranging from system architects and data engineers, to system operation professionals and software engineers. Compute professionals, such as Research Software Engineers (RSEs) and Infrastructure Engineers, are skilled individuals who can build systems and support users to operate them in the most efficient way. These skills are in high demand in both the public and private sectors. The entire compute community recognises the importance, and scarcity, of technical staff.
In the last decade, substantial work has been done to build and support the UK's technical compute community, including through the creation of a recognised RSE profession and specific initiatives. For example, the ExCALIBUR Research Software Engineer Knowledge Integration programme aims to equip the UK research community with the skills necessary to seize the opportunities unlocked by exascale capability and increase collaboration between academia and industry. However, despite these valuable initiatives, the review has found that RSEs are increasingly leaving academia due to low salaries, short-term contracts, lack of recognition and uncertain career progression.
There is also anecdotal evidence that the lack of cutting-edge infrastructure in the UK risks creating a brain drain of top talent, with highly-skilled individuals choosing to relocate in countries where they can access state-of-the-art infrastructure. For the UK to build a globally competitive digital economy and be an AI superpower, it must retain and attract technical talent through supporting domestic and global compute skills initiatives.
5.4

Support for a secure and resilient compute ecosystem

Trust in the security and durability of compute systems is essential to supporting greater uptake. Security requirements for compute depend upon the nature of the data, the need to transfer data between systems, the underlying hardware design, the needs and mix of users and their organisations, and the evolving threat environment. Different compute users have different security policies and requirements. For example, the location, access and cybersecurity of systems are key considerations for public sector users working with software or data that is sensitive or relates to national security, or where intellectual property needs to be safeguarded. Industry and academic collaborations may require specific security policies, procedures and staff training.

The rise in cross-discipline working is driving an increase in the need to bring together sensitive data with other data sources across different organisations. However, variable security measures adopted by different public facilities, the increasing diversity of users and connectedness of systems, the increasing heterogeneity of compute uses and the movement of data across different systems, can leave room for security vulnerability. Improved coordination and strategic planning, integrated with guidance on the latest technological developments, would enhance consistency, assurances and understanding of system security procedures. It is essential to balance data accessibility and sharing to meet user needs with security requirements. Building secure Trusted Research Environments (TREs) is one approach that can provide this balance.

System security is a broad and complex topic, and the evidence gathered by this review suggests that further guidance in this space would be welcome. Providing guidance and promoting best practice can be effective in increasing user awareness of security and ensure UK computing infrastructure remains secure. There are several organisations that provide guidance on securing compute, covering topics on protecting data, governance, access, auditing and supply chains. For example, UKRI launched a programme to support the research and innovation community by setting out principles for information management and knowledge sharing.

The National Cyber Security Centre (NCSC) provides security support to the most critical organisations in the UK, the wider public sector, industry, as well as the general public. There are also a number of cyber security industry standards (such as ISO 27001) available. Activities to raise awareness and promote the importance of compute to UK users, particularly SMEs, should include advice and information on security.

It is also important to consider the development of future public infrastructure with a 'secure by design' approach. As the UK compute infrastructure expands and becomes more integrated, security becomes ever more critical. New compute facilities will need to be designed with the latest security principles in mind, in partnership with the NCSC. Taking a risk-based approach to system design can protect the research and industry partnerships enabled by compute infrastructure and support a more resilient ecosystem. An innovative and resilient compute ecosystem should also be underpinned by diverse supply chains. A future strategic approach should consider these issues, in line with wider economic, national security and foreign policy ambitions.
5.5

The role of partnerships

Partnerships are another critical factor in creating a vibrant compute ecosystem. Public-private partnerships can deliver multiple benefits to the UK through the creation of more innovative, cost-effective investments. International partnerships can enable the UK to keep pace with global innovation in compute technology; increase compute resources available to UK users; share and build expertise; and develop solutions to tackle global challenges.

Collaboration with the private sector on the delivery of public compute could have substantial benefits, including opening up compute to a greater diversity of suppliers and users; stimulating innovation and new funding models; and increasing domestic R&D. Partnering in the delivery of compute can also help with cost-sharing and drive better commercialisation of compute technology. Furthermore, public compute infrastructure is already used to support a broad range of academic and industry partnerships, as outlined in Chapter 3. This trend is expected to continue in the future, potentially opening up new collaborations at the infrastructure level as well. In seeking a diverse, future-proofed compute ecosystem, the government should explore the role of the private sector in the delivery of all the recommendations outlined in this review.

International partnerships can also drive better outcomes in the procurement, development and deployment of compute infrastructure. Joint procurement helps reduce overall infrastructure costs and, if multiple systems are procured, it could also lower the technological risks associated with different architectures. The EU's EuroHPC has been seizing these benefits, with multiple countries sharing the cost of new infrastructure and different architectures being tested across the ecosystem. International collaborations tend to focus on and be driven by areas of common interest – such as green data centres, artificial intelligence and machine learning algorithms, or digital twins — and often entail access to international systems. Collaborations are also key to the development of new computing tools and applications, as these are often led by international consortia, and can help address cross-border challenges, such as systems' energy efficiency.

Besides investing in domestic compute infrastructure, other countries are already leveraging international partnerships to strengthen their compute ecosystem. Striving for ways to drive more collaboration and sharing of resources through international partnerships should therefore form a key part of the UK's vision for compute. That said, this must support, rather than replace, investment into national capabilities and the overall domestic ecosystem.

International partnerships can increase countries' influence over the international compute landscape, for instance through joint efforts in international standards development. They can also increase countries' contribution to global scientific endeavours through international research initiatives and consortia. For instance, the consortium of UK compute facilities that worked on the UK's domestic response to COVID-19 also supported global efforts, contributing to the work of the international US-led COVID-19 High Performance Computing Consortium. Researchers used the combined computational power of multiple UK compute resources to deliver a range of computational models and simulations that helped fight the spread of the pandemic, domestically and globally.

Building strengths in specific areas and leveraging them internationally by collaborating with countries with complementary strengths could deliver significant benefits. The UK has already established strengths in software development, machine learning skills and a growing body of expertise in green compute. Maximising the benefits of these existing expertise would improve the UK's overall domestic compute ecosystem as well as increase the UK's influence within the international compute landscape.
5.6

Policy implications

To reap the benefits of compute, investment in infrastructure is not enough. The UK needs to adopt a holistic approach to compute and strive to create a strong, vibrant ecosystem. Setting a long-term strategic vision and improving coordination across the landscape is essential. This would support long-term planning, clearly signal intentions to stakeholders, and help remove barriers currently hindering compute uptake.

To maximise infrastructure investment, it is imperative that both users and facility staff have the right skills to benefit from existing systems and be able to access new ones. At the same time, compute systems need to be secure to create a healthy, diverse and trustworthy ecosystem. The UK should also build partnerships, both with the private sector and internationally, and leverage its existing compute strengths to improve its domestic ecosystem and establish itself as a global leader in compute.
6.

Recommendations

The power of compute is clear. To support the government's ambitions for economic growth, scientific research and technological innovation, urgent action is needed to bolster the UK's compute infrastructure and create a world-class compute ecosystem.
6.1

Recommendations
A. Unlocking the world-leading, high-growth potential of UK compute
The UK's ambitions are for long-term economic growth and to cement its status as a Science and Technology Superpower by 2030. These ambitions rely on the UK's ability to harness the opportunities that compute provides and maximise the impact of this technology across its economy and science base. The government must be ambitious and visionary to truly use compute to deliver its objectives.
To achieve this, the government should implement the actions detailed in recommendations 1 to 3.
B. Building world-class, sustainable compute capabilities
Beyond just aspiration, fast, tangible action is required by the government. Economic demand and international competition are both accelerating. If the UK does not commit to new infrastructure now and long-term, it will be left behind.
Investment in compute infrastructure will enable UK industry to grow and become more competitive and UK research to be at the forefront of scientific innovation. Investment must cover the breadth of the UK's infrastructure: hardware, software and skills, as well as critical elements including data storage, data capabilities and network capacity.
To achieve this, the government should implement the actions detailed in recommendations 4 to 7.
C. Empowering the compute community
To be truly world-leading, the UK compute ecosystem needs to be greater than the sum of its parts. Whilst investment in physical infrastructure is essential, the benefits compute can bring to the UK will result from the skills and endeavours of those who use these systems. Investment in a secure compute infrastructure needs to be matched by investment in skilled people, enabling all users to reap the benefits of compute. The UK should also build partnerships to further support its domestic ecosystem and increase its influence over the international compute landscape.
To achieve this, the government should implement the actions detailed in recommendations 8 to 10.
6.2

Future decision points for government

This review has set out 10 recommendations to improve the UK's compute capability and wider ecosystem. Each and every recommendation is important. A piecemeal approach — a vision without funding; infrastructure without coordination or skills — is unlikely to unlock the UK's potential. To ensure a focus on delivery, there should be clear accountability and governance for compute within the government. There are actions that could be taken immediately. For instance, developing a vision and implementation roadmap would begin to bring academia and industry together to work towards common goals.

Recognising the challenges of the current economic context, the government must consider the importance of making investments that support long-term economic growth. Funding decisions need to be considered in the context of the government's wider science and technology priorities and commitments. The case for compute is clear. Decisions on investment into compute should not be taken in isolation nor can they be ignored.
6.3

The importance of acting now

Action is required now. The UK is falling behind international competitors and does not have a compute ecosystem fit to serve its world-class scientific base and innovative economy. Without intervention, not only the government will not be able to realise its economic, scientific and technological ambitions, but the UK's internationally recognised strengths in science and technology will risk fading away. To be a global actor and a competitive economy in the 21st century, strong compute capability and a vibrant compute ecosystem are essential.

While there are challenges and risks of inaction, the UK's great potential must be recognised — it lies in its industries, its academia, its people. As the government invests in the future of compute, so too will industry, leading towards a diverse ecosystem of compute suppliers and users. There is a huge opportunity to further unleash this potential by unlocking compute's economic and societal benefits. This requires the government to be visionary, committed to deliver its ambitions and determined to guarantee the UK's prosperity for future generations.
Acknowledgements
The panel would like to thank the many experts and stakeholders who provided valuable evidence and expertise to the review, including all of those who contributed to the call for evidence. We would like to offer specific thanks to those listed below for their time and support on the review.
Rob Akers, Head of Advanced Computing, UKAEA

Liz Ashall-Payne, CEO and Co-founder, ORCHA

Stephen Belcher, Chief Scientific Adviser, Met Office

Mathew Foulkes, Professor of Physics, Imperial College London

Richard Gunn, Co-Director Digital Research Infrastructure, UKRI

Justin Hotard, EVP High Performance Computing and Artificial Intelligence, HPE

Earl Joseph, CEO, Hyperion Research

Leigh Lapworth, Head of Computational Science, Rolls Royce

Simon McIntosh-Smith, Principal Investigator, ExCALIBUR

John Midgley, Director of Public Policy, AWS

Justin O'Byrne, Co-Director Digital Research Infrastructure, UKRI

Parashkev Nachev, Professor of Neurology, UCL Queen Square Institute of Neurology

Mark Parsons, Executive Director, EPCC, University of Edinburgh

Thomas Rodden, Chief Scientific Adviser, DCMS

Katherine Royse, Director, Hartree Centre

Paul Selwood, Principal Fellow in Supercomputing, Met Office

Mark Thomson, Executive Chair, STFC, UKRI

Mark Wilkinson, Director, DiRAC

Stuart Wilson, Director Global HPC, Atos

Michael Wooldridge, Director of Foundational AI Research, Alan Turing Institute