When it comes to getting what they want, these twin sisters don't mess around, and their mother has just had enough of them
The twin sisters have become online sensations after a video clip of their epic battle over a doll went viral
Many users could not help but laugh at the toddlers' determination and the mother's futile attempts at bringing peace
In a heartwarming and hilarious video that has been shared countless times on social media, twin baby sisters were caught in a heated tussle over a doll baby.
The adorable duo, barely able to talk, were seen pulling and pushing one another, each determined to come out on top in the battle for the doll.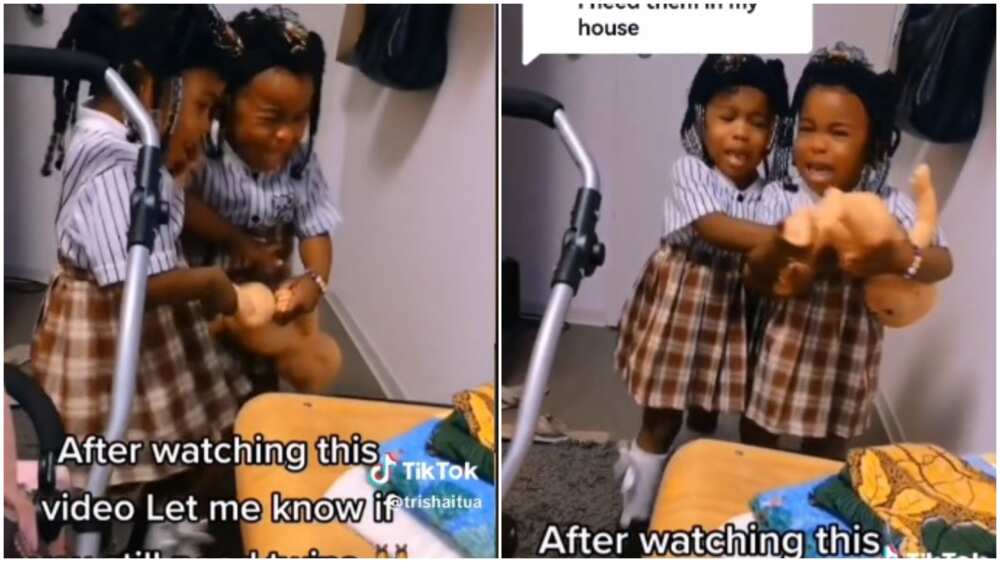 The funny mother with the profile name @trishaitua appeared tired of their troubles asked people if they still want to birth twins after watching.
As the fight ensued, their mother watched on from a distance, trying to offer some wise words of advice. However, her efforts were in vain, as the twins continued to fight away, seemingly oblivious to her.
Despite the commotion, the baby sisters were the cause of joy for many social media users, with viewers expressing their delight at seeing the adorable duo engaged in a classic sibling rivalry.
Their tussle even inspired some viewers to share their own stories of sibling battles.
Watch Video:
Netizens disagree with the twin's mum, still desire to birth them
Many users could not help but laugh at the toddlers' determination and the mother's futile attempts at bringing peace. The video has since gone viral, with many hoping to see more of these funny, yet heartwarming moments of siblings being siblings. Many even disagree with the mum who asked if they would still desire twins after watching the video.
Here some of the TIktokers:
@deecom21 commented by saying:
Me I still want them love you girls
@queenschwar:
STORY OF MY LIFE. EVEN WHEN THEY GROW ..SAME STORY
@qwinrita6 said:
that even makes me to want them more, dear God i want twins please
@officialleoclaire admiited:
I need oooo,even triplet babies in Jesus name, amen and amen, they are so adorable
@pinkybella750:
Yes ooh I still want them ,even triplets will be much fine by me
@user2961183475553:
i still need themplz Allah bless me with twin a boy and a girl
Mum of Twins Cries Out as Her Sons Fight Each Other Over 1 Bicycle
Meanwhile, Legit.ng shared a story about hilarious mother who shared a video of her two boys who always tackle each other.
The trending video showed the identical twin boys fighting over the same bicycle as their mother watched in awe.
Sharing the video on TikTok, the mum with the username @lifewiththetwins jokingly stated that she's tired of their troubles and incessant fights. In another video, she asked people if they still want to birth twin.
Source: Legit.ng