The competition never stops.
If Huntley's leadoff man Ryan Bakes rips a hit, No. 2 hitter, Brayden Bakes wants to follow with another knock.
If Ryan homers, Brayden wants to make it back-to-back, which they have done three times this season.
If they are at home or at Algonquin's Life Time Fitness, it's the same thing for the Bakes twins, keep up or surpass one another.
"It helps even more sometimes, going against him (than the other team)," Ryan Bakes said. "When you don't have the motivation, I get motivation from him. If he does better, then I want to get better."
The Bakes brothers are two reasons Huntley is regarded as one of the top Class 4A teams in Illinois. The Red Raiders are 13-2 overall and 6-2 in the Fox Valley Conference, where they are trying to win their fifth consecutive championship.
"It's always competition. It makes us do better on the field. If he hits one home run, I want to hit two. We battle each other."

—  Brayden Bakes, Huntley outfielder
Both are 5-foot-10, around 185 pounds and powerful. Both are headed to NCAA Division I schools. And both are significant problems with which opponents must deal at the top of the Raiders' stacked lineup.
"They're two dynamic players," Raiders coach Andy Jakubowski said. "They are up there and give us instant offense. Plus, when you turn around the order, they may get five at-bats. I want our best hitters to have the opportunity to swing early."
Jakubowski just smiled after the brothers had back-to-back homers last week in a win over Prairie Ridge.
"That's pretty remarkable," he said. "There's a reason why they hit 1 and 2 for us. We like having them in the top part of our order."
Ryan Bakes, a catcher-outfielder, will play at South Carolina, currently ranked No. 6 in USA Today's Top 25. Brayden, a lefty-hitting outfielder, is headed to Indiana, which is among the top teams receiving votes, but not in the Top 25.
"We're always trying to see who's hitting better," Brayden Bakes said. "We've always competed against each other. It's always competition. It makes us do better on the field. If he hits one home run, I want to hit two. We battle each other."
When they played in the Huntley Red Raiders 12U travel program together, Brayden hit 36 homers that year and Ryan belted 34.
The twins started lifting weights more in the eighth grade and their power increased. This season, Ryan is hitting .442 with six doubles, one triple, seven homers, 17 RBIs and 26 runs. Brayden is batting .407 with eight doubles, one triple, six homers, 19 RBIs and 19 runs.
"Growing up we always trained together," Ryan Bakes said. "We always saw who could do things better. We'd see who would hit more home runs in a season. It was pretty competitive."
Dominant stuff: Cary-Grove junior Ethan Dorchies has been one of the toughest pitchers in the area this season with a 5-0 record and a 0.44 ERA, along with a WHIP of 0.813.
The 6-foot-5, 195-pound righthander is committed to Illinois-Chicago and is showing why the Flames thought so highly of him. He has struck out 37 and walked six in 32 innings.
Dorchies has allowed one earned run in three FVC games and two for the season. He has FVC wins against Dundee-Crown, Crystal Lake South and McHenry. C-G is 14-3, 7-2.
"He's a confident kid who loves to compete," Trojans coach Ryan Passaglia said. "He has developed physically since last season. He's gotten bigger and stronger and it shows in his game. The kids really rally behind him when he's pitching."
Dorchies was C-G's No. 3 starter last year when he went 3-4 with a 3.26 ERA and a 1.194 WHIP. He pitched well in last year's Class 3A regional championship game, allowing one earned run in a 2-1 loss to Grayslake Central.
Tough young arms: Burlington Central coach Kyle Nelson is pleased with what he sees from his pitching staff, particularly since the Rockets (8-8, 4-4) have not had a senior throw an inning.
Junior Michael Person, a Northwest Herald All-Area first-team selection last year, threw in Central's 4-3 victory over Huntley on Tuesday. It is the second year in a row he has beaten the Red Raiders.
Sophomores Chase Poworzek, Matt Kowalik and Cam Sarallo also have been key starters. Mason Rosborough and Taylor Casey have been strong out of the bullpen. Sarallo threw a no-hitter against Hampshire and Powrozek also has an FVC shutout.
"It's about learning how to attack good hitters and to trust your stuff," Nelson said. "Huntley swings it top to bottom. If you walk a couple guys because you're trying to nibble, ahead of those big hitters, that's where you get in trouble. They're learning how to pitch with runners on base, when guys are going to run on you."
Person, a righthander, is already a two-time All-FVC player. He is 1-0 with a 2.38 ERA and 24 strikeouts in 17 2/3 innings.
"On the field, he's an incredible competitor," Nelson said. "He doesn't back down from anyone when he's out there. That's a big part of it. When you're going against a quality opponent like that, that's a big part of it. You trust your stuff, throw the ball over the plate and trust your defense, good things are going to happen. That's what he did."
Sarallo is at a 2.27 ERA, Powrozek is at 2.90 and Kowalik is at 3.11.
Record setters: Marengo pitcher-outfielder Caden Vogt had another standout week both hitting and pitching. Vogt was 2-0 with 16 strikeouts in eight innings and allowed three earned runs. At the plate, he hit .529 in five games, with two doubles, two homers and 11 RBIs.
Vogt now has 28 doubles for his career, breaking Aiden Smith's career record of 25.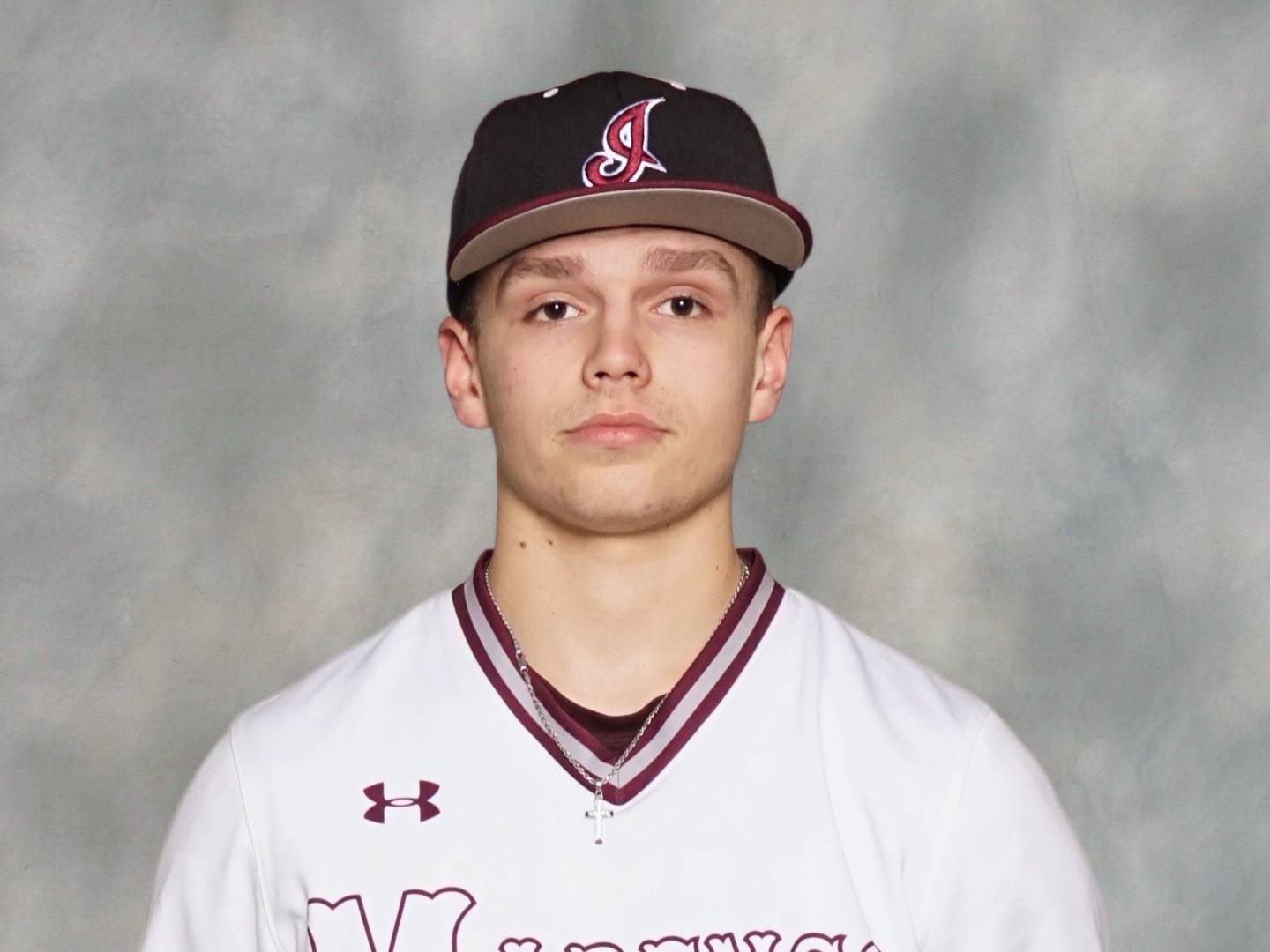 First baseman Andrew Johnson, who set the season RBI record last year with 41, hit .474 with three doubles, two homers and 12 RBIs for the week. He is two RBIs from breaking Smith's career RBI record of 63.
Marengo is 12-4, 7-1 in the Kishwaukee River Conference, one game behind Woodstock North (10-3, 8-0). The two teams meet in their KRC three-game series next week.
Another option: Huntley got a nice boost from senior pitcher Vinny Costantino against Burlington Central on Wednesday. Costantino threw five shutout innings and 62 pitches, his longest stint of the season, and left with a 6-0 lead.
The game was suspended for darkness in the top of the sixth with the Red Raiders leading 6-3.
Costantino has been a swing pitcher for the Raiders, used mainly out of the bullpen. He struck out four and allowed only two hits.
"Vinny did a really, really nice job of changing speeds," Jakubowski said. "He had trouble commanding his fastball and his fastball didn't have a lot of life to it, so he pitched backwards. He commanded his changeup really well and his slider was able to keep hitters off balance.
"With all these games every day we needed him to come in and give us innings. He did his job throwing five innings."