Child Loss
"Sometimes I like to pretend my life is a movie so when something unexpected happens, it's just a plot twist to keep the audience on the edge of their seats.
At the ripe age of 44 I found myself in a darkened room with an ultrasound tech who became suddenly quiet. The screen showed a perfect little baby wiggling around. 'Is everything OK?' I asked.
She diverted my attention by pointing out where my baby's head, hands, and feet were on the screen. Then she abruptly said with a friendly smile, 'We are done here so now you will meet with the Doctor in his office,' and handed me a few ultrasound images.
As I sat down in the waiting room, a wave of nervous energy hit me so I looked at the images to ease my anxiety. Immediately I saw the thickness behind my baby's neck, a marker for Down syndrome.
I knew before the doctor confirmed it. This diagnosis filled me with fear, sadness, anger, and embarrassment. I could not believe this happened to me when I was trying to avoid health complications for many years.
This journey started at 29 when I got married after only dating my partner for 9 months. My biological clock was ticking and we were excited about the idea of being young parents. As it turned out, being a young parent was not a part of my husband's plan after all.
The discussion of having kids over the years created a lot of discomfort and stress. After trying to make it work, the marriage ended after 7 years when I was 36 years old. I froze my eggs to take the pressure off of finding someone quickly and to increase my chances of having a healthy baby at an older age.
I was elated to find myself back at the altar only 1 and half years later. I was now 37, so it was a mad dash to get moving on starting a family since we decided that using my frozen eggs was a last resort. Five months later, two dark lines appeared on a pregnancy test.
These lines were like the first brush strokes for a painting I had envisioned creating for many years. This masterpiece would be filled with many heartfelt moments, first words, first steps, a first taste of birthday cake, and many warm nighttime snuggles that filled my heart with a type of joy I never experienced.
Waiting 9 months felt like eternity because I could not wait to meet this soul who I already deeply loved. Thoughts of the future created a shiny smile nothing could tarnish, until I heard, 'No heartbeat. I'm sorry, here are your options…'
I have to say, I was not prepared for this and it was not comforting to hear people say, 'This happens to a lot of women.' A piece of my light-hearted innocent energy left me and life was a little darker.
A few months later, I was pregnant again, but… no heartbeat. Another D&C was scheduled. We decided to try one more time before resorting to using my frozen eggs. They were not kidding when they said the third time's a charm because the ultrasound showed two strong heartbeats (twins) this time around!!!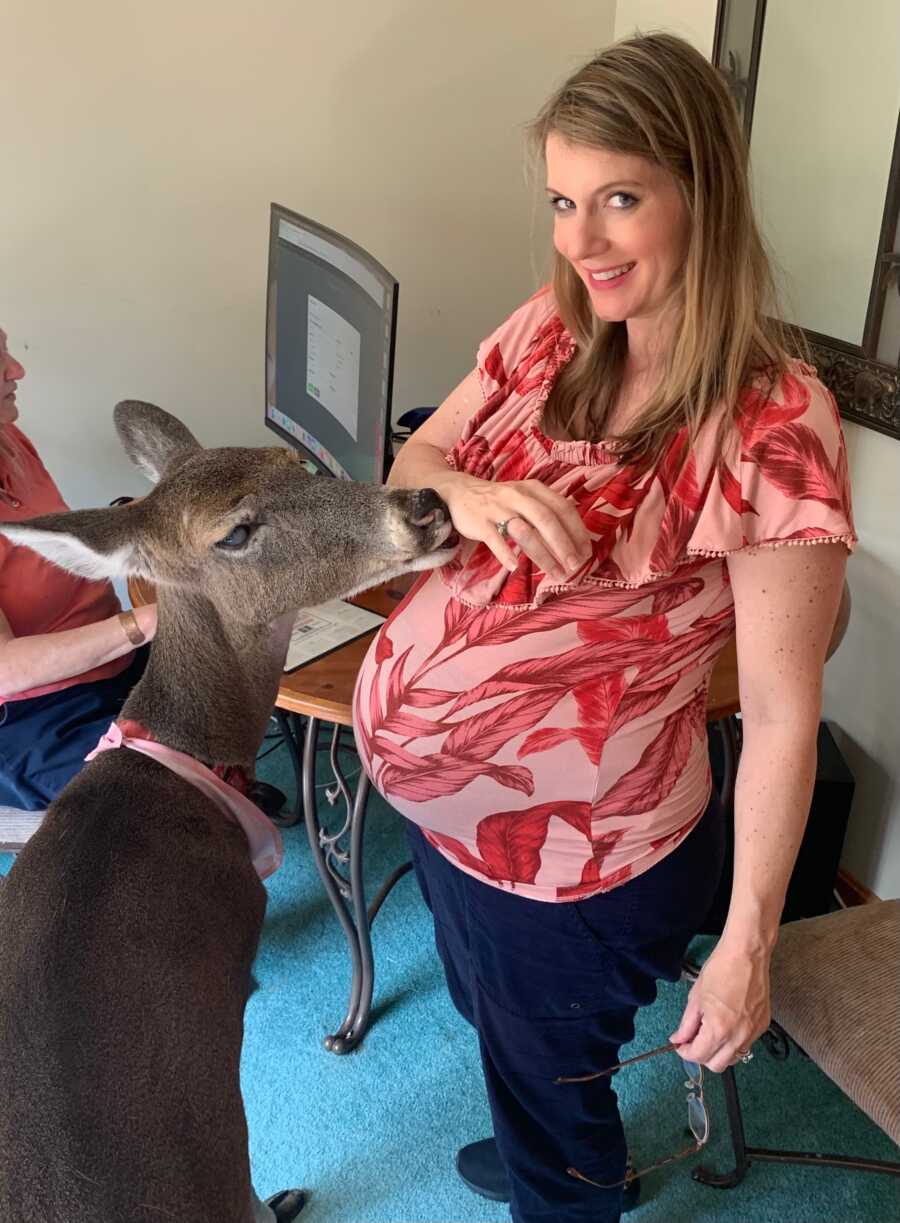 Grief Journey
Prior to the appointment, I told nobody (not even my husband) I had a positive pregnancy test because I was scared since I was bleeding. The twin pregnancy is a long story, but in short, my water broke early and I delivered my twin boys around 20 weeks. Just thinking about the pain from the last kiss upon their little cheeks when I said goodbye still makes my eyes burn and well up with tears.
Surrounded by family, we stood in the pouring rain and laid them to rest on the first of October. The sound from pouring rain pelting everyone's umbrella covered my cries that I could not hold in. I didn't want to leave them so I watched as they shoveled dirt over my babies' casket—and any hope for this future.
I became a shadow of the person I once knew. Seeing other people's children stung like salt rubbed in an open wound. I was living in a world of constant painful reminders and it was not obvious how I was going to be able to live in this new world.
It was hard for me to connect with people because I felt the weight of so much grief, despair, and pain while experiencing the crazy emotions of postpartum. I no longer cared about what people thought about me and I had no energy to act 'normal' in order to protect people's perception of me.
After some time, people's frustration about how I was managing my grief added insult to injury. I learned I could not expect people to understand the gravity of this type of loss because they never met the twins.
They never heard them cry or giggle. They never saw their smile or saw them grow and change (sadly, neither did I). Essentially, my babies never existed in anyone else's world except for mine.
I found more support and understanding from strangers on social media who had gone through similar things than I did from the people around me who could not relate. My marriage was suffering beyond repair and my husband said he did not want to try to have kids anymore so we ended up getting divorced 1 year later.
I felt completely lost and uncertain about the future. I remember wishing there was a pill to make me forget everything, but felt conflicted because I never wanted to forget my boys.
I searched and held onto stories about people that used their painful situation to help others. I was looking for a rainbow in this storm.
Finding Love Again
One day, I decided to make a vision board just for fun but it ended up being something more and filled me with restored hope about the future. This shifted my perspective about life. Shortly after this shift, I found myself laughing a lot with my brother's best friend, Andy.
I've known him since high school and he was recently single. There were definitely sparks between us. He welcomed the challenge of being a part of fulfilling my vision board, which gave me the courage to revisit my dream that I've only known to be filled with lots of heartbreaking 'plot twists.'
The time I spent with Andy lifted my spirits and before I knew it, big life events were happening fast. Around a year later, I was standing with the Eiffel tower in view and he was down on one knee.
Visiting the Eiffel tower in Paris and having a family was on my vision board so I was even more excited about our union since it came with two loving brilliant bonus kids. Even though I was happy and looked forward to everything, fear lingered and my heart still held a space for my twins where it was broken.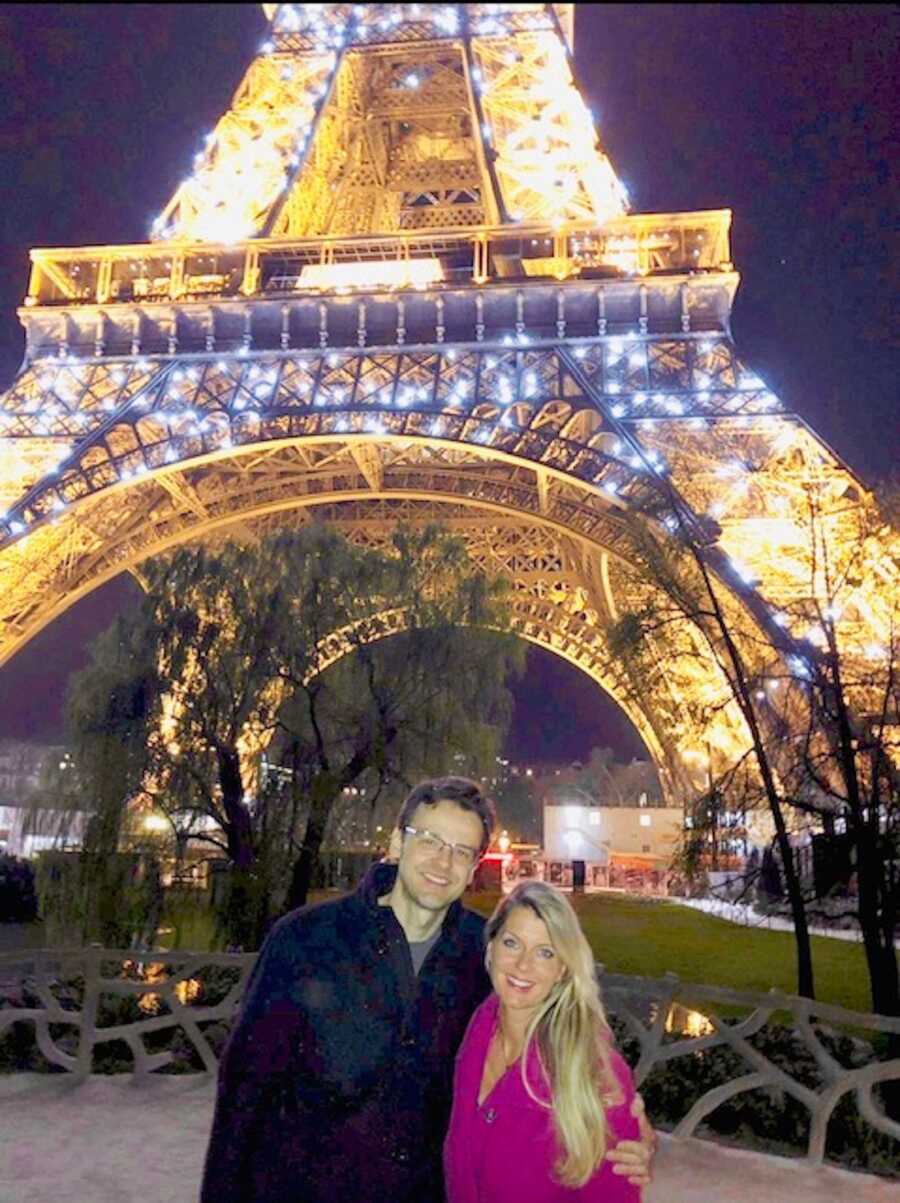 I learned the short amount of time I spent with my twins was not a barometer for the amount of love I had for them and it did not determine the impact losing them would have on me. Andy knew this experience was a part of the package and respects my feelings about everything I have gone through.
This is one of the many reasons I feel lucky and love having him in my life. Since we could not change the past, together we flipped the script about the experience to help me internalize it in a more positive light. We decided the twins brought us together.
Andy created opportunities to make sure their memory lives on. He added 2 sapphires (the twins' birthstone) to my wedding ring. We also had our wedding reception on the 3rd anniversary of their heavenly birthday to create happy memories on that date.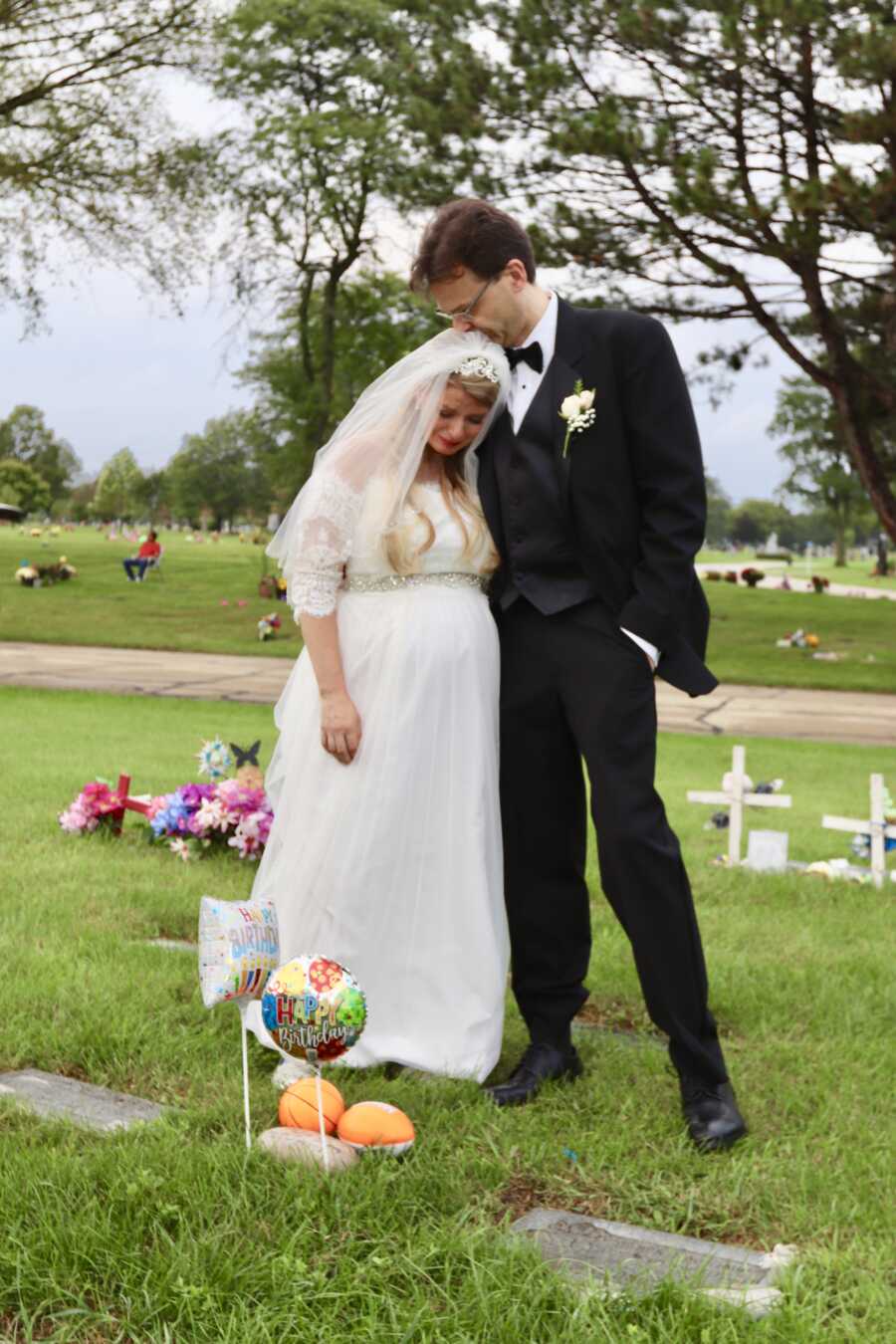 Road To Rainbow Babies
I got pregnant with a healthy baby girl, my rainbow baby, quicker than I expected at the ripe age of 42. It was a smooth textbook pregnancy but the delivery was another story, including a 3rd degree tear (ouch!).
Caring for my daughter softened the painful edges from my past and she sweetly stitched some of the broken pieces of my heart and soul. When she turned 1, we hoped it would be possible to create a playmate for her. I was 44 so we decided to open 'the vault' and use my frozen eggs, which required a consultation with a fertility doctor.
The doctor thought we should try to conceive naturally that month while we waited to get on the schedule for IVF. At my age, the chance of conceiving naturally was less than 3%- 4% so the doctor's concern about us having a baby with Down syndrome was secondary when we brought it up.
Little did we know, as we spoke to the doctor, a perfect little soul with Down syndrome was already snug as a bug in my womb. The universe knew my heart needed her long before I realized it.
I can't lie, I hated the uncertainty, fear, heaviness and embarrassment that came with the diagnosis. It hurts just thinking about those dark days of unnecessary suffering because life has definitely been an exciting adventure since Grace Joy has arrived on scene.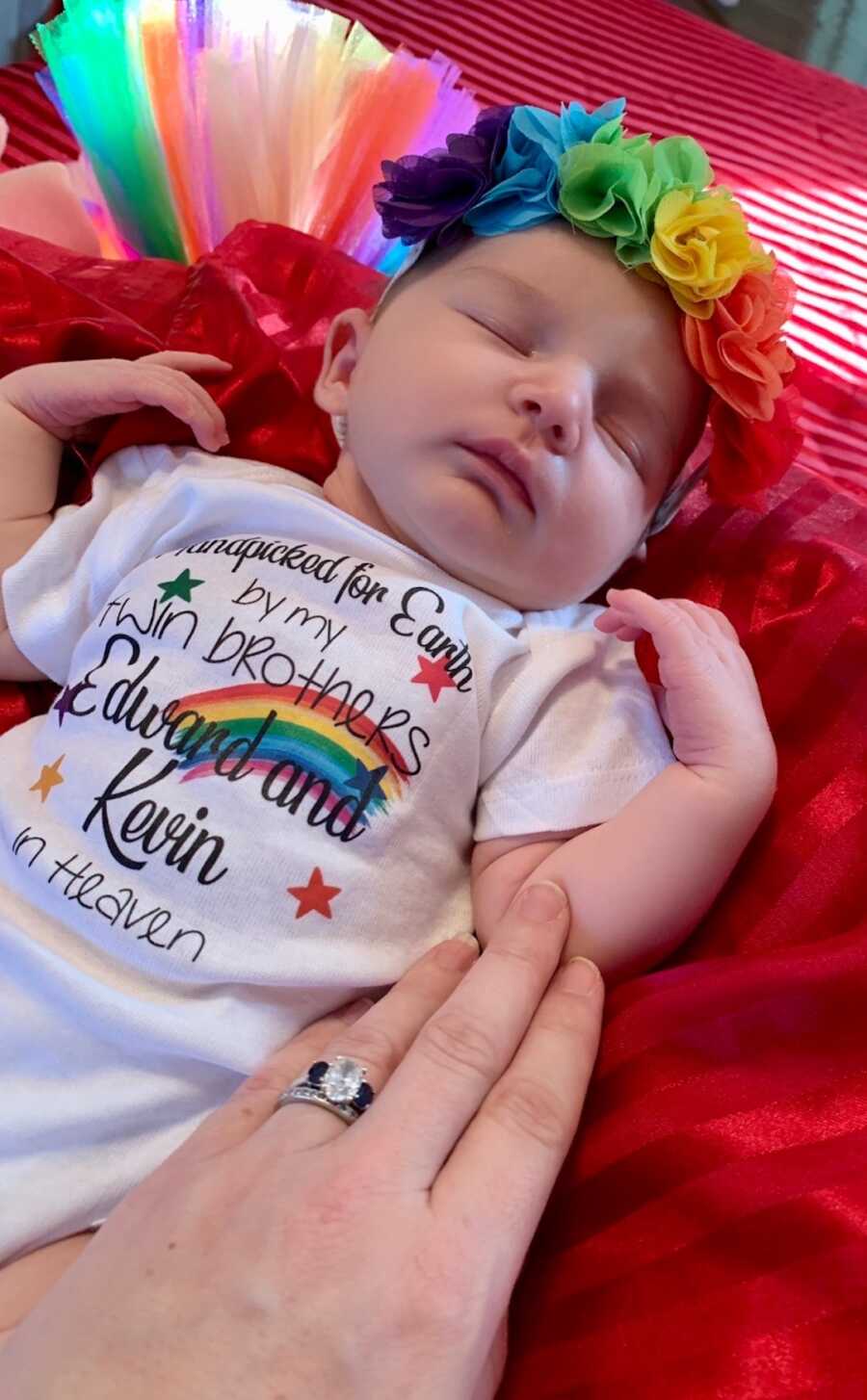 Celebrating Down Syndrome
She has gracefully stolen the spotlight and hearts of everyone around her. There have been some challenging times filled with tears, fears, sleepless nights, stress, and long hospital stays but Grace is the face of a miracle because she lives with half a heart. She has survived 2 open heart surgeries and around the age of 3 she will need another.
Sadly, these surgeries do not fix her heart but miraculously allow her more time to live life with us. Life with her has taught us not to take much for granted. There is a chance Gracie will need a heart transplant in her lifetime but we are hoping not any time soon.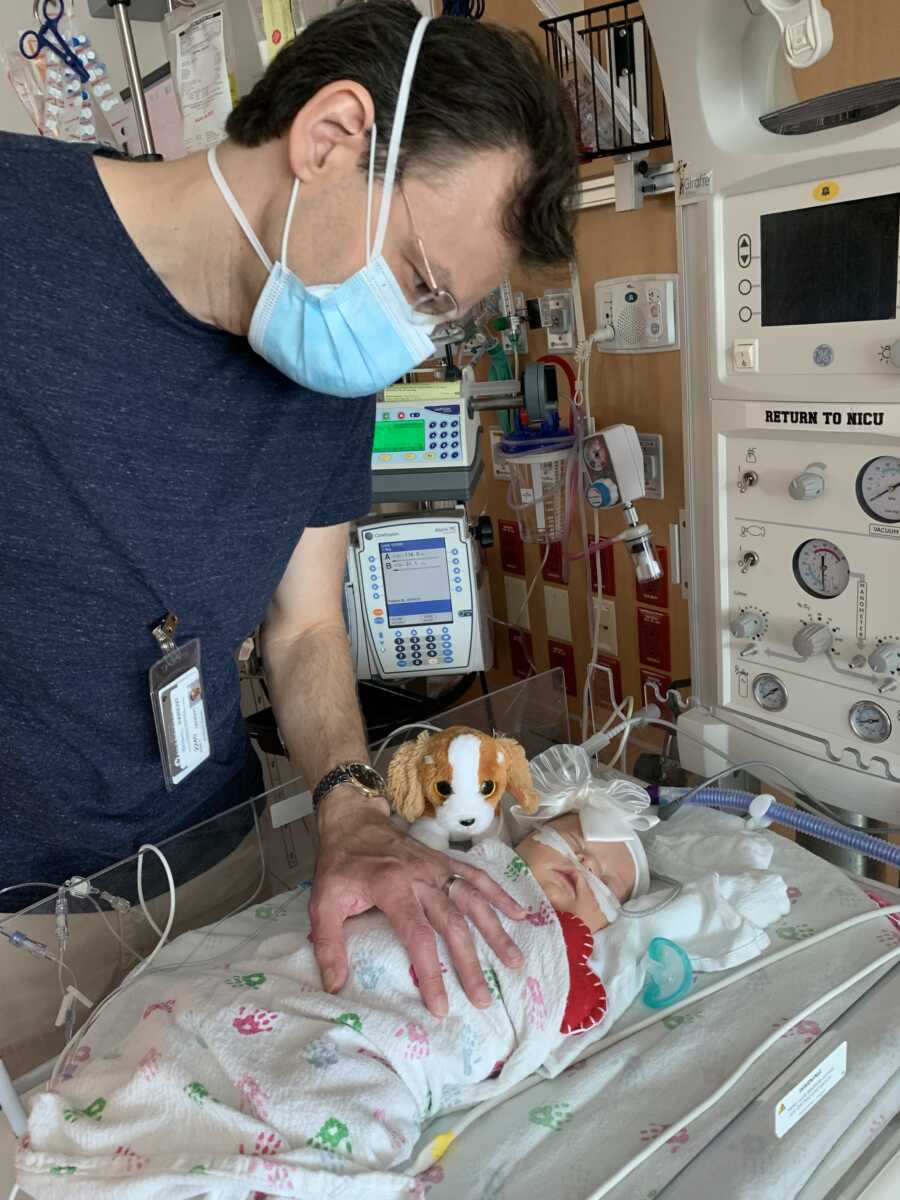 It is hard to explain in words how beautiful and amazing Grace's soul is. Having a baby with Down syndrome and half a heart is all rainbows and unicorns, but it is nowhere near what I originally feared it would be like.
Gracie is a reminder that the most rewarding and joyous things in life require hard work and commitment. I'm now sharing Grace Joy's life on social media to help raise awareness so others feel hope and happiness, not fear, when given a Down Syndrome diagnosis.
If someday we consider making Gracie a big sister and decide to open 'the vault' with my frozen eggs, we would now have a hard time deciding not to implant an embryo with Down syndrome.
Life is precious and beautiful with Grace Joy. I want to change society's narrative about the diagnosis of Down syndrome. Gracie may never be a CEO, model, author, or Oscar winning actor (or maybe she will!), but right now, she is a teacher: a teacher of hope, a teacher of patience, a teacher of love."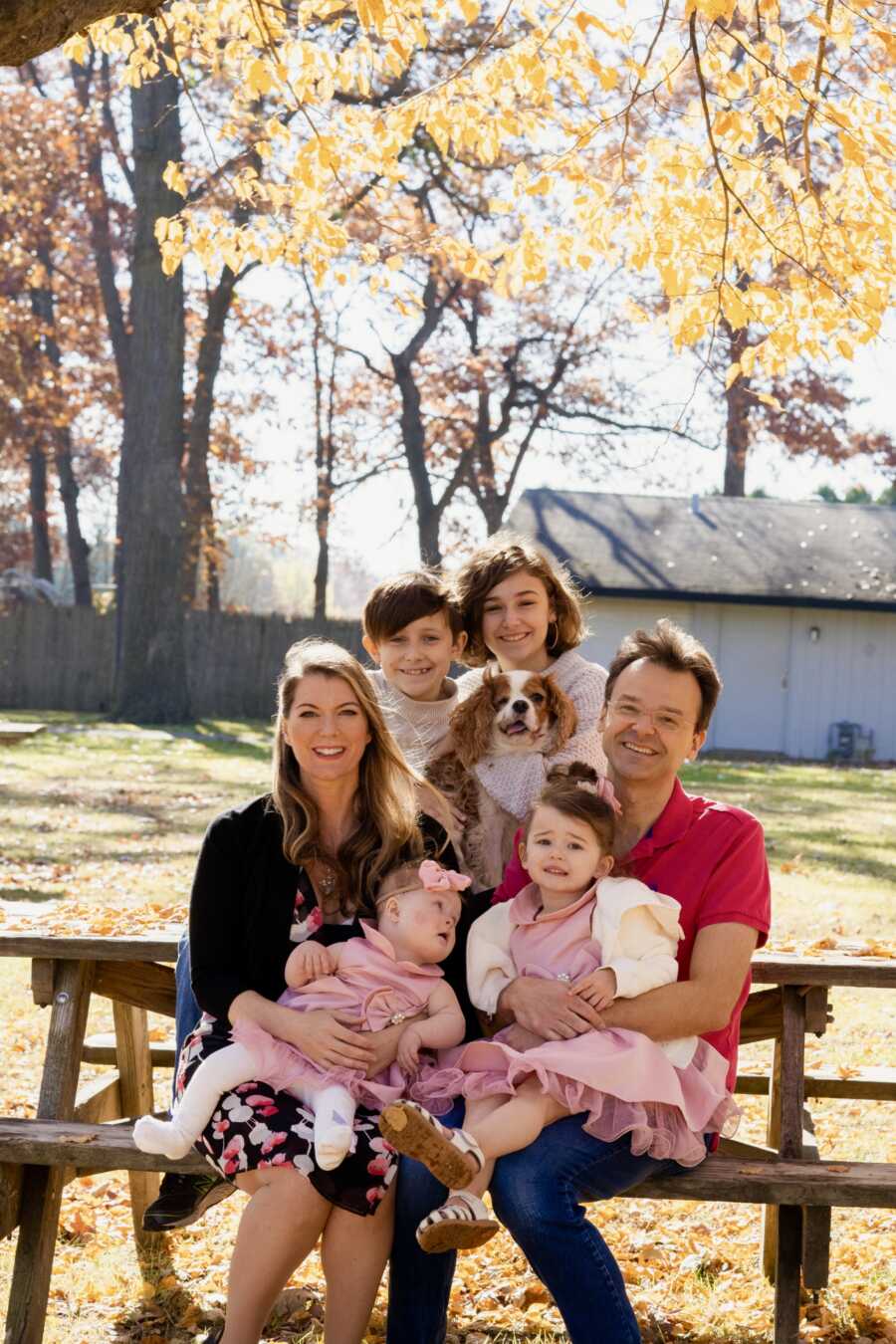 This story was submitted to Love What Matters by Marjorie Jean Geraci. You can follow her journey on Instagram. Be sure to subscribe to our free email newsletter for our best stories.
Read more about Down syndrome:
Mom Of 4 Adopts Boy With Down Syndrome Who Has 'Most Contagious Belly Laugh'
'I heard the word 'defect' but her worth remained unchanged.': Mom shares daughter's journey with Down Syndrome, heart diagnoses
Do you know someone who could benefit from reading this? SHARE this story on social media with family and friends.