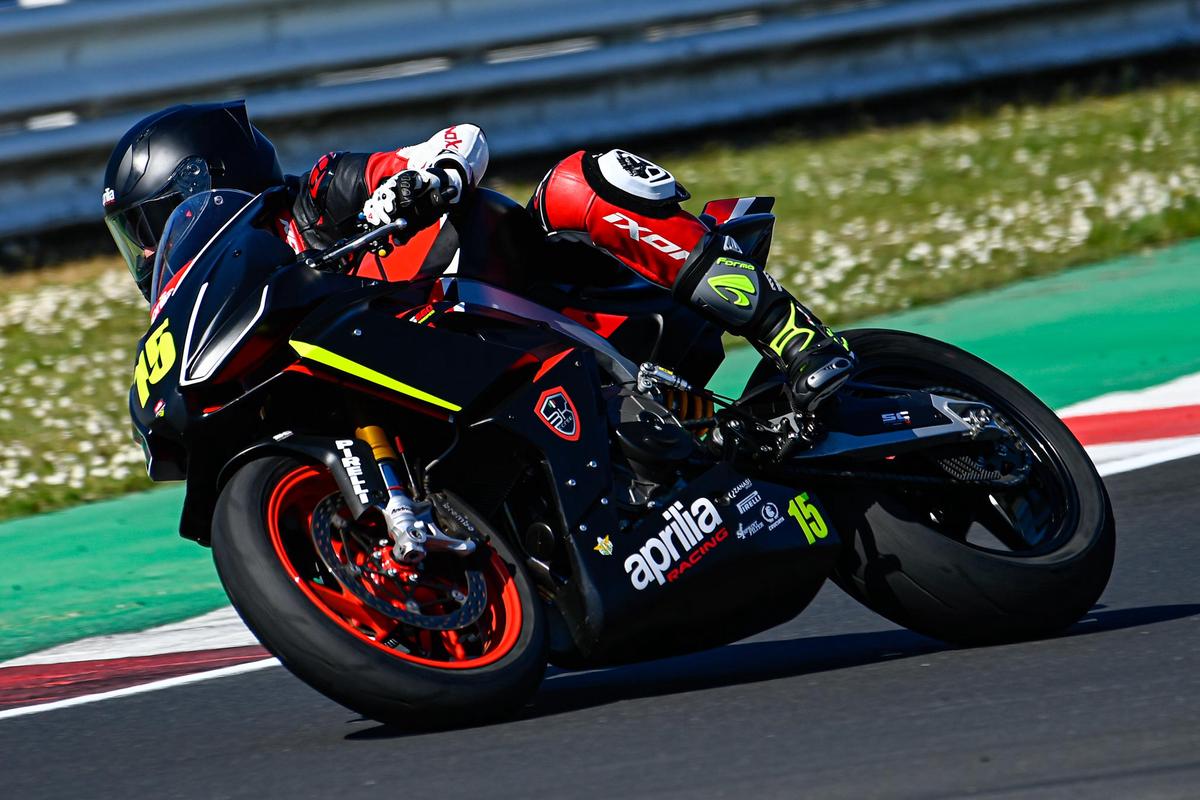 ROCCO LANDERS PILOTS THE APRILIA RS 660 TO PAIR OF CONFIDENT VICTORIES IN MOTOAMERICA TWINS CUP RACES AT BARBER MOTORSPORTS PARK
 LANDERS' RESULTS PUT TWO RODIO RACING – POWERED BY ROBEM ENGINEERING RIDERS NEAR TOP OF TWINS CUP POINTS STANDINGS
BIRMINGHAM, AL – 22 MAY 2023 – Three-time MotoAmerica class champion Rocco Landers hadn't raced an Aprilia RS 660 prior to the previous MotoAmerica round at Road Atlanta. The fill-in rider has found immediate success aboard the Rodio Racing – Powered by Robem Engineering package that he's piloted to three wins in four races – including a double victory at this past weekend's MotoAmerica round at Barber Motorsports Park.
Though Landers' teammate, Gus Rodio – who was leading the championship standings at the start of the round – endured a challenging weekend, both Landers and Rodio are right near the top of the Twins Cup standings. Rodio's points lead was large enough that — despite not scoring any points at Barber — he's just two points behind the current leader. Landers is just 10 points behind Rodio despite not racing or scoring points in the first three contests of the season.
This was the second round Landers was filling in for Rodio Racing – Powered by Robem Engineering rider Ben Gloddy, who sustained an injury at the season-opening round at Daytona International Speedway. Another top Aprilia rider who did not take part in the Barber round was Jody Barry, who was injured in a pre-race crash at the previous round.
The round kicked off with two Aprilia riders on top in Friday morning practice. Rodio paced the field with a time of 1:31.763, while Landers's best lap was a mere 0.116 seconds off Rodio's pace. The third Aprilia rider who finished in the top 10 in Friday practice was Unreal Racing's Daniel Garver, who was the ninth-fastest rider.
Later Friday, Rodio and Landers were again at the top of the time sheets in Qualifying 1, but this time it was Landers at the point. He posted a best lap time of 1:29.946, and Rodio was less than half a second off Landers' pace. Righteous Racing's Ray Hofman finished Qualifying 1 in ninth place, giving Aprilia three riders in the top 10 for the session.
Qualifying concluded on Saturday morning with Landers having claimed his second pole position of the season. He improved his best lap time from Qualifying 1 by almost one second when he put in a 1:29.135. Rodio couldn't improve on his best time from Qualifying 1 and had to settle for third on the starting grid. He missed out on completing an Aprilia 1-2 in qualifying by 0.065 seconds.
In Saturday afternoon's Race 1, Landers and Rodio both got off the line well and were running first and third, respectively, as the field entered Turn 1. Rodio quickly moved up to second place in the first few corners, and briefly took the lead from Landers on Lap 2. Landers moved back into first place a few corners later and built a lead as large as about 1.5 seconds by Lap 4. When light rain began to fall on Laps 5 and 6, Landers backed off his pace, which promoted Rodio to the race lead. At the start of Lap 7, Rodio high-sided as he was going through Turn 2, and the raced was quickly red flagged. Though Rodio was able to get his Aprilia back to the pits, MotoAmerica Race Control ruled he was not allowed to take part in the restarted race.
When racing got back underway, Landers got a great start and had moved up from ninth to second by the end of the first lap. Landers then took the lead on Lap 3 of the restarted five-lap race and claimed the win by a margin of 1.148 seconds. Hofman was the other Aprilia rider to finish in the top 10. He crossed the finish line in ninth place.
Sunday's Race 2 mirrored Race 1 in the results. Landers and Rodio got good starts and were running 1-2 as the field entered Turn 1. The pair broke away from the field, though Landers methodically built a lead of more than a second over Rodio. On Lap 8, Rodio began losing pace, and a pack of three riders caught up to him on Lap 9. Unfortunately, another rider made contact with Rodio at Turn 11, and both riders crashed. Rodio was unable to rejoin the race. Landers managed his lead in the closing laps of the race to claim his second win of the weekend by 5.4 seconds. Hofman scored his second ninth-place finish, and Garver finished 10th to give Aprilia three riders in the top 10.
Of the 41 riders entered in Twins Cup for the Barber round, 19 were registered to race Aprilia RS 660s.
The Twins Cup is not scheduled to participate in the next MotoAmerica round at Road America and will be back in action when the series heads to The Ridge Motorsports Park in Shelton, Wash., on June 23-25.