Gordon James Ramsay is a British chef, restaurateur, TV personality, and author. He is among the world's most decorated Michelin-starred chefs with multiple restaurants across the globe. In addition to his thriving career, his personal life has been a major topic of discussion among his fans, with many seeking to know more about Gordon Ramsay's kids.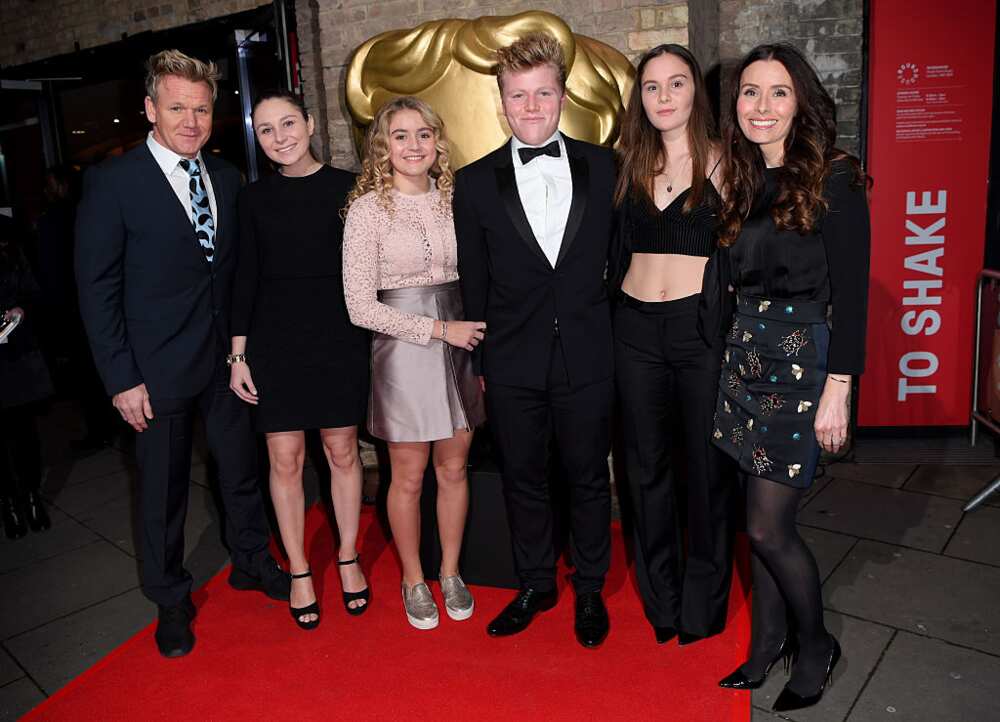 Gordon Ramsay was born on 8 November 1966 in Johnstone, Renfrewshire, Scotland. Since the beginning of his culinary career, he has produced many notable cooking television series, such as the Hell's Kitchen and Kitchen Nightmares. He has also written numerous books, including Passion for Flavor and Gordon Ramsay's Ultimate Home Cooking. Has any of his kids followed in his footsteps already? Learn more about Gordon Ramsay's kids and get some insight into their lives.
Gordon Ramsay's kids
The professional chef shares five children with his wife, Tana–three daughters and two sons. Gordon Ramsay's kids names are Megan, Jack, Holly, Anna, Matilda and Oscar. His eldest child was born in 1998, and the youngest in 2019. Jack and Holly and are fraternal twins. Find out more details about them below.
1. Megan
Megan was born on 16 May 1998. She is the eldest daughter and child of celebrity chef Gordon Ramsay and his wife. Megan studied English Literature, photography and business in Bradfield College before she attended Oxford University, where she obtained a degree in psychology in 2019.
She appeared in an episode of Hell's Kitchen season 20 for a challenge where the contestants prepared a meal for her 21st birthday. Megan has also appeared on her family's cooking show Matilda and the Ramsay Bunch, which documents their family's holidays. She currently works as an account executive at Freuds.
2. Jack
Jack Scott was born on 1 January 2000. He is Holly Anna's fraternal twin and eldest son of the chef and television personality Gordon Ramsay. Jack attended Dulwich College and Exeter University.
Jack also co-starred on his family's cooking program Matilda and the Ramsay Bunch on CBBC. In 2020, Jack joined the Royal Marines. Gordon announced his son's accomplishment through an Instagram post.
Can't tell you enough how proud I am of this young man Jack Ramsay you've made me feel like the proudest father today congrats on joining @royalmarines what amazing achievement
3. Holly Anna
Holly Ramsay was born as a fraternal twin to her brother Jack on 1 January 2000. She is a producer, podcast host, model, mental health advocate and TV personality. She began modelling after taking a fashion course at Ravensbourne University in London. Holly is signed to EST Models.
She created a podcast called 21 & Over with Holly Ramsay, which aims at supporting young people struggling with issues such as anxiety, self-doubt, and mental health. She is also a social media influencer with a significant following on social media. The model has also accompanied her dad to star-studded events like the GQ Awards, Baftas and even Elton John AIDS Foundation's Oscar viewing party.
4. Matilda
Matilda Elizabeth, best known as Tilly, was born on 8 November 2001. She shares the same birthday as her dad. Tilly is a TV presenter, chef, and social media influencer widely known for presenting the BBC cooking show Matilda and the Ramsay Bunch on CBBC. She is the author of the book titled Matilda & The Ramsay Bunch: Tilly's Kitchen Takeover.
Tilly has also appeared in numerous TV shows such as This Morning, Gordon Ramsay's Home Cooking, MasterChef Junior and The Late Late Show with James Corden. She was a contestant on the nineteenth season of Strictly Come Dancing in 2021. She also competed on Celebrity MasterChef Australia, where she reached the final.
5. Oscar
Oscar James Ramsay is Gordon and Tana's youngest child. He was born on 4 April 2019. His is family is fond of him as seen from their social media activities. He also has his own Instagram account, which is managed by his sisters, Tilly and Holly.
FAQs
Who is Gordon Ramsay? He is a British professional chef, restaurateur, television personality and writer famous for presenting various TV shows about competitive cooking.
Where is Gordon Ramsay from? He was born in Johnstone, Renfrewshire, Scotland.
What is Gordon Ramsay's age? He is 56 years old as of 2023. He was born on 8 November 1966.
How many kids does Gordon Ramsay have? The celebrity chef has five children whom he shares with his wife, Tana.
Who is Gordon Ramsay's youngest son? He is called Oscar James. He was born on 4 April 2019.
Who are Gordon Ramsay's twins? They are Jack Scott and Holly Anna. They were born on 1 January 2000.
Does Gordon Ramsay have five kids? Yes, he has three daughters and two sons.
Gordon Ramsay may be known for his cooking skills, but he is also a great father. The celebrity chef chef is a proud father of five. They are often seen hanging out together and posing for pictures during some of his cooking shows and various events. They also sometimes appear on his social media pages.
Legit.ng recently published Sonia Uche's biography. Sonia Uche is a Nollywood actress and entrepreneur. She is widely known for her significant roles in various movies and TV shows such as Vanity, War Front, Naked Lies and Storm in Marriage.
Sonia Uche was born on 25 May 1995 in Asaba, Delta State, Nigeria, where she resides. She first gained public recognition after appearing in the 2019 film Frank's Wife. She is also famous for being the daughter of former Hollywood actress, movie producer and costume designer Uche Nancy.
Source: Legit.ng