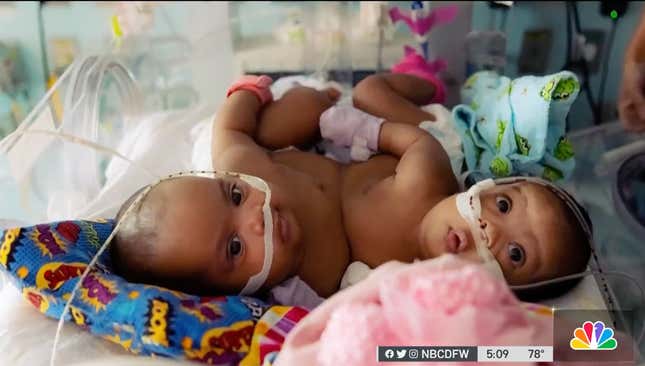 Texas couple Amanda Arciniega and James Finley were finally able to take home their 6-month-old formerly conjoined twin girls and celebrate their recovery from a separation procedure, according to People Magazine.
Cheat Sheet: What Is Hospice Care?
JamieLynn and AmieLynn were born Oct. 3, 2022, attached at the abdomen, sharing a liver, the report says. Over 50 medical professionals at the Cook Children's Medical Center in Fort Worth, Texas worked to separate the two at just three months old. The team – including four pediatric surgeons, three anesthesiologists and two plastic surgeons – procedure took 11 hours. Mr. Finley said it was difficult seeing them come out of surgery and not being able to hold them for a month until their wounds were healed enough.
"They were on breathing machines and all the wires and stuff so it was a lot. And they still have a lot of therapy so we're not quite done yet," said Ms. Arciniega.
Read more about their journey from NBC-DFW:
The family of seven is now finally under one roof. After an 11-hour operation, and months of rehab and recovery, JamieLynn went home last month. AmieLynn went home last week after needing a few more weeks in the NICU to recover from an additional surgery.

The parents and twins returned to Cook Children's Hospital on Wednesday to see their care team and celebrate their journey home. Their mother said she loves watching her babies hold each other's hands as they play in their own room together.

Their care team said the girls went home faster than they expected after six months in their care. Now six months old, both babies will need frequent check-ups. AmieLynn developed scoliosis as she naturally pulled away from JamieLynn when they were joined.
The twins were the very first conjoined siblings to be separated at the hospital. Given the survival rate for conjoined twins is 7.5 percent per a report from StatPearls, the Finley-Arciniega sisters are a true miracle.
The family celebrated the homecoming of their daughters with a much awaited baby shower and set up a baby registry for donations.