Embed from Getty Images
I don't follow Tia Mowry that closely, but I'm always interested to see what she's up to. The last I'd really checked in on her she was getting a divorce after 14 years of marriage and she seemed really good and at peace about the whole thing. Now she's launching a natural hair care line called "4U." Tia said her goal is to create a hair care line that is inclusive and empowering for women of color, citing her own experiences with hair discrimination as part of her motivation.
Tia Mowry, 44, is diving head first into the hair care space.

Since lighting up our living rooms in 1994 — along with her sister, Tamera Mowry-Housley on Sister, Sister — one thing that always allured the star's fans were those vivacious curls and how she maintains them. Well, the mom of two has heard the call and is officially launching her own natural hair care product line, available exclusively at Walmart starting today. Titled 4U by Tia Mowry, the line is clean, sustainable and made with all the products every naturalista will recognize.

When it came to creating 4U, one of Mowry's top priorities was formulating an inclusive line that would be effective for people with all types of curls and coils. Fortunately for the CEO, founder and creative director of the brand, the diversity she sought began right in her home.

"I take pride in this is a formula that works for hair textures ranging from 2A to 4C," she told PEOPLE. "It was important for me to simplify my hair care routine or just the routine in general when it comes to curly hair. I have three different textures in this house. My daughter has a different hair texture than I do and so does my son."

"But growing up with curly hair, the routine has always been so incredibly overwhelming," the mom to son Cree, 11, and daughter Cairo, 4, continued. "You would have eight different hair care products for all of the different individuals within the household, and I wanted to simplify that. It was really important for me to create a formula that works on all hair textures."

In addition to having the lived experience of a woman of color with curly hair plus her decades-long tenure in the entertainment industry, Mowry knows firsthand what it's like to be underrepresented in the hair and beauty space.

"I feel like women of color and just women that looked like me with our hair texture weren't always celebrated, a part of or included whenever it came to beauty, it was always leaning more towards European standards," she told PEOPLE.

"I remember going to school and I was picked on when it came to my hair, I was told that I looked like Buckwheat…They would call my sister and I Buckwheat twins. Oh, They would say that, 'Oh, your hair is frizzy,' or 'Your hair is greasy,' or 'What's that white stuff in your hair?' Even when I got into my twenties after Sister, Sister, when I would audition, I wasn't getting roles because costume director[s] said my hair was a distraction."
I'm not surprised she and her sister got picked on because of her hair as a child. I think most women of color with natural hair have stories like that from their youth, with Black hair and features not being celebrated or seen as "mainstream." It's absurd that costume considered her hair a distraction, but also not surprising. There are a few Black celebrities that have launched natural hair care lines at this point — Tracee Ellis Ross, Gabrielle Union, Taraji P. Henson and now Tia. And I'm here for it. It's a nice addition to the over-saturated celebrity makeup market and also it's nice to know that these products geared toward Black hair are Black-owned. I recently learned that Mizani, a brand that is geared toward Black hair and used at my Black hair salon, is not actually Black-owned. Even though it works, I'd rather pay to maintain my Black hair with products by a Black-owned business. So maybe I'll be trying Tia's products in the near future. I like what she says about simplifying the routine. My current routine has too many steps and I'd love to cut it down a bit.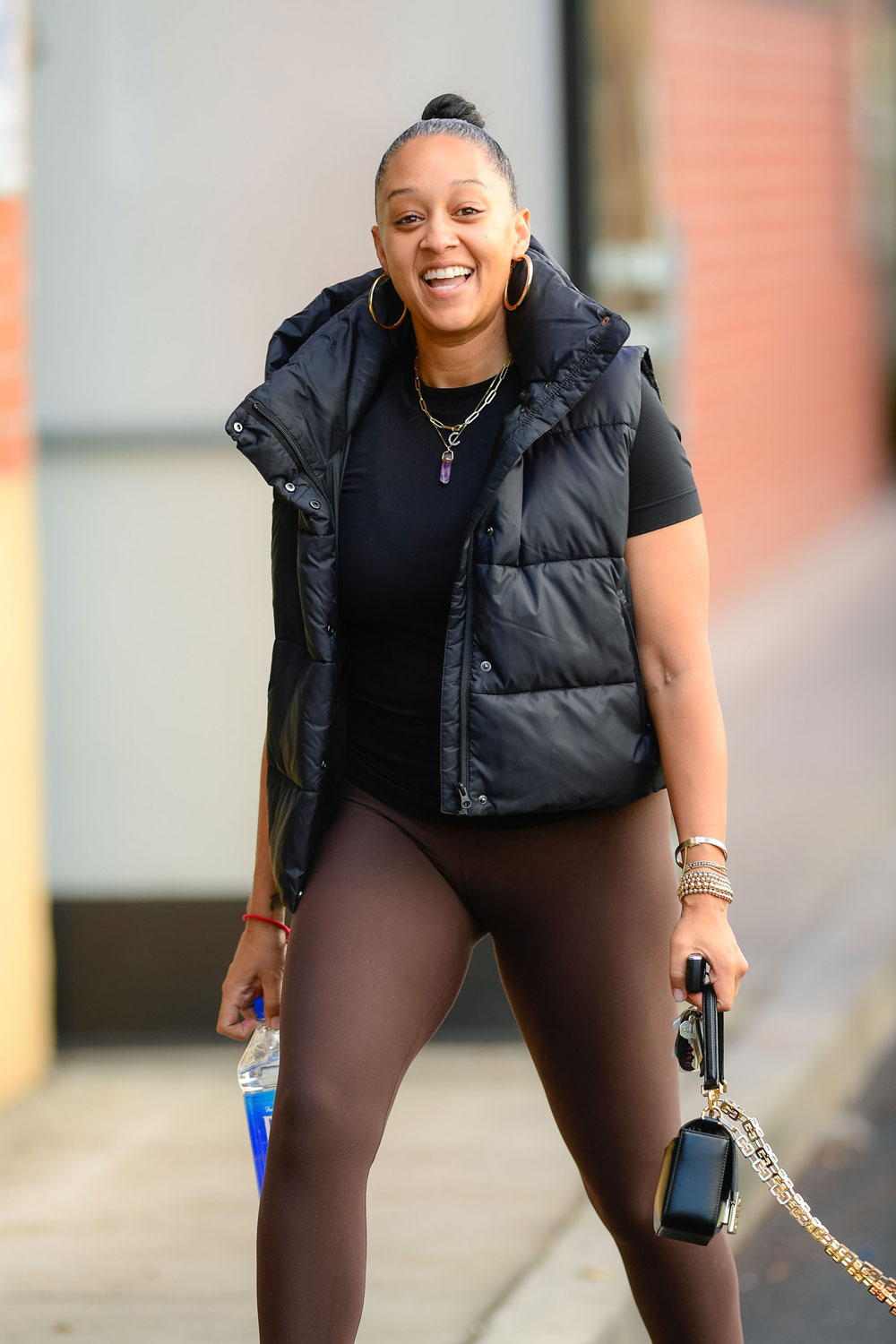 photos credit: Getty, BauerGriffin/INSTARimages.com/Cover Images and via Instagram